https://mediumhappy.com/?p=7532
by John Walters
Tweet du Jour
@Marina_Sirtis @BettyBuckley @donnavivino @JeriLRyan @Ginabellman @heyfrase pic.twitter.com/I8uPmnm1Nj

— juliahosack (@juliahosack) March 26, 2018
Starting Five
Fine, China
You think you know a president-for-life, and then he goes and welcomes Little Rocket Man, who reportedly took a secret train, to visit him in his country. For those of you who are diehard sports fans, neither of these dudes are related to Pablo Torre (or are Pablo Torre).
2. Head Games
It's subject to change, but this is the new rule the NFL wants to institute to address concussions this season: "It is a (15-yard) foul if a player lowers his head to initiate and make contact with his helmet against an opponent."
Notice, this did not say "his helmet against an opponent's helmet." The NFL is concerned that is had a record-high 291 concussions last season, but that record may be due to the fact that the NFL had its head in the sand about concussions until just a couple years ago.
Just when the NFL made the catch rule sane again, they do this. Will they be reviewing these hits? Welcome to the seven-hour NFL game.
3. Who Is Daniel Vogelbach?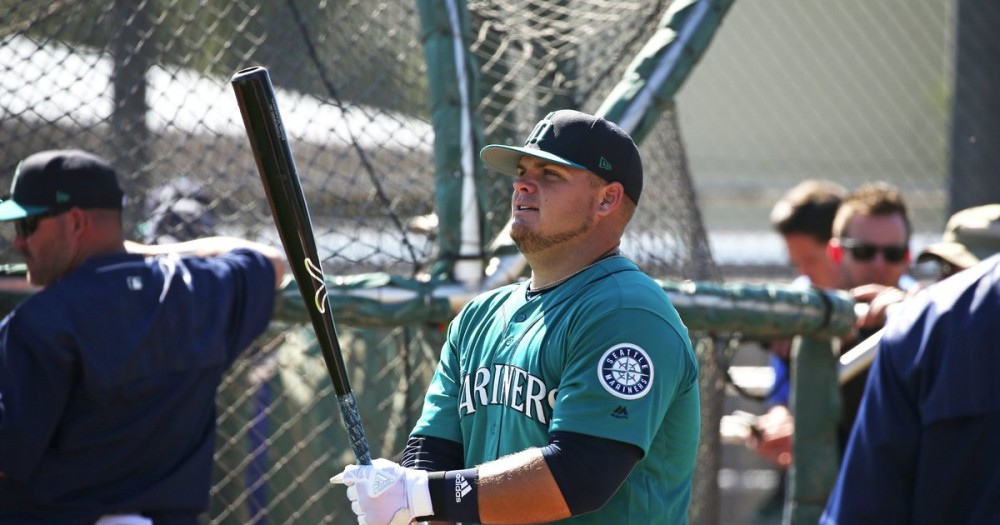 It may not matter once Opening Day (tomorrow!) hits, but one player led all of baseball in batting average (.407), home runs (7) and RBI (15) during spring training, even though he has only 40 at-bats in regular season play. Meet Seattle Mariner 1st baseman Daniel Vogelbach, a 6'0″, 250-pound lefty slugger from Florida.
Originally drafted by the Cubs in 2011 (after batting .551 as a high school senior), Vogelbach looks and hits just too much like Kyle Schwarber, and you just can't have two of them on the same roster. It's a rule.
It was announced on Sunday that Vogelbach has made the M's Opening Day roster, so now the rookie gets to be teammates with Ichiro Suzuki (who will likely begin the season on the disabled list).
4. Siberian Nightmare
A fire at a mall in Siberia (we had no idea, either) on Sunday took 64 lives, 41 of them children's. The inferno at Winter Cherry, a mall in the city of Kemerovo, 2,000 miles east of Moscow, is being blamed on officials who took bribes to not enforce safety measures and codes during the construction of the mall five years ago. Is this any way to celebrate Vladimir Putin's sham election?
"I no longer have a family," wrote Igor Vostrikov, who lost his wife, three children and a sister in the blaze. "The ruling regime is guilty. Every bureaucrat dreams of stealing like Putin. Every state functionary treats people like garbage."
5. Roseanne
Roseanne! You don't have to put out the red light! Roseanne! You don't have to sell your body to—oh, wait. Did we just take a wrong turn down memory lane? Anyway, the latest sitcom re-boot to air after Will & Grace and One Day At A Time (wait, you tell me Bonnie Franklin and Pat Harrington aren't in this one?) is Roseanne, which premiered last night with John Goodman's Dan character returning from the dead and both Becky's.
Wake us when they revive All In The Family, with Meathead now dealing with a neo-Nazi son-in-law who bears a striking resemblance to Eric Trump.
Music 101
Tempted
If you were a liberal arts major in the Eighties, you owned Squeeze's "Singles." It was required, just like the Norton Anthology of English Literature.
Remote Patrol
The Diary of Anne Frank
8 p.m. TCM
If this were updated, Anne Frank would just post to Instagram and Facebook ("TFW living in this attic"), who would sell her data to the Nazis and the entire film would be over in 15 minutes. I've often imagined a dyslexic-friendly version of this story, The Dairy of Anne Frank, would have a much happier ending.