https://mediumhappy.com/?p=7567
by John Walters
Tweet du Jour
OLD: Baseball has a PED problem.
NEW: Baseball has a PPD problem.

— Medium Happy (@jdubs88) April 18, 2018

Baseball's about to break its games-postponed-in-April record (now at 25) and there's still 10 days left. Perhaps they should have broken the record last night in San Juan, Puerto Rico, when generators were used for the Indians-Twins game on ESPN even thought the entire island was in the midst of a blackout?
Starting Five
Saquon Barkley believes he should be the first pick in the draft and that he has the potential to be the next Face of the League— and he doesn't give a damn about your running back bias. This week's @SInow cover story: https://t.co/Wxt2XS77qR pic.twitter.com/eX6ZHcZp7R

— Ben Baskin (@Ben_Baskin) April 18, 2018
1. Saqu-ONE
Two things about eastern Pennslyvania native and Penn State product Saquon Barkley: 1) He's not a quarterback and 2) He's the best player in the April 28 draft.
If you're the Cleveland Browns, who have the No. 1 and No. 4 overall picks, you take Saquon first overall. And here's why: 1) He's not going to be available at No. 4, 2) If you really want a quarterback, either Josh Allen, Sam Darnold or Josh Rosen will be available at No. 4 and no one really knows how any of them will pan out with the Browns, 5) Ezekiel Elliott.
With Ezekiel Elliott in 2016, a rookie who led the NFL in rushing (1,631 yards), the Dallas Cowboys finished 13-3, their best record in nine years. Without him last year (suspension, problems with Roger), the Cowboys finished 9-7 and failed to make the playoffs. Barkley is not a clone of Elliott, but you know you're not going to get the off-the-field problems and you know you're getting the franchise's best running back since the legendary Jim Brown (Did they name the team after him? No?).
Anyway, we'd still pass on a QB (unless that QB is Rosen) at No. 4 and take either OG Quenton Nelson (the next-best player in the draft) or defensive end Bradley Chubb (the top defensive player). The Browns have great guards but Nelson is the best interior lineman in the draft and he's Dick Butkus on offense. Nasty. And like Barkley, he's N.J./eastern Pa. area kid who just wants to play football. He fits the Browns' mentality.
Allen, Darnold and Rosen are all California boys and, I'm sorry, anecdotal evidence about the Midwest here, are all huge risks on the south shore of Lake Erie. Darnold, I feel, will be particularly lost here.
Select two future Hall of Famers and don't get cute, Cleveland. It's a short drive to Canton.
2. Sully, Meet Tammie Jo*
*The judges will also accept, "When The Shults Hit The Fan"
She's 56, she's an alum of Mid-America Nazarene University in Olathe, Kansas ("Go, Pioneers!"), a married mother of two, a former Navy fighter pilot, and likely saved the lives of 144 passengers with her calm under pressure while piloting Southwest Airlines flight 1380.
The name Tammie Jo Shults sounds like someone who'd be working on a plane serving drinks. Instead, she's correctly being praised as a hero pilot after an engine exploded over the skies of New Jersey on Tuesday. The plane banked hard left, but Shults calmly radioed the tower at Philadelphia International Airport. When air traffic control asked if the craft was on fire, she matter-of-factly replied, "No, but part of it is missing."
Nobody on the MH staff is qualified to judge just how gifted a pilot Shults is in relation to her peers (there's a long list of things the staff is unqualified to do…we'll save that for a later blog), but something tells us there's a movie in the offing.
3. Breaking Bad Comes To Appalachia
On Tuesday police officers arrested 90 members of the three-state Peterson drug ring and seized enough Fentanyl, a popular opiate, to kill 250,000 people. The Peterson brothers, Manget, based in Huntingdon, W. Va., and Willie, based in Detroit, have been distributing Fentanyl and heroin for years, but the DEA only sniffed them out a year or so ago.
The Peterson syndicate operated in Michigan, Ohio and West Virginia, three states hit hardest by the opioid crisis. And don't ask us to tell you the difference between an opiate and an opioid. That's homework for Susie B.
Meanwhile, we wonder what the Peterson brothers know about that Ohio situation a couple summers back in which an entire family of start-up cooks were murdered.
4. Bye, Bye Bruno
He only stood 5'10", but Bruno Sammartino's pecs were 6'8″. The Pizzoferrato, Italy, native, one of the pro wrestling legends from an age before Vince McMahon, died yesterday at the age of 82.
Sammartino's family hid from the Germans in the hills of Italy during World War II, then emigrated to Pittsburgh, where he discovered weightlifting (and quite likely Primanti Brothers' sandwiches). He rose to fame in the Sixties and Seventies, selling out Madison Square Garden a record 187 times (in 211 appearances). He retired in 1981 but was always ready to rumble.
5. Did He Just Say That???
It was about 10:45 a.m. and CNBC, with co-anchors Sarah Eisen, David Faber and Carl Quintanilla manning the desk, opened a segment on Starbucks, the two black dudes, and how founder Howard Schultz and CEO Kevin Johnson have handled the kerfuffle (consensus: well). The guest was Jeffrey Sonnenfeld, above, a professor and assistant dean at Yale's School of Management.
At one point, and we weren't paying entirely close attention, Sonnenfeld was providing background on a decades earlier federal case and, quoting someone from that case, said the word, "niggers." Yes, on basic cable. At 10:45 a.m. On a Wednesday.
We don't want to make a federal case out of this, but it was bizarre to hear that word and we imagine a producer was in the anchors' ears telling them how he wanted it handled (they never acknowledged it). The smart and African-American CNBC co-host Jon Fortt was standing just a few feet off set when this took place. Not sure if he might've piped up i on camera and mic'ed up.
Either way, there's some irony to a Yale professor appearing on TV to talk about how companies can navigate the treacherous waters of perceived (or actual) racial bias and then just casually dropping "niggers" as if he's Denzel in Training Day. 
Reserves 
Now It's Amazon's Turn
About two weeks before NFLX announced earnings, and just as the rash of Trump-tech news (Amazon tweets, Cambridge Analytica) was causing tech stocks to hit a relative nadir, we bought NFLX. At $297. It announced earnings on Monday after a 3% run-up to the call and has since risen another 10%.
Guess what? AMZN, which has jumped 12% since Trump's last negative tweet a fortnight ago, announces earnings April 26. If you're into this kind of thing, our guess is that it will climb more between now and then than it will after April 26. Just this week, from Monday morning, AMZN stock is up nearly 9% and will be boosted more today due to Jeff Bezos' positive note yesterday about Amazon Prime reaching 100 million subscribers.
AMZN hit an all-time high of $1,617 on March 13th. Our guess is it will, short of WW3 starting, at least climb above $1,600 before next Thursday, when it announces earnings after the bell.
Music 101
Escape
In 1981, Journey released an album, Escape, that was a monster. It spawned five hit singles, including uptempo classics "Don't Stop Believin'" and "Stone In Love." The titular song was never released as a single, but we always have been fond of it. Neil Schon shredding, Jonathan Cain tickling the keys (replacing the band's founder, Gregg Rolie), and the man with the greatest falsetto this side of Freddie Mercury, Steve Perry.
Remote Patrol
Todd & Mel's Mock Draft
8 p.m. ESPN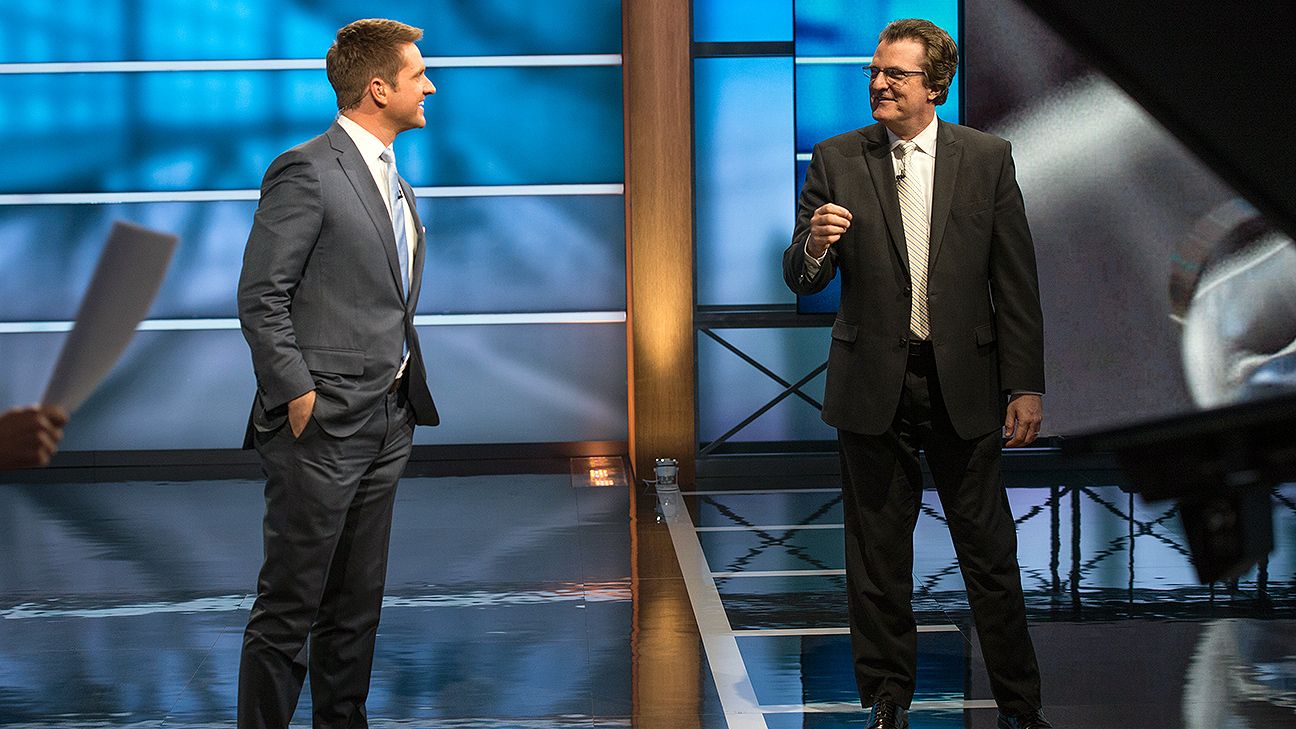 Considering the thinly veiled animus between Todd McShay and Mel Kiper, Jr., I hope they disclose how long it took for them to agree on whose name went first. Still, you've clicked on how many mock drafts in the past three months? Why not listen to these two? One of these draftniks will push Josh Allen as the No. 1 overall, and the other one will be intelligent.