https://mediumhappy.com/?p=7592
by John Walters
Starting Five
Raptor, The Best Medicine
In Game 1 of the 1992 NBA Finals, Michael Jordan scored 35 first-half points, a total that was greatly abetted by his then-record six three-pointers. After burying his sixth over Cliff Robinson in the second quarter, Jordan turned to Magic Johnson, who was part of the NBC courtside broadcast crew, and shrugged. It was as if to say, "Even I don't believe what I'm capable of."
LeBron James has reached Shrug-Level playoff capability. His running left-side lay-up style 15-foot game winner against Toronto on Saturday was so nonchalant that, well, there was actually a total absence of chalant to the feat.
Conversely, didn't the Raptors, now down 3-0 in this series, learn anything from watching the Pacers series. You always double, double, double LeBron in situations like this. He's a fundamentals guy, he'll pass out of a double team. J.R. Smith or Kevin Love can beat you, sure, but make them do it. Or make him give it up to Kyle Korver or George Hill or whatever mook is on the floor. Just don't play iso ball with one of the greatest players who ever lived. Another week of Susie B.'s Sweet Pea euphoria crashing down on us like a world-record wave in Portugal is more than we can bear.
2. Earning Their Pinstripes
It was nice when the Yankees swept four straight from the Minnesota Twins, the last win coming on a Gary Sanchez walk-off home run in a 9th inning that began with the Yanks trailing 3-1 on a getaway Thursday afternoon game. That stretched the W streak to six in a row.
But then the Yanks had to hit the road to play seven road games versus the top two clubs in the A.L. West, one of them the World Series champs, and then follow that with three against the A.L. Central-leading Cleveland Indians. All without a day off.
So how did those 10 games go? New York went 9-1, capped off by Sunday's come-from-behind 7-4 win at Yankee Stadium (they trailed 4-0 heading into the bottom of the eighth) that ended when rookie Gleyber Torres smashed a 3-2 pitch over the wall in dead center.
On Friday Torres, 21, whom the Yanks acquired two summers ago when he was a prospect by trading Aroldis Chapman, whom they now have back on the roster, became the youngest Yankee in 49 years to hit a home run. Yesterday Torres became the youngest Yankee to ever hit a walk-off home run. And he's the only known position player since 1900 whose team is 14-1 since he was called up to play for them.
The Yankees have gone from the Torre Dynasty to the Torres Dynasty, you might say. Anyway, they're 15-1 over the past 16 and yet still in second place behind the Sawx, who come to the Bronx this week for a three-game series beginning tomorrow. It's going to be a fun summer in the A.L. East.
3. Hawaii: April Showers Bring May Flows*
*The judges will also accept, "Hot Rocks" and "Hawaii Volcan-O"
It was only three weeks ago that a storm dropped two feet of rain on the island of Kauai, necessitating the obligatory interviews of shirtless surfer Laird Hamilton, who came to the aid of many.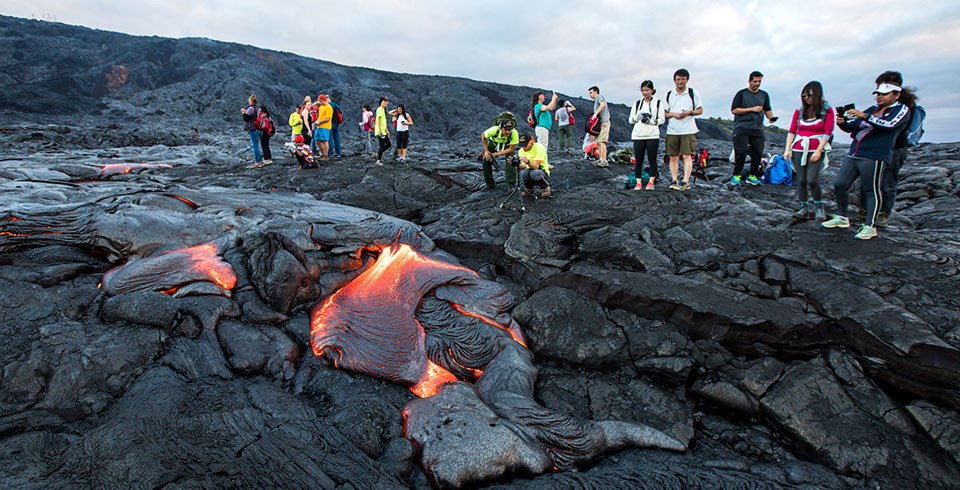 Last week on the big island of Hawaii, the Kilauea volcano erupted and it has been spewing hot magma ever since. More than two dozen homes have been destroyed and more than 500 tourist lava selfies have been uploaded on Instragram. Meanwhile, the release of toxic sulfur dioxide gas have made much of the surrounding area smell like your junior year chemistry lab.
4. A Hero For Wildlife
We only caught the last five minutes of this 60 Minutes feature on wildlife photographer Thomas Mangelsen, but anyone who is cool enough to get Jane Goodall to hang out with him on a riverbank in mid-winter has something going for him. If you're emotionally mature enough to appreciate wildlife beyond posting click-baity "Shark Nearly Attacks Paddleobarder!" or "What Are All These Cougars Doing In Colorado Backyards?" stories, take a few minutes to watch and appreciate this.
And we want to give special props to the producer of this segment, Denise Schrier Cetta, for staging a fadeout shot that was worthy of an Oscar-winning film. Just magnificent.
5. Say It Ain't So, Joe
This is what Chicago Cubs manager Joe Maddon, 64, looked like when he was leading the Cubbies to their first World Series championship in 108 years back in 2016.
And this is what Joe Maddon looks like today. To each his own, of course, but those of us who are fellow Gray Rights advocates are disappointed. Did you lose a bet or something, skipper? All Maddon will say is, "It's going to get darker." Ew.
Reserves
Thank You, Neil Cavuto
Catch Neil's latest Common Sense pic.twitter.com/JdGCX4WmjF

— Neil Cavuto (@TeamCavuto) May 3, 2018

Another Foxy sees the light about the president….
*****
Mud, Sweat and Cheers
For the sixth consecutive year, the favorite to win the Kentucky Derby wins the Kentucky Derby. Justify, trained by Bob Baffert, took the lead before the far turn and never looked back in the wettest Run For The Roses ever. The other note is that Justify never raced as a two year-old, although neither did you.
******
Confetti don Tutti
The confetti rained down on the court prematurely in Game 3 between the Celtics and Sixers Saturday night, an ideal metaphor for an OT game in which the young, talented but not very bright Sixers committed three careless turnovers in the half court in the waning moments of the contest and ALSO put up an offensive rebound put-back try with :15 left and the lead in overtime.
Simply put, the not-so-smart Sixers ran into a far more intelligent adversary in Brad Stevens, who designed two game-winning out-of-bounds plays, one at the end of regulation (only a lovely Marco Bellinelli fallaway corner shot spared the Sixers and forced OT) and the other at the end of O.T.
Go to school, Joel (Goodson, not Embiid; it's from Risky Business). Go learn something. That's the thought we had after watching the end of Game 3.
Music 101
This Is America
After failing his audition at Saturday Night Live a few years ago, Donald Glover has done okay for his self. He has a critically acclaimed, Emmy-winning hit in Atlanta, he hosted SNL this weekend, and as his musical alter ego, Childish Gambino, he just released this song and video that already has 10 16 million hits in one weekend. I'm still not sure if the NRA is going to love or hate this, although since it's black people he's gunning down, I can guess the answer.
What makes this song so powerful? The blending of uplifting African tribal rhythms with the shots-fired reality of urban America.
Remote Patrol
Capitals at Penguins, Game 6
7 p.m. NBC Sports Net
Can Ove finally take down the Penguins in a postseason series? The Penguins are 0-4 against the flightless fowl in Ovechkin's career in the playoffs, including being knocked out each of the past three years. He's one game away as the Caps lead 3-2 but this rink is in Pittsburgh.