https://mediumhappy.com/?p=7623
by John Walters
Starting Five
Roseanne Barred
Roseanne,
You don't have to put on the Alt-Right,
Those days are over,
And now you no longer air on Tuesday nights…
A nasty tweet stating a former female Obama aide, Valerie Jarrett, was the progeny of the Muslim brotherhood and the Planet of The Apes. ABC acted swiftly, canceling Roseanne Barr's eponymous sitcom reboot. Now she's blaming her tweet on Ambien…as our old friend @StevieCade tweeted, perhaps the Rockets should use that excuse for their Game 7 shooting.
2. Is Bryan Lyin'?
Last night The Ringer ran with a story that insinuates that Philadelphia 76ers GM Bryan Colangelo operated perhaps five burner Twitter accounts that he used to spread gossip about the team's own players and even share information that had not been made public. The Sixers copped to two accounts—the only two The Ringer shared with the Sixers when they placed their call of inquiry.
Colangelo, 52, is the son of legendary NBA exec Jerry Colangelo, who launched the Phoenix Suns, was president of USA Basketball (during its post-2004 resurrection), and who was installed as a sort of Mr. Wolf to the Sixers a few years ago to oversee "The Process." Maybe Bryan never felt loved there because his pops got him the gig?
The bigger question is, Was this real journalism or not-fully-completed reporting? There's a lot to suggest that The Ringer is onto the truth, but they have not actually proven their case, which a well-reported story is supposed to do. As Jason Robards famously told Dustin Hoffman and Robert Redford, "You haven't got it."
3. The Good Shepherd
In a news room full of sycophants for Donald Trump, Shepherd Smith alone seems to get it (not that there aren't a newsroom full of sycophants for Obama across Sixth Avenue at MSNBC, but there is more than a whiff of difference between the two presidents' ardor for honesty). When the Great American Fact-Out finally ends, he alone will be able to exit the Newscorp. Building with his coif held high.
4. Manhattan-henge
With a sunset to the west that seems perfectly situated between the skyscrapers followed shortly thereafter by a full moon rising from the east, this is an ideal week for celestial-bodies lovers to be inhabiting Manhattan. Sure, we cannot see many stars due to the sheer amount of artificial light emanating from our streets and buildings, but we do have this.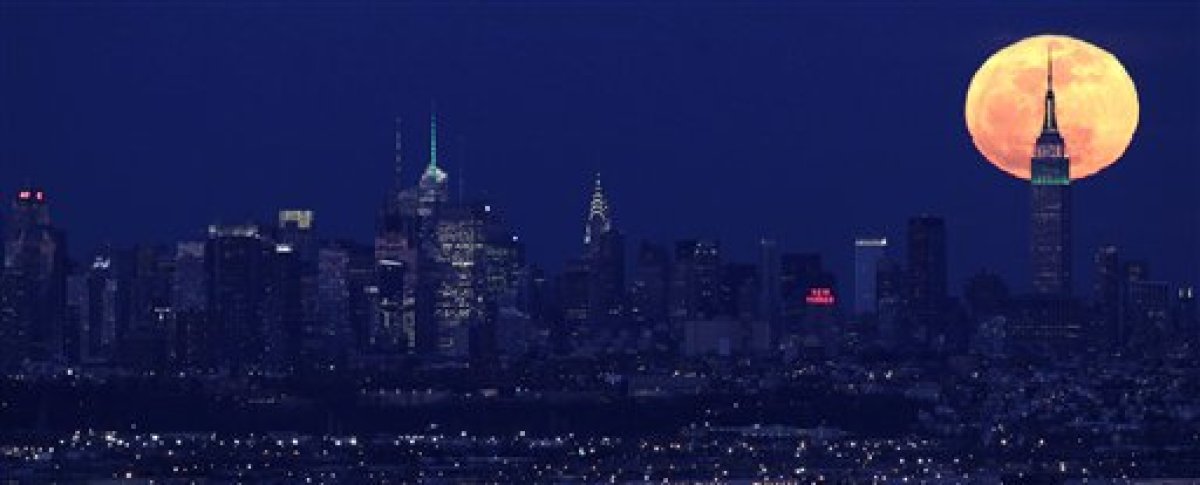 If you're here, 57th or 34th Streets are the best roads on which to experience this.
5. What If LeBron Joined The Warriors?
He's going to be a free agent (again) this summer and he'll turn 34 in December and he can more than afford to accept a deal that won't financially cripple a team's roster AND he probably wants to win another NBA ring or two (which he most likely won't do in the next fortnight, barring an injury to Kevin Durant or Klay Thompson). So why wouldn't LeBron James, alias "Sweet Pea" on this site, join the Golden State Warriors (alias "the SuperVillains")?
The Boston Celtics would not want him. The Sixers are too dysfunctional (see No. 2). The Lakers and the Clippers are not headed to the NBA Finals any time soon. Gregg Popovich would not want the Drama. The Rockets? Maybe, but they already have two divas. We actually ruminated on this for awhile on Monday and our three best choices for LeBron, if he wants to at least return to the NBA Finals, are one of the two teams in this series or the up-and-coming Utah Jazz (who have the best rim protector he'd ever have played with in Rudy Gobert and a burgeoning, selfless All-Star in Donovan Mitchell).
But what if LeBron were to join Steph, Draymond, KD, Klay and Kerr and promised to just be himself and sign on for two seasons with an option for a third? And what if Adam Silver did not block it? If he really wants to play in the NBA Finals and, secondarily, live in California, here's his golden opportunity.
Also, we are not just saying this to troll our most loyal female reader, but just to bring it to light: If Michael Jordan had never gone off to have a torrid but ultimately unsatisfying affair with baseball, he likely would have WON eight NBA Finals in a row. Not made eight NBA Finals in a row. Won them.
Music 101
Cape Cod Kwassa Kwassa
Ezra Koenig went from growing up on the Upper West Side, to migrating to northern New Jersey, to returning to the UWS to attend Columbia, to teaching at a public school in Brooklyn, to fronting the alternative rock band Vampire Weekend. This was the fourth single off their monster 2008 eponymous debut album, which naturally appeared on the Columbia Records label.
Remote Patrol
Stanley Cup, Game 2
Caps at Knights
8 p.m. NBC SN
If the game is as entertaining as the Medieval Times on Ice pregame spectacular, you're in for a treat.