https://mediumhappy.com/?p=7645
by John Walters
Tweet du Jour
BUSTED! This very good dog was having tons of fun splashing around in this inflatable pool – but quickly changed his behavior as soon as he noticed someone was watching. https://t.co/jaLmADfidw pic.twitter.com/5ArSGCaxwP

— ABC News (@ABC) June 19, 2018
Hot dog? No more.
Starting Five
From Here To Uranus
Yesterday President Trump called for the establishment of a sixth branch of the military, which he has dubbed Space Force. "When it comes to defending America, it is not enough to merely have an American presence in space," said Trump. "We must have American dominance in space."
Trump issues his top priorities for Space Force to Pentagon:

1) Build Space Force One
2) Open a Trump Resort on coast of Sea of Tranquility
3) Be first nation to land on the sun.

— Medium Happy (@jdubs88) June 19, 2018

You gotta remember, the only two things Donald Trump cares about are women and real estate. If he can't f*ck it, then he wants to own it.
2. Tony Reali-ty Check
In the closing moments of yesterday's Around The Horn, host Tony Reali discussed the personal pain of losing a child in child birth. The video speaks for itself. Well said. Reali had been off the show all last week and now we know why.
3. The Artois of the Deal
The first series of World Cup matches will end today and what we know is that northern Europe passed its first test. If your country is located along the  North or Baltic Seas, you're happy. Winners thus far, sporting a 1-0 mark in the Group Stage: Belgium, Denmark, England, France, Russia and Sweden.
The irony of this, of course, is that northern European sides are 6-1, not 6-0. The lone loser? Tourney favorite and defending World Cup champion Germany.
For our Euro, the most impressive squad of that sextet and of the tournament thus far is Belgium, who took down Panama 3-0 yesterday. The Belgians face Tunisia on Saturday and then catch England later next week. The Limeys won in stoppage time yesterday when a Harry Kane header off a corner kick, his second goal of the match, broke a 1-1 draw in the 92nd minute.
4. Nielsen Ratings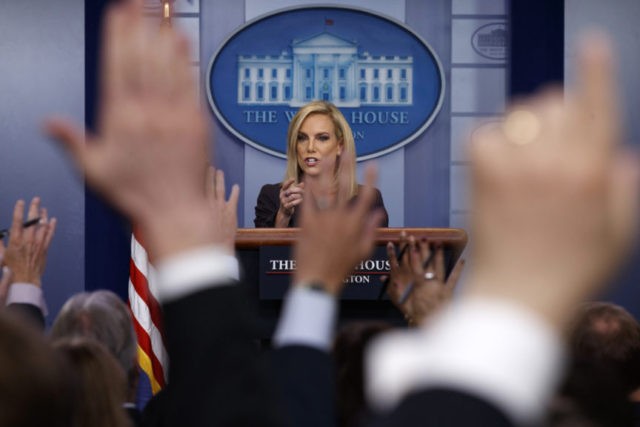 White House Chief Prevaricator Sarah Huckabee Sanders didn't feel like talking to the press about "kids in cages" (I feel confident this will be the central plot of "Coco Dos") so she sent up Homeland Security Secretary Kirstjen Nielsen up there to do it for her.
Quick background on Nielsen: Florida-born, Georgetown-educated (then UVA law), both parents were Army doctors, never married, no kids (which means she must either be gay or a blogger). Anyway, I read the entire transcript and, sorry, kids, I'm on her side.
5. Power Powell Couple
In a Pacific Northwest coup, the University of Washington has hired Oregon track coaches Andy and Maurica Powell to oversee their track and field program. After 13 years in Eugene, the couple will head the 6-7 hours north on I-5 to Seattle. Maurica has been named Director of Track & Field and Cross Country. Her spouse, Andy, has been named Head Coach of Track & Field and Cross Country.
We imagine the couple will figure out the division of labor between themselves. Both Powells grew up in Massachusetts and then headed west to run track at Stanford under Vin Lananna. When Vin left The Farm to head to Eugene in 2005, he took the two recent grads with him. There as associate head coaches, they oversaw the distance runners.
. Oregon, with harriers such as Galen Rupp and Edward Cheserek and Matthew Centrowitz having trained under the Powells, has been by far the most successful track and field and cross-country program in the nation the past dozen or so years.
Music 101
Under The Bridge
When did rock groups stop writing classics? I don't know, but it was AFTER this Red Hot Chili Peppers tune was released in 1992, back when MTV still mattered (the first Real World was the beginning of the end of MTV and the advent of reality TV). We don't think we've EVER been able to listen to this song on the car stereo without singing along (at a disturbingly high volume and low pitch at the end of the song….it isn't pretty).
The song, which was buried on Blood Sugar Sex Magik as the 11th track, is the band's most successful single (No. 2 on the Billboard charts)
Remote Patrol
World Cup
Russia vs. Egypt 
2 p.m. Fox
One country inspired the Pyramid Scheme. The other inspired Russian Roulette. You make the call. The Egyptians get back Mo Salah, who led the Premier League in scoring this year and took Liverpool to the Champions League final, where he was taken down on a dirty tackle and injured his shoulder. They need the win after a late loss to Uruguay last Friday.