https://mediumhappy.com/?p=7647
by John Walters
— Michele Waldman (@MVmiche) June 21, 2018
Starting Five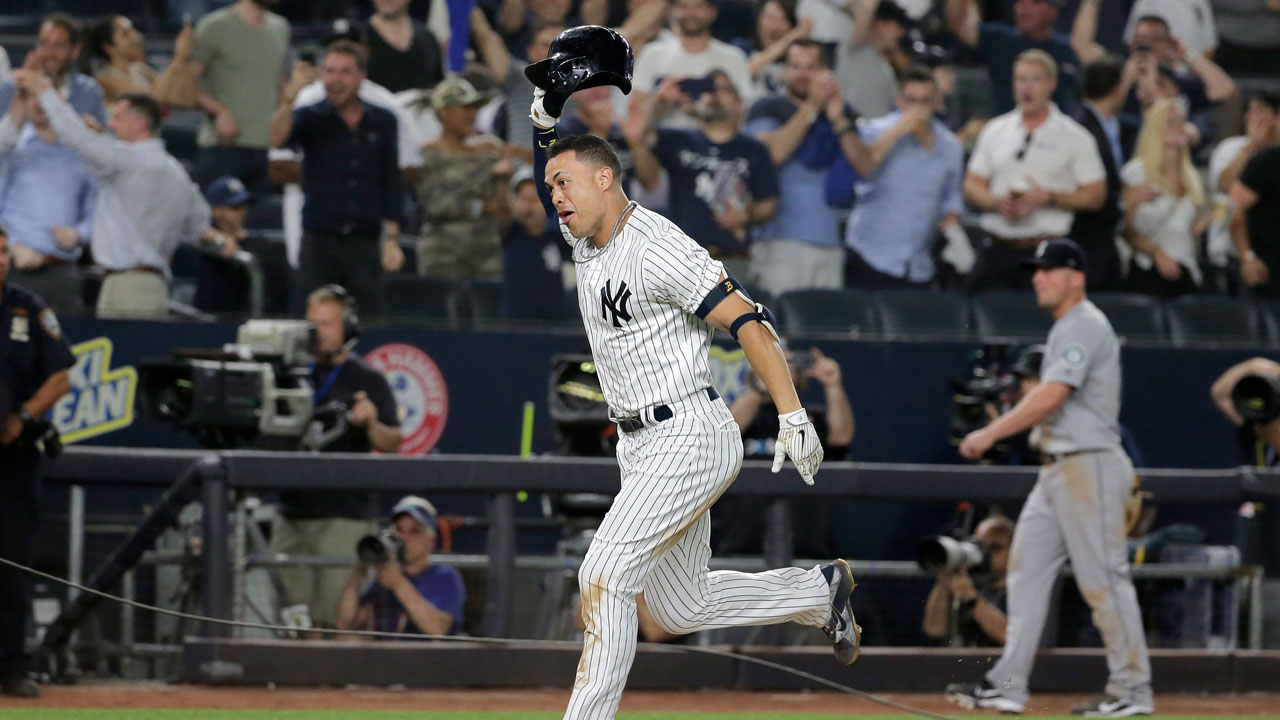 1. Giancarlo Walk-Off
We turned the Yankee game off early. To be fair, we switched to The Philadelphia Story ("South Bend…it sounds like dancing") at 8 p.m., in the 3rd inning. When we switched back to YES at 9:55 p.m. it was still only the bottom of the 7th inning and the Yanks trailed 5-3. We went to bed.
The Yanks would wind up winning 7-5, however, on a walk-off home run by Giancarlo Stanton, what is being called his first signature Yankee moment (I'm sorry, I think his two 5-strikeout games in one homestand in April were that). And he did crush that pitch by the Seattle reliever, a breaking ball on an 0-2 count.
As much as we'd like to credit Giancarlo, we gotta blame the Mariner reliever Ryan Cook for this one. As I watch the Yankees this season, and as someone who'd never seen Stanton play on a regular basis, I've learned one thing: NEVER throw Stanton a pitch in the strike zone, and ALWAYS throw him smoke. He can't lay off smoke and it doesn't matter where you put it.
Stanton is in the midst of his best week as a Yankee—four base hits in Monday night's game, homers both Tuesday and last night—but he's also third in the A.L. in strikeouts with 98. Not many of those third strikes are called. How anyone loses Stanton on an 0-2 count, much less allows a game-winning home run, is something I don't understand.
2. ICE Capades
We don't want to tell anyone how to do their jobs, but when you happen to be in the detention office business and your group of detainees are one ethnic demographic, then lying to them about your true intentions may not serve you well in terms of how history remembers you. As an example, "Let's all go take a shower" comes to mind.
Now comes word that ICE has been lying to airlines, saying the kids they are transporting in removing them from their parents to detention centers, are "on a soccer team." I guess it's better than transporting them by rail car (also bad optics).
Meanwhile, President Trump signed an executive order yesterday saying that the government will no longer do the Sophie's Choice things with kids and parents but that, per a quote from an HHS spokesperson, "There will not be a grandfathering of existing cases."
Perhaps not the best term to use there?
3. Schmidt Happens
29 years and nine months ago I registered to vote and became a member of The Republican Party which was founded in 1854 to oppose slavery and stand for the dignity of human life. Today I renounce my membership in the Republican Party. It is fully the party of Trump.

— Steve Schmidt (@SteveSchmidtSES) June 20, 2018

Yesterday on Twitter John McCain's former campaign manager and frequent MSNBC guest Steve Schmidt announced that he was leaving the Republican Party. Our only question: What took you so long?
Meanwhile, every day we regret not having been more diligent about making "The Worst Wing" or "Another Day Of Trump" (which do you prefer?) a daily segment. We'd reserve for only the most Trumpian moments, which we'd classify as those that combine unethical behavior with overwhelming stupidity. Yesterday's candidate was obvious: Secretary of Homeland Security Kirstjen Nielsen deciding to dine out at a Mexican restaurant after her historically awful press conference talking about illegal immigrant children being separated from their parents.
4. Gimme Mitch?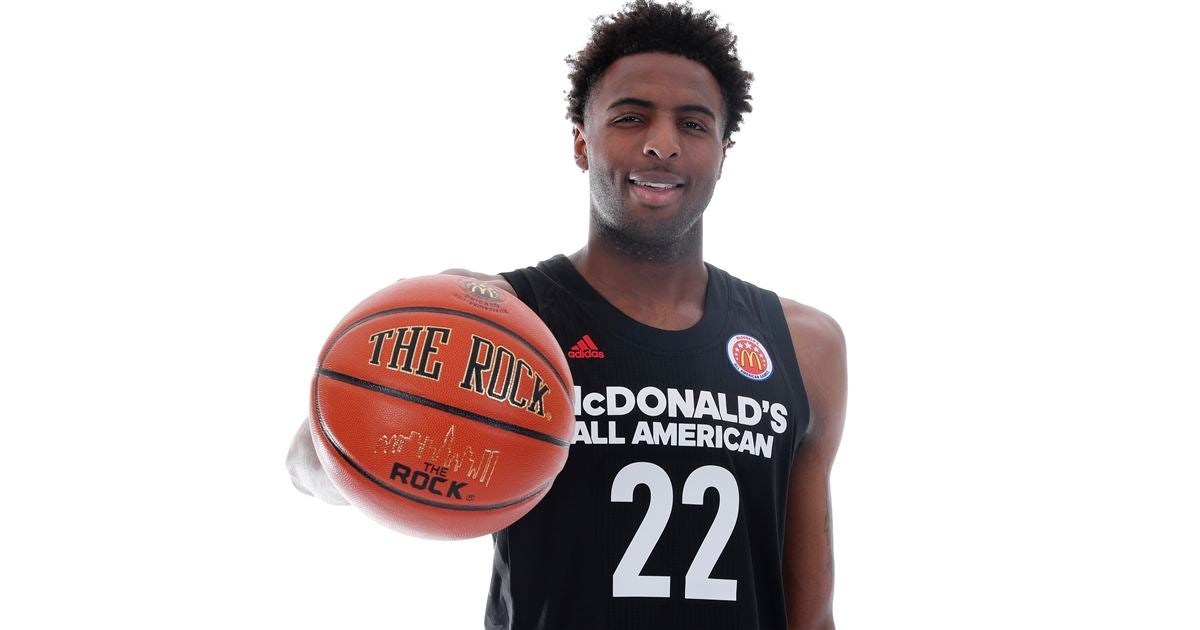 The closest thing tonight's NBA draft has to those halcyon days of Prom-to-the-NBA draftees is Mitchell Robinson, a seven-footer out of Pensacola (and, for his final two years of high school, New Orleans), who simply took a gap year after graduating high school in 2017.
Robinson enrolled at Western Kentucky, then left, then returned, then dropped out, all before the season began. He played on no teams this past year, but he is apparently a gifted shot-blocker and yeah, a seven-footer with a 7'4″ wing span.
Is he a first-round pick, as many experts think he should be? Maybe, but it may be worth noting that his birth date is April 1.
5. Say Goodnight, Grayson?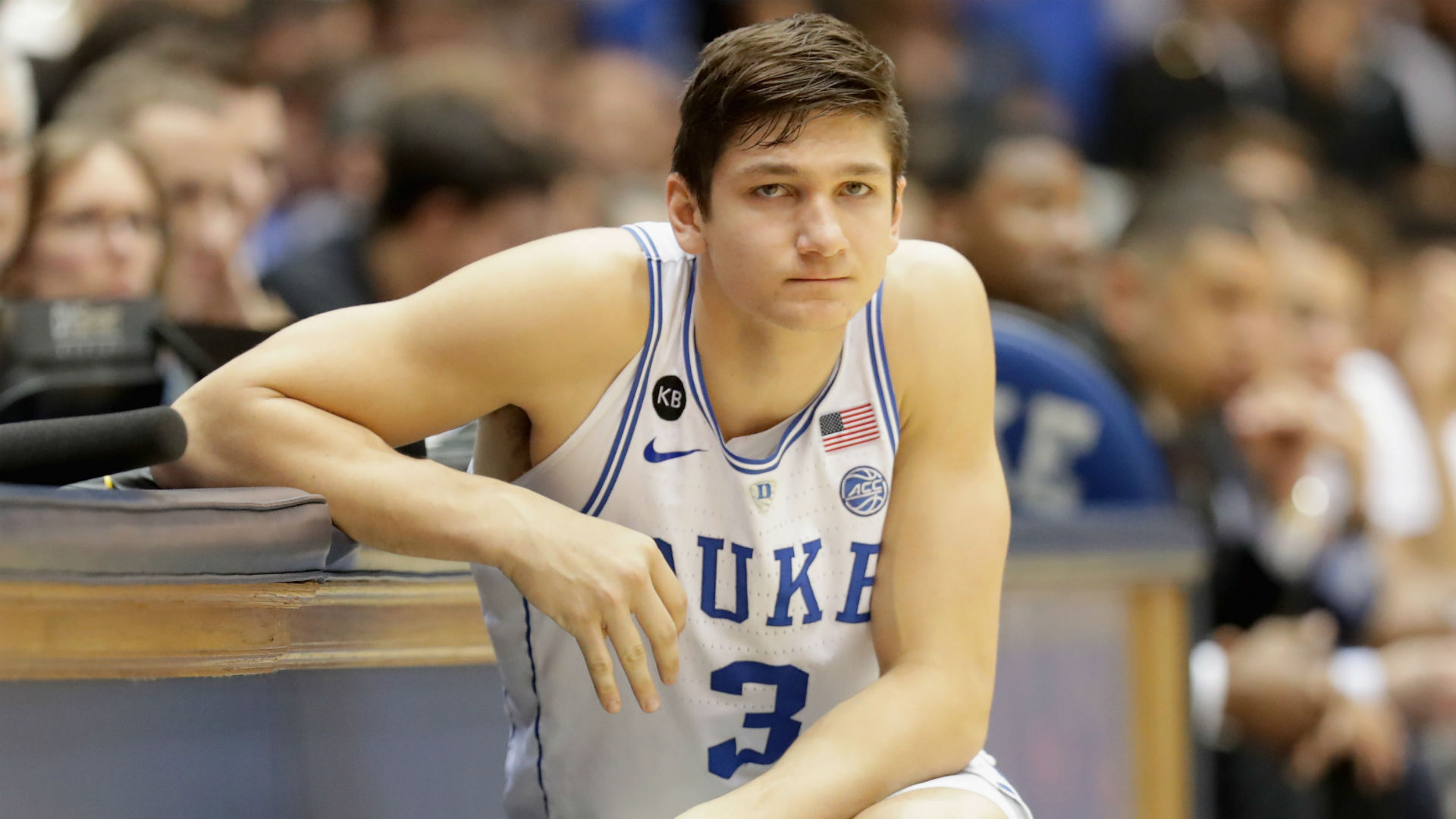 The most well-publicized and overly polarizing college basketball player of the past four years, Grayson Allen of Duke, will likely be selected tonight somewhere in the final 10 picks of the first round. Any higher than that would be a major surprise.
In four years in Durham Allen won one NCAA championship and averaged 14.1 points per game. His best season was as a sophomore, when he averaged 21 ppg but also became infamous as a serial tripper. The 6'4″ Florida product is athletic (or, "insanely athletic for a white kid") but seems to have had some of his thunder stolen by 6'5″ Donte DiVincenzo of Villanova, who also won one NCAA title and actually scored 31 points in the championship game. He'll almost certainly be selected ahead of Allen.
Allen will have had SIX Duke teammates, including two this evening, selected as top 10 picks in the draft. Can you name them (We'll put the answer below Remote Patrol)? Allen actually had a terrific NBA combine and you have to keep in mind that his scoring numbers would have been better if he'd not played with all those top 10 picks. It'll be interesting to see where he goes and how he fits in with his pro teammates.
Music 101
Sugar Sugar
The number one single from the year 1969, a year that gave us Woodstock, Let It Bleed, Abbey Road and The Who's Tommy, was this tune by The Archies, a band that in reality did not exist. The song was performed by a group of studio musicians (Ron Dante on lead vocals) managed by Don Kirshner and written as an accompaniment piece for the hit cartoon show, "The Archie Show." The tune spent four weeks at No. 1 in the U.S., and eight at No. 1 in the U.K.
Remote Patrol
NBA Draft
7 p.m. ESPN
Here's how we see the Top 5 going: DeAndre Ayton (Phoenix), Marvin Bagley III (Sac-Town), Luca Doncic (Atlanta), Michael Porter (Memphis), Mo Bamba (Dallas).
Answer: Jahlil Okafor, Justise Winslow, Brandon Ingram, Jayson Tatum, Marvin Bagley III, Wendell Carter.