https://mediumhappy.com/?p=7651
by John Walters
Tweet du Jour
Gator sighting reported off Florida beach: "It's kind of crazy to see the alligator in the saltwater." https://t.co/0XHqmaXeAP pic.twitter.com/2LbiJPgrTt

— ABC News (@ABC) June 26, 2018

Nature ALWAYS adapts. When will man learn?
Starting Five
Portugal Escapes
If you were glued to the set on a Monday afternoon watching Portugal trying to desperately elude Iran in a soccer match, you're not alone. The Lisbon gang hung on for a 1-1 draw with the upstart Iranians, who had a golden chance at a go-ahead goal in stoppage time that would have knocked Ronaldo & Co. from the World Cup, but it was shanked wide.
Portugal gets Uruguay in the Round of 16. Spain gets Russia.
2. Hogs Get Slaughtered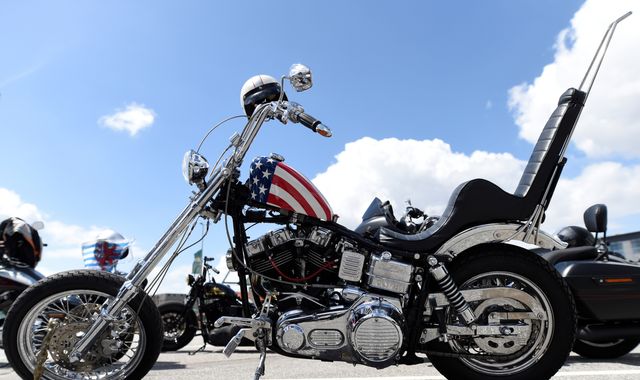 In the past 24 hours, in a two-fer only he is capable of, Donald Trump took on a black Congresswomen and one of the most iconic middle-aged American white guy brands that has ever existed: Maxine Waters and Harley-Davidson.
Over the weekend Waters, who will turn 80 later this summer (hopefully), reacted to the Red Hen Kerfuffle by advocating more grass roots defiance. "If you see anybody from that Cabinet in a restaurant, in a department store, at a gasoline station, you get out and you create a crowd, and you push back on them," Waters said at an event in Los Angeles. "You tell them they're not welcome anymore, anywhere."
Well, that sounds more like harassment than free speech, and maybe "push" was the wrong word choice. No, it definitely was. But then Donny Sr. tweeted a not-so-veiled threat:
Congresswoman Maxine Waters, an extraordinarily low IQ person, has become, together with Nancy Pelosi, the Face of the Democrat Party. She has just called for harm to supporters, of which there are many, of the Make America Great Again movement. Be careful what you wish for Max!

— Donald J. Trump (@realDonaldTrump) June 25, 2018

Then yesterday Harley-Davidson, responding to the tariff war Trump initiated, announced that it would shift SOME of its motorcycle production overseas. See, Donald decided to put tariffs on European imports, thinking they'd cower as if the Republican party has, but instead the EU struck back with tariffs that would add a 31% increase to the price of a Harley in Europe, so the Wisconsin-based manufacturer announced it would some of its production to Europe.
A Harley-Davidson should never be built in another country-never! Their employees and customers are already very angry at them. If they move, watch, it will be the beginning of the end – they surrendered, they quit! The Aura will be gone and they will be taxed like never before!

— Donald J. Trump (@realDonaldTrump) June 26, 2018

Now Donny is threatening that H-D will lose its "aura." It's so maddening when all the subjects don't kiss your ring, isn't it, Donald?
3. But Would You Bake Them A Cake?
ESPN's Body Issue made its debut yesterday and Olympian couple Sue Bird (hoops) and Megan Rapinoe (soccer) made quite the splash. Another former UConn Player of the Year, Breanna Stewart, also shows up. UConn women's hoops must lead all teams in Body Issue selections, as Diana Taurasi is a former model.
If we know Geno at all, he's been making jokes about how it is a travesty that he has not yet been asked to pose, as he is the sexiest person in the UConn program (psst, Swin Cash is/was; has she been asked?).
4. Fox Plays Its Red Card
There's a short connect-the-dots between Fox News and Vladimir Putin and we wonder if that had anything or everything to do with this puff piece Fox aired yesterday on Josef Stalin's dacha, or vacation retreat, in Sochi. When a segment begins, "Think what you will about Josef Stalin…." WHAT?!?! The dude was responsible for the deaths of as many as 20 MILLION people. Think what we will?
The piece did delve into Stalin's paranoia about being assassinated, but never speculated as to why. Maybe if they'd mentioned the millions of his own countrymen that he had executed? There's pivoting to video and then there's plain ol' propaganda. You DO remember whose regime inspired 1984 and Animal Farm, don't you?
5. And I Would Run 100 Miles
It was more than a little warm for this year's annual Western States run across 100 miles of wilderness terrain in northern California. At the Mile 78 river crossing, the mercury climbed to 106 degrees. And yet overall winner Jim Walmsley set a new course record (as opposed to setting an old course record) while female winner Courtney Dauwalter ran the second-fastest female time yet.
Walmsley, who lives in Flagstaff, Arizona (of course), shaved more than 16 minutes off the course record, crossing the finish line on the track at Placer High School in Auburn, Calif., in 14 hours, 30 minutes and 4 seconds. Second place this year finished an hour and 24 minutes behind.
You may remember Walmsley as the man who two years ago was leading Western States and 20 minutes under the course record when he took a wrong turn with less than 10 miles to go and lost it all.
Dauwalter, 31, finished in 17 hours and 27 minutes flat, an hour and 13 minutes ahead of the second-place finisher for females.
Walmsley is a north Scottsdale native who attended the Air Force Academy and then worked on intercontinental ballistic missile systems in Montana as part of his five-year service obligation. It was running outdoors in Montana (he'd been a standout cross-country guy at AFA) that made him fall in love with ultra trail running.
Crazy Fact: Walmsley's high school teammate, James Bonnett, was the youngest Western States finisher (at the time), crossing the finish line when he was 18 years old.
Dauwalter, like Walmsley, was a varsity college athlete in the state of Colorado. She was on the Nordic ski team at the University of Denver. She's now a school teacher.
Reserves
Watch…
Music 101
Wishin' and Hopin'
Dionne Warwick originally recorded this song in 1963 and released it as a B-side. Dusty Springfield (above) heard it, recorded it, and then the song's writers, the hit-makers Burt Bacharach and Hal David, leaked it to a New York City deejay (Dusty was ambivalent about stepping on Dionne's shoes). It became a No. 4 hit in 1964.
Remote Patrol
World Cup
Iceland vs. Croatia
2 p.m. FS1
Nigeria vs. Argentina
2 p.m. Fox
Group D: Croatia is through to the knockout round. Iceland MUST win and hope Argentina wins and   Argentina MUST win and hope Iceland loses. Nigeria is in if it wins or draws (I figured this out on my own so it's probably about 50% correct).