https://mediumhappy.com/?p=7678
by John Walters
Tweet du Jour
In Harbaugh's 16-team playoff, he'd get rid of the conference championship game.

So no real effect on his own program.

— Stewart Mandel (@slmandel) July 23, 2018
Starting Five
My official job title was deputy managing editor, production, another way of saying copy desk chief. That meant I got to do perhaps the most tabloidy of tabloid work, writing headlines! Here are a few from just the last week… pic.twitter.com/GoF4HgwLmP

— Jon Blackwell (@artrelly) July 23, 2018
Daily News Blues
Growing up in central Jersey, by the shore, we were a Sunday after-church Daily News family. I began with the Comics section and then moved on to Sports if my dad had finished with it by then.
This was a very poignant rant but how could you not lol when @RealMichaelKay said he'd cancel his subscription online today … if @Rosenbergradio teaches him how https://t.co/l4BCvq7kNb

— Ryan Glasspiegel (@sportsrapport) July 23, 2018

So here we are, decades later, and the Daily News, now owned by a soulless corporation with an even more soulless name, Tronc, gutted its staff yesterday. Roughly 50% of the editorial staff was fired and 26 of the 35 sports department staffers. We learned about it on Twitter, then watched a video of Daily News alum/Yankee broadcaster Michael Kay lamenting the tragedy from a feed provided by The Big Lead, an aggregation sports web site that does almost no original (unless it's media-related) reporting…and that's sort of the problem, isn't it?
That, and as TBL's Ryan Glasspiegel pointed out to me, CraigsList, which was killed your local paper's Classifieds section.
So here we are. New York City has one less tabloid newspaper, for all intents and purposes, than it had the day before. And that's too bad, but that's just where the world is headed. People still crave news. They just don't have as much ink on their fingers as they once did.
2. Apocalypse? Now
Japan: The hottest temperature ever recorded in that country (short of two days in August of 1945), 106 degrees. It's going to be 117 in Phoenix today, by the way.
Greece: Raging wildfires have claimed the lives of at least five dozen people.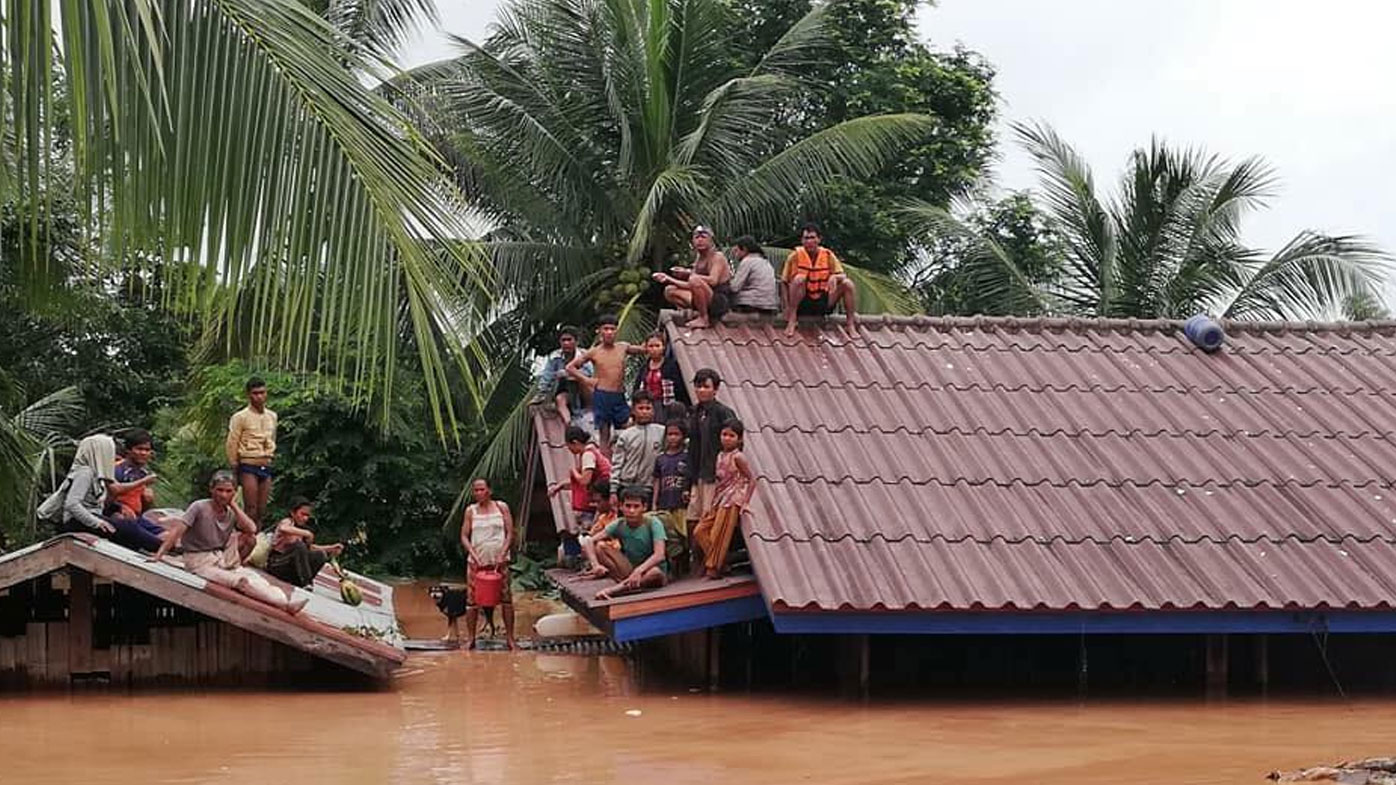 Laos: The Xenamnoy Dam bursts. Several are dead, hundreds are missing.
Dominican Republic: 60 tons of garbage washes ashore. 60 tons!
Never fear, though, because the MegaMillions is up to $512,000,000 and who knows how high it will go before tonight's drawing.
3. Blame Gary. Blame Aaron, Too
We watched the final three innings of Yankees-Rays from a barstool at J.G. Melon's on the UWS. We saw how the Yanks battled back from four down to put up three runs in the seventh. We winced as Adam Warren allowed the first two Rays batters to get on in the bottom of the seventh, then glimpsed hope when he struck out the next three batters.
In the top of the ninth, the score still 7-6, Rays, we saw leadoff hitter Brett Gardner beat out an infield grounder and then Aaron Judge take ball four on a 3-2 count. First and second, nobody out, you had to like the Yankees' chances.
Then manager Aaron Boone did a curious thing: he had number three hitter Didi Gregorius lay down a bunt. The Yankees don't bunt (it was Didi's first sacrifice of the season). Especially not in the ninth inning. But Didi did it, and it was "successful". The problem? Now first base was open and Giancarlo Stanton, who had nine base hits in his previous nine at-bats at Tropicana Field, was up.
Intentional walk. Aaron Hicks hits into a force-out at home. And then Gary Sanchez hits a grounder up the middle. The force at second is too late but because Sanchez jogged more than halfway down to first base, watching the play at second, a relay throw to first nails him by a step.
Sanchez is rightly being crucified this morning by what New York newspapers still remain. If he runs to first base, the score is tied and the Yanks have two men on base. But the skipper, Boone, also deserves excoriation. He took the bats out of the hands of the number 3 and 4 hitters on arguably the most potent lineup in the game. That's really where the Yankees lost last night.
It's their fourth consecutive loss to the Rays in Tampa and it also puts them at 13-13 since they last arrived in Tampa last month.
4. Hader-ade
Milwaukee Brewer All-Star Josh Hader entered a game in relief and received a standing ovation—again. This happened last night, the second time in three days in Milwaukee.
You can't get in too much of a lather for what a then 17 year-old from Millersville, Maryland, a pseudo rural-suburban town betwixt Baltimore and D.C., posts on social media. I mean, you can if you'd like, but homophobic and racist language is not uncommon at that age, as a placeholder for young men who are desperately in search of laughs or approbation but are desperately wanting in wit.
What's absurd, of course, is that Brewer fans are standing and cheering for Hader. What's even more bizarre are the "Don't you know what you're doing?!?" editorials we came across yesterday from the Sports Bloviation precincts.
Here's Pablo Torre and Bomani Jones from ESPN's High Noon…
.@PabloTorre on the standing ovation for Josh Hader: "This felt to me more troubling than the tweets themselves." pic.twitter.com/fUSW5EdML6

— HIGH NOON (9am Pacific) (@HIGHNOONonESPN) July 23, 2018
Here's Adam Schein from CBS Sports…
"Did you stop and think what you're cheering for? …If you're a fan cheering him, you're endorsing it."@AdamSchein is angry at Milwaukee's ovation for Josh Hader #T2S pic.twitter.com/lMo2ovStnu

— CBS Sports Network (@CBSSportsNet) July 23, 2018

An excerpt: "I don't want to hear that he was 17, that's not an excuse for hate. For someone  to dislike someone for race, religion or sexual orientation. And if you're standing up and cheering, you're endorsing it."
Damn straight, you four-eyed New York Jew, is what the very viewers to whom Schein was appealing/admonishing probably thought—or said aloud to loud guffaws at the local brat and brew house.
Here's ESPN's Taylor Rooks:
Commentary: On Josh Hader, and the crowd. pic.twitter.com/tkNnZwrNxF

— Taylor Rooks (@TaylorRooks) July 24, 2018
Rooks: "Watching that video, Josh Hader is not what worries me is the crowd. What does this reaction say about us?"
Let's not even delve into how the same people who stood for Hader would react to being scolded by an African-American female.
Dig: We're not disagreeing with a single point these folks made. They are being earnest and forthright and, yes, they're on the proper side of WWJD. What we are saying is that they're at least a step or three behind. Or hopelessly naive (they're not). We're way past pointing out to Americans that their support of homophobia and bigotry and misogyny is wrong, aren't we? I mean, these people know what they're cheering for and they outright reject your premise. And the fact that East Coasters of various non-white or non-Christian or non-male tints are the ones scolding them, well, now they're just throwing an empty Natty Light can at the TV and barking, "Git 'er done!"
The ascendance of the man currently occupying the Oval Office has emboldened parts of America to let their hate flags fly. Racist and homophobic slurs are no longer muttered under one's breath. Americans now utter them with at least the same volume they use while ordering the Extra-Value meal at the drive-thru.
And having stereotypical East Coast elites who are either female, non-Caucasian or non-Christian excoriate them is not about to bring them back into the fold (not that having straight while Christian males such as myself will do it, either). They knew who they are. They're proud of it. We don't live in Caitlyn Jenner Courage Award/Everyone Retires Jackie Robinson's Number Land any more.  The Alt-White is making its last stand, and they're not concealing their bigotry any longer. They're basking in it.
Your mandate is not to clutch pearls and ask, Don't you know what you're doing? Your mandate is to call them what they are: Racists. Bigots. Hypocrites.
Two final points: 1) "Josh Hader" is a first-ballot All-Aptly Named Teamer, 2) Hader deserved NO punishment from MLB for his tweets. First, he typed them long before he was in the MLB. Second, you are entitled to your views, no matter how ugly most of us feel that they are.
5. Kitchen Confidential
In the wake of the suicide of chef/man-about-the-planet Anthony Bourdain, I at long last read his book, Kitchen Confidential. A few thoughts/observations:
A fantastic, honest and insightful read. Bourdain loved the industry and it bleeds through on every page. 2) There's a chapter near the end in which he tells the story of a chef friend who fired a cook and then that cook went and hung himself. Eerie. 3) There's another chapter even nearer to the end in which Bourdain is sent on a work excursion to Tokyo. After a hesitant day or two, he completely throws himself into the adventure and one gleans the seeds of his later and wildly successful television career. 4) The "What do you know about me?" anecdote is an all-timer, 5) At the very end Bourdain jots down a list of tips for aspiring chefs/restaurant employees. Here are a few to which we, part-time restaurant employees for the past decade, wholly subscribe and we'll even add one of our own:Be fully committed. Learn Spanish. Don't steal. Always be on time. Never make excuses. Never call in sick. Have a sense of humor.*
Mine? Always pass to the right. What do I mean? If you are fortunate enough to work at a busy restaurant, you're going to have dozens of encounters each shift in which you are headed in one direction and an approaching colleague is headed in the other. And you are both usually in a hurry and the space is ordinarily tight. Always, always, always pass to the right of the other person so that it's not a game of chicken. It amazes me how many people don't follow this rule. When I recently suggested this to one of our younger female servers after we'd collided, she laughed and said, "It doesn't matter."
Oh, yes. It does matter. Repetition, consistency and attention to detail are what separate any successful restaurant, and most work places, from ones that will not survive.
*These rules apply just about everywhere, no?
Also, we never met Bourdain. We don't know why he took his own life. What we do feel comfortable saying, having read the book, is that he lived for the energy and the camaraderie and the chaos and the hooliganism of his kitchen at Brasseries Les Halles (which shut its doors for good last August). And once he became a TV star, we imagine the money and fame were too much to walk away from, but that we suspect he missed having his community. It may have been as simple that he felt lonely and lost.
Music 101
Shout It Out Loud
In 1975 the age of flaccid rock peaked with the release of the song "Feelings," which went to No. 6 on the Billboard charts. This after a concatenation of beige cords-and-clogs tunes by artists such as James Taylor, Carole King, The Carpenters and Seals and Crofts made many wonder if anyone in music believed in fun anymore. And then came KISS. This tune, which has opened many a concert by the band, was their first single off their 1976 album, Destroyer.
Remote Patrol
The Shallows
8 p.m. FX
Blake Lively in a wetsuit and bikini on a rock versus a menacing shark. There's your elevator pitch.
Badlands 
8 p.m. TCM
We've never seen it, but it's a young Martin Sheen and Sissy Spacek, 1973, and it's not the only film title Bruce Springsteen would lift and use for one of his all-time top ten songs (the other being 1958's Thunder Road, starring Robert Mitchum). If there are others, we trust the most knowledgeable Springsteen fan we know, Randy, will fill us in down below.