https://mediumhappy.com/?p=7683
by John Walters
Starting Five
Amazon Amazeballs
It's quarterly earnings season and before yesterday, FANG (Facebook, Amazon, Netflix, Google) had been hit kind of hard. After Netflix announced earnings late last week, the price of shares of the stock dropped more than 10%. When Facebook announced after Wednesday's closing bell, the stock dropped roughly 20%, with Mark Zuckerberg's brainchild—a company that is still just a teenager—losing $119 BILLION in value. It was the single-worst day for an American company, in terms of total loss of value, in history.
Zuckerberg personally lost $15.9 billion, which means he may soon be shopping for blue and off-blue T-shirts at Marshall's.
But then came Amazon yesterday, after the closing bell. The Bezos behemoth announced earnings had jumped 49%, and though the stock had fallen almost 3% yesterday as fearful investors assumed a Facebook redux, it was up more than that this morning (up $70 per share to $1,880). By year's end, if not sooner, Amazon will eclipse $2,000 (which, for Susie B., means it will be at least a 56-bagger).
p.s. MH's investment arm, Walker Capital, would also like to point you to Advanced Micro Devices (AMD), which had a solid earnings report on Wednesday and is up 25% in the past two days. Plus, its buy-in per share is just a little over 1% of the cost of Amazon stock ($19.74 versus $1,867).
2. Mouthy Michaels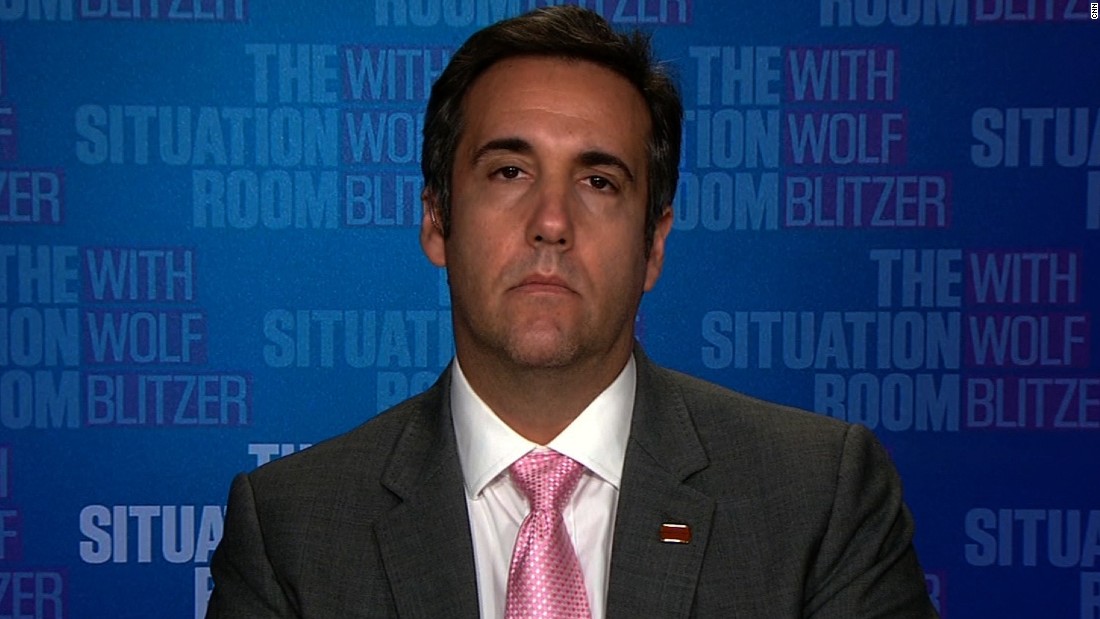 Two nights ago on a cable news show it was suggested that Michael Cohen's new counsel, Lanny Davis, 72, might have erred by releasing the first Trump tape to CNN because the more evidence that is put forth in public outside a trial, the less the Special Prosecutor will be inclined to deal with Cohen. And then a second person on the panel, a woman I believe, offered that much like Rudy Giuliani, another septuagenarian (74), maybe Davis' best days are long behind him.
It is rather funny. Michael Avenatti, 47, has been cleaning Giuliani's clock in the court of public opinion, and every one of his predictions thus far have come true. Meanwhile, last night Davis and Cohen leaked that President Trump was informed by his namesake son about the Russia meeting before it took place, which may not move the criminality needle much but, if true, is just one more example of Trump being exposed as a liar (how many thousands of examples do we need?).
Giuliani's retort: "Cohen's a liar…he's been lying for years," might have had more oomph if he'd only have remembered that Cohen spent the past decade or so in service to Giuliani's current client, which is to say that if Cohen has been lying, he's been lying to protect Trump.
One last bit here: I don't know why any of the Trump operatives are not playing offense on Avenatti, who himself is in the midst of a divorce from a woman who looks a lot like a wannabe Trump sidepiece. Avenatti's wife, Lisa Storie, wants a divorce but claims Michael has been neglecting moving forward on this as he travels the country (or, more to the point, betwixt CNN's and MSNBC's Manhattan studios) in defense of Stormy Daniels and other women Trump allegedly bedded. You'd think Bill Shine would call one of his old friends at Fox News and push the narrative that if Avenatti were such a champion of women, why isn't he listening to his own wife (who's holed up in Newport Beach, Calif., a postively hellish place to have to endure such travails, but we digress…).
3. Where Is The Love (Where Is The Love, Where Is The Love, The Love, The Love?)
Stanford rusher Bryce Love opted to forgo Pac-12 Media Day in favor of attending class at the most prestigious university west of Princeton, New Jersey, and because most (but not all) sportswriters never took a pre-med course, some in the field seemed put off by the gesture. Love may be a Heisman hopeful, but he also aspires to become a physician.
This CBS Sports video discussing Love's absence is rather comical. First, at around 1:14 the host commits a Freudian slip ("We love it that athletics are so important there in the Pac-12"). The writer on the scene, Dennis Dodd, says, "First of all, Bryce Love HAS to be here."
Why? It's freaking July.
Dodd goes on to exploit the Love no-show to throw tons of shade at both the Pac-12 and commissioner Larry Scott, sounding like little more than a Fox & Friends propaganda stirrer.
No one loses the Heisman Trophy in July. Besides, conference media days are nothing more, particularly for national writers who are just a taaaaaaaaad entitled (and this scribe was one of them), than a July junket betwixt Birmingham, Chicago, Dallas and Los Angeles, where little of any real value is gleaned. Unless, of course, you troll a head coach but even then it's not one of the national writers doing it.
Med school is intensely competitive in terms of acceptance. Every grade matters. And the people who excel in such courses are the types who prefer laser focus toward their goal as opposed to flying to Los Angeles fro the day to sit and answer anodyne questions from middle-aged men. Dennis Dodd should have simply said, "Here's a young man whose priorities are something we can all admire. He'll do his talking between the white lines."
Instead, he sounded like someone who is upset that the tail isn't wagging the dog (aren't these the same people who write columns excoriating the dog for letting the tail wag it?).
4. Judge Benched
Just as the New York Yankees were welcoming All-Star second baseman Gleyber Torres back from injury, fellow All-Star Aaron Judge was hit by a pitch on the wrist last night. Jakob Junis' 93 mph fastball came on a 3-2 count (of course) in the first inning. Judge suffered a fractured wrist and it'll be at least three weeks before he swings a bat again. He'll miss at least one month (and one Red Sox series at Fenway).
Judge actually remained in the game, scoring in the first and getting an infield single in the 3rd inning before finally being subbed.
The Yankees were 50-22 before the summer solstice. Since then they are just 15-14. Not coincidentally, the last time Judge, Torres and catcher Gary Sanchez (who apparently reinjured his right groin while being lazy Tuesday night in Tampa) were all on the manager's lineup card on the same day was June 25. Now the trio may not share a lineup card again until September.
Yes, in fact we do know that Sanchez is hitting .188 and this year, at least, Austin Romine is the better call. But Sanchez is still only 25. Maybe he'll figure it out.
5. The Tour de France Is Still Pedaling Along (Even If Susie B. Is Not Providing Updates)
Heading into the final weekend of the Tour de France, and we really like France's chances of beating Croatia. Wait. Right country, wrong July event.
Entering today's mountain stage in the Pyrenees, Stage 19, Geraint Thomas of Wales leads Tom Dumoulin of the Netherlands by 1 minute, 59 seconds. And if you're reading this early enough, you can see it live on NBC Sports Net.
If you're in search of a Tour de France piece with a little more meat on the bone, here's the New York Times yesterday taking a deep dive on the event's renowned "podium girls."
Music 101
Nights Are Forever
That set. Those mustaches. Those collars. I LOVE THE SEVENTIES! England Dan & John Ford Coley wrote what would become a future Yacht Rock Classic in 1976. From the album of the same name, this song would peak at No. 10 while the first cut off the album, "I'd Really Love To See You Tonight", would hit No. 2. The duo were friends and classmates in high school in Dallas.
Remote Patrol
The Great Santini
10 p.m. TCM
Robert Duvall as Bull Meacham, an unforgettable character: Dad, husband, Marine colonel, pilot, all-around hard-ass with just enough charm (on most days) to skate by. That's Michael O'Keefe, whom you may know better as Danny Noonan from Caddyshack, as the son. Duvall and O'Keefe would both be nominated for Academy Awards for this film, an adaptation of the Pat Conroy novel. From 1979.
p.s. Two months earlier, at least by release date, Duvall appeared in another film as a Marine colonel, a movie that you may remember him better by due to a three-word line: "Charlie don't surf!" (Apocalypse Now).