https://mediumhappy.com/?p=7699
by John Walters
Tweet du Jour
Happy birthday to my good freind Mike Greenberg @Espngreeny. To help him celbrate I read a particularly titilating passage from his book in the tub. Love u buddy!! pic.twitter.com/ZzVyXxPhmu

— PFTCommenter (@PFTCommenter) August 7, 2018

It's time to recommend PFT Commenter for "Comedians In Cars Getting Coffee."
Starting Five
Yemen-stration
What's happening: In 2015 rebels ousted Saudi-backed Yemen president Abd-Rabbu Mansour Hadi. So then Saudi Arabia attacked its neighbor. And now the U.S.A., without invoking the War Powers Act or declaring war, is doing everything to help the Saudis (refueling planes, targeting assistance, drones) without actually placing boots on the ground.
Thus far more than 13,000 Yemenis, mostly civilians, have been killed, millions have been displaced and there is an epic famine taking place. Over the weekend a bomb went off in a crowded market, killing 55, and Saudi Arabia is widely believed to be behind the massacre. But we're all too busy reading and responding to a certain orange person's tweets (guilty as charged).
The Red Cross is succinct: "The disregard of international humanitarian law in Yemen cannot be tolerated." The Saudis are blocking Yemeni ports. Those Yemenis not being bombed or gunned down are starving to death.
Why? Yemen is the poorest country in the Middle East but as you can see from the map, its location plays a ginormous role in what a former U.S. president but might call "strategery." The Houthi rebels have claimed the capital, Sana, and they may be receiving assistance from Iran. It's Syria all over again, and once again the innocents will suffer the most.
2. They Named Names
ESPN's Top 50 Players in College Football list was released today. Not to be confused with SI's Top 100 Players in College Football list (Did ESPN do this last year? We can't recall). A few thoughts on what is overall a desultory roster:
–Houston DE Ed Oliver (he's an Ed who's also a DE) is No. 1, and everyone likes Ed, but we're gonna ask: If you're a DL and you're NOT playing in the SEC, are you really the nation's top player, much less defensive lineman?
–Oliver is one of three non-Power 5 players on the list. The other two are UCF QB McKenzie Milton (20) and Florida Atlantic RB Devin Singletary (50).
–Seven quarterbacks in the Top 20 and 14 overall. Sorry, we don't see it. There just aren't that many outstanding quarterbacks in this year's class. Also, not among those 14: Eric Dungey of Syracuse, who is the top returning Total Offense player from a Power 5 conference. Dungey finished immediately behind a dude named Baker Mayfield last season, and sixth overall; another dude who finished ahead of him? Lamar Jackson.
–Sun Devil junior wideout N'Keal Harry, a serious Biletnikoff Award candidate and a physical freak, did not make the list. He's a first-rounder next spring.
–No Texas or Nebraska or Notre Dame or Tennessee or USC players made the list. That's your second-, third-, fifth-, ninth- and tenth-winningest programs of all time, respectively. Florida, Michigan State and Boise State also failed to put a player on the list.
–Four Clemson defensive linemen in the Top 24.
–Northern Illinois defensive end Sutton Smith, who led the nation in Tackles for Loss and Sacks, is not on the list. Whaaaaaaaaat??????
–Three Pac-12 quarterbacks (Justin Herbert, Jake Browning and Khalil Tate) are in the Top 20. The trio's teams went 0-3 collectively versus Arizona State last season, whose senior quarterback Manny Wilkins is not on the list.
–Presumptive MH Red Grange Award preseason favorite A.J. Dillon, a sophomore RB from Boston College, comes in at No. 36.
–On the strength of one really good half of football, Alabama QB Tua Tagovailoa comes in at No. 11. Jalen Hurts, on the strength of two really good seasons at the same position, is not on the list.
–Four Michigan players make the list. That's by far the most of any school that has not advanced to the College Football playoff.
–Two quarterbacks in the Top 20 on the  list, Tagovailoa and Milton, are from Hawaii.
–18 of the players, or 36%, are from SEC schools. Eleven, or 22%, are from Big Ten schools.
–Four of the quarterbacks on the list are transfers: Will Grier, Florida to West Virginia; Jarrett Stidham, Baylor to Auburn; Shea Patterson, Ole Miss to Michigan; Kyler Murray, Texas A&M to Oklahoma.
–No punters or place-kickers made the list.
3. Baseball? Still Awesome
Dog days? We won't hear of it! Baseball is great (even if millennial bloggers need to be introduced to it). Here's some fun with numbers:
–There are 11 teams with better run differentials than the Philadelphia Phillies, but rookie manager Gabe "Mr. Kot-tair!" Kapler's team is in first place in the National League East.
–All three National League divisions have two teams within 1 1/2 gamea of one another for first place. Strap in.
–The Oakland A's (67-46), in the midst of a 6-game win streak, have baseball's best record since mid-June. On June 15 Oakland was 34-36. They are 33-10 since.
–The New York Yankees are 43-4 when receiving a quality start (six innings pitched, three runs or fewer allowed), a .914 win percentage. They're on pace to set an all-time record for wins after quality starts in baseball history. It would be even better than that (44-3) were it not for that ninth inning choke job at Fenway Park on Sunday evening.
—Khris Davis, Oakland A's: 31 home runs, 86 RBI, .253 average. Chris Davis, Baltimore Orioles: 13 home runs, 37 RBI, .161 average. Khris will earn $10.5 million this year, Chris will earn $23 million.
–The Pittsburgh Pirates are tied with Cleveland for the Major League lead in shutouts (12) but are 8 1/2 games out in the N.L. Central. Of the top ten teams in terms of shutouts pitched, only Pittsburgh and San Francisco would not make the playoffs if the season ended today.
-Mets ace Jacob deGrom has baseball's lowest ERA (1.85), the National League's second-lowest WHIP, and a 5-7 record. Does Max Scherzer win his fourth Cy Young Award this season or does deGrom, who has autocorrected twice to "legroom" as I've typed his name in this sentence, become the first starting pitcher to win the award with both 1) a sub-.500 Won-Loss record and 2) fewer than 10 wins.
4. Smokey The Boor
The northern California Carr Fire, which is the second-worst in the state's history, has burned more than 161,000 acres. It began on July 23 when a flat tire caused a car's rim to scrape the asphalt, creating a spark that ignited the fire. Such is fate.
(No, don't suggest calling it the Car Fire.)
California wildfires are being magnified & made so much worse by the bad environmental laws which aren't allowing massive amounts of readily available water to be properly utilized. It is being diverted into the Pacific Ocean. Must also tree clear to stop fire from spreading!

— Donald J. Trump (@realDonaldTrump) August 6, 2018

Anyway, as more than 14,000 fire fighters battle the blaze that has claimed seven human lives and countless animal lives, President I-Don't-Wanna-Visit-California-Because-They-Don't-Like-Me sent out a tweet that, even for him, was startling in its ignorance (and we're back to what we noted in Item 1).
I'm going to run myself ragged trying to thank everyone for the compliments on the air tanker photo. Thanks for the kind words. It's a remarkable image to be sure and speaks volumes as to the situation in Lake County and California. Be well and be safe. @NorthBayNews #CAwx pic.twitter.com/A4Wqm0BTwK

— Kent Porter (@kentphotos) August 6, 2018

The only "water" Trump could be referring to are rivers that, you know, by nature, flow into the ocean. And "tree clears" are a way of life out west. It's also known as "fire breaks."
5. Mamma Mia!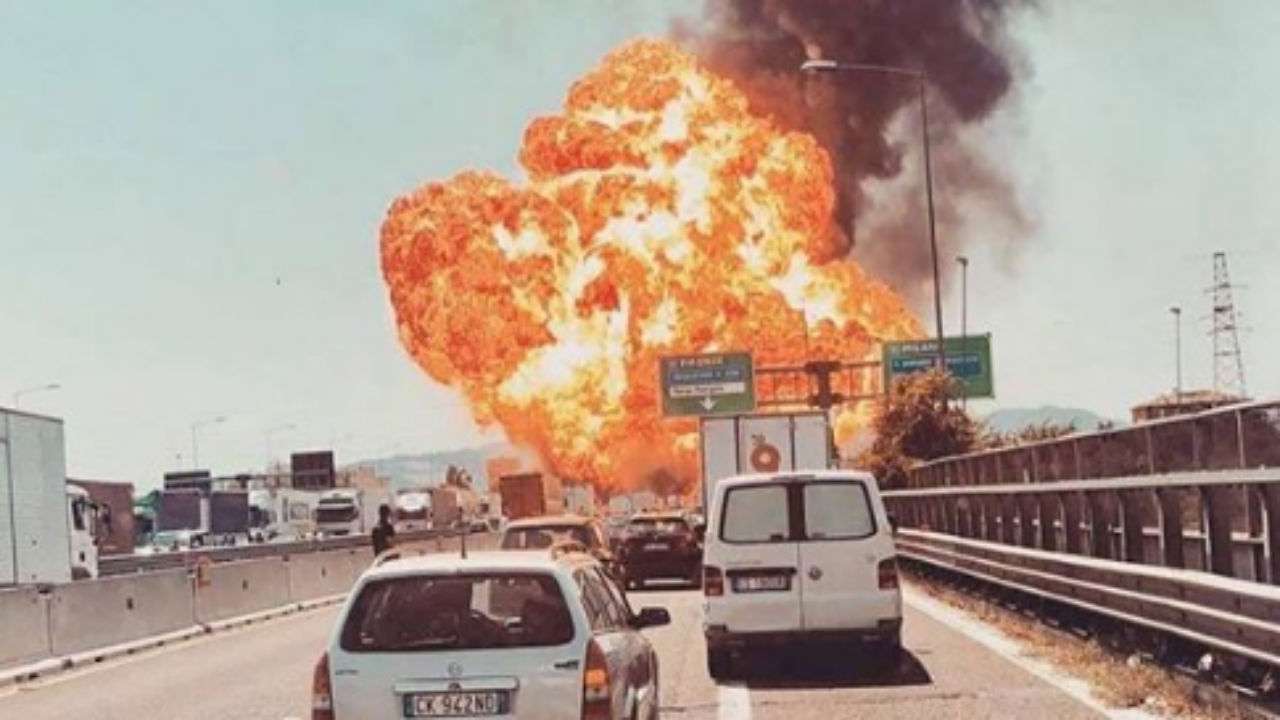 Two trucks collided outside of Bologna, Italy, and one of them was carrying flammable materials. At least one person died. Now imagine if this had happened in northern California. The video is incredible.
Music 101
Only The Lonely
The Motels were pretty much a one-album wonder, but this song deservedly was ubiquitous on the radio, and more to the point, on the MTV, in the spring of 1982. Martha Davis's hauntingly mournful vocals and a sax solo (move over, Quarterflash) helped propel the tune to No. 9 on the charts. We also like "Remember The Nights" if you want to dig deeper on this Berkeley-based band.
Remote Patrol
Safety Last
8 p.m. TCM
You may have seen the above clip from the 1923 silent film classic starring Harold Lloyd, but have you ever seen the entire film? Neither have we. We're still not sure how they did this. Also, on AMC at 8 p.m., if you want to be taken seriously as a film buff or simply as a adult and it's still on your "To Do" list, there's The Godfather: the film that explains business, family, America and how to cook meatballs. Not in that order.