https://mediumhappy.com/?p=7769
by John Walters
Tweet Me Right
Want to be on the right side of history?

Believe Women.

Buy this shirt and support survivors: https://t.co/s0S3dkGWtK @MeTooMVMT @domesticworkers @RAINN, @endrapeoncampus @BeAHeroTeam pic.twitter.com/833ZEblQxX

— Liz Plank (@feministabulous) September 27, 2018

One of the few things Mr. Trump said yesterday with which we agree is that women are smarter than men (actually, he said he's always said that). They're also more nurturing, more patient and far more credible. Men are better tippers, though (just saying). There's hearsay and there's her say, and rarely do the two overlap.
Starting Five
Deface The Nation
President Donald Trump, feeling frisky on his home turf, held a bizarro press conference in New York City late Wednesday afternoon. We'll just play the hits:
–"Yes, Mr. Kurd."
–"They weren't laughing at me. They were laughing with me."
—
For the sixth time, Trump falsely claims that he got "52%" of the women's vote in the 2016 election. He got 52% of *white women*, according to exit polls, and 41%-42% of all women.

— Daniel Dale (@ddale8) September 26, 2018
—"He said [China] has total respect for Donald Trump and Donald Trump's very larrrrrge….brain."
—"Not thousands- millions of people would have been killed. That could have been a world war. President Obama thought you had to go to war. You know how close he was to pressing the trigger." 
On how he saved the world from war on the Korean peninsula.
–""Look, if we brought George Washington here and we said, 'We have George Washington,' the Democrats would vote against him…And he may have had a bad past, who knows, you know? He may have had some — I think — accusations made."
As our pal Jamie Reidy said, "Wait'll you see George Washington's calendar."
—"Say 'Thank you,' President Trump."
—On the impact of today's hearing with Kavanaugh and Ford: "This is a very big moment for our country because you have a man who's very outstanding, but he's got very strong charges against him, probably charges that nobody's going to be able to prove. It's happened to me many times, where false statements are made.
"In this case, you're guilty until proven innocent. I think that is a very, very dangerous standard."
(You know, like if you were to shout "Lock her up!" every time an innocent woman's name was uttered)
—"You know what Elton John said about encores…"
2. Is Brooks Back?
From one of my favorite movies. Love this scene. pic.twitter.com/loZWD49Ngv

— SPORTSbyBROOKS (@SPORTSbyBROOKS) September 26, 2018

Five years after vanishing without giving notice, proto-blogger extraordinaire Sports By Brooks reappears with one cryptic tweet referencing a wonderful moment from Willy Wonka and the Chocolate Factory.
What's next? Who knows?
3. Great White (Male) Wail
This segment on CNN, that ran after the Trump presser, is indicative of older wealthy white male rage. #TheWarOnMen Infamous Trump stooge Michael Caputo is more concerned about the futures of young boys who are accused of rape with "uncorroborated evidence" (news flash: most sexual assaults are not staged in the town square; most, but not all).
"Enough… I don't get invited on here to be called out by you like this. This is inappropriate."

Former Trump aide @MichaelRCaputo clashes with @KirstenPowers over her critique of his argument in favor of Brett Kavanaugh https://t.co/T3kk3RZKl1 pic.twitter.com/k8A06zh3bq

— Anderson Cooper 360° (@AC360) September 27, 2018
 Notice how frequently Caputo interrupts Powers (to be fair, she does note, probably accurately, that he's a sexist and racist; he more than reveals himself to be a misogynist). Just as President Trump interrupted at least four female reporters as they tried to ask their questions earlier in the day. Just as MSNBC's Chris Matthews interrupts his guests, more commonly his female ones.
It's as if they all just want to put a hand over their mouths and turn the music up.
4. Dunkin Chic?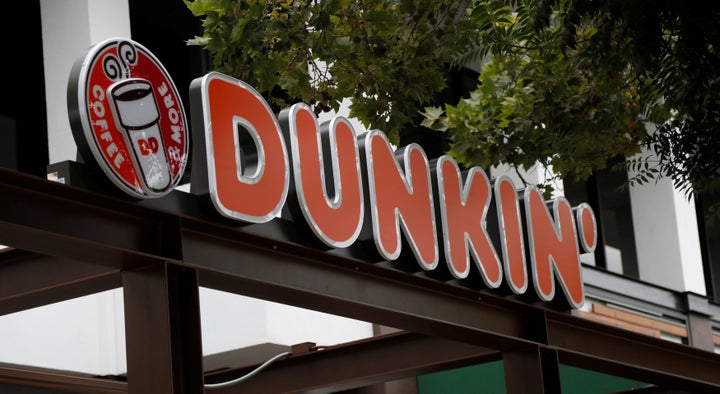 Yesterday America's most popular donutery, Dunkin Donuts, officially declared that we should all get along on a first-name basis. "Just call us Dunkin'," they said, and made it official.
Is this the most unctuous name change since Kaitlyn Jenner? Since P. Diddy? Since the Tampa Bay Rays? The Rock?
And how long before we're just calling them "Double D." or some other nickname that only serves to remind us of voluptuous pastries?
5. Emma's Elk Run
Last year 2016 Olympic steeplechase bronze medalist Emma Coburn, one of our favorite people, did three things: won a world championship, got married, and along with her husband, Joe Bosshard, launched the Emma's Elk Run 5-K in their home town of Crested Butte, Colo. "Joe said that of all the things we did in 2017," Emma told us this morning, "that the Elk Run was his favorite."
The Elk Run (named for the main street in town where it begins and ends) is a 5-K that will be staged this weekend in this Rocky Mountain haven, where the elevation (8,900-feet) greatly outnumbers the population (2,000). "There are three primary goals we had when we created this race," Coburn said. "One, we wanted to be able to raise money for Living Journeys (a non-profit that provides care to cancer patients). Two, we wanted to create an event to give back to Crested Butte by bringing people here that will help local businesses. And three we wanted to create an event to support our other community, the elite running community."
Last year Emma and Joe capped the race at 500 entrants and had a goal of raising $10,000. They raised $19,000. This year the race is capped at 1,000 and they have a goal of $30,000.
As for  Crested Butte, which she refers to as "simply paradise," the town is unflinchingly supportive. At the local movie theater Coburn's major races are shown on the big screen and the newspaper chronicles her every race. "Everyone cares about you here," she said, "no matter if you're an Olympic athlete or not. That's why I love my hometown."
It's an all-weekend event. There's a Friday night pizza party at Brick Oven Pizza, where in high school Coburn worked as a hostess and busser before graduating to server. "I still like to go back into the kitchen and speak the lingo," she said. " 'Eighty-six the peppers!'"
Then there's the race on Saturday morning (Coburn's parents' garage is the unofficial storage space for all the swag bags, signs, etc. and her dad's office doubles as the elite athlete lounge) followed by an '80s cover band dance party. Coburn ran the 5-K last year but this year she plans on being its official ambassador, walking around and doing what needs to be done. One of Joe's jobs is to wake up at 5 a.m. and mark the course.
We promised Coburn that we're doing the race next year and we're putting it down here so you hold us to it. And you're invited, too. It's already the second-best race in Colorado (in terms of drawing elite talent; this Saturday's entrants include 3:51 miler Will Leer and Allie Kieffer, who placed fifth in the women's division of the New York City Marathon last autumn) after the famed Boulder Boulder 10-K that is staged annually on Memorial Day.
Here's what we love about Coburn: she's literally in the prime of her career as the American record-holder in the steeple chase. And yet this week she was in Washington, D.C., to attend a conference about clean athletic performances and now she's en route home to Colorado to stage a race in her hometown that will raise tens of thousands of dollars for cancer survivors. And in the midst of that she takes a moment to phone our humble blog and talk about it.
Emma Coburn and Joe Bosshard, and their family, are what it's all about. If you want to visit a heavenly place, run a race and do something good for others, put Emma's Elk Run on your to-do list. We have.
Music 101
Escape
We'll never understand why this was the title track of Journey's most popular album, as the disc spawned four top 20 singles, plus another radio staple ("Stone In Love"), none of which were this tune. Still, we like it, and the band used it to open shows on their 1981 world tour. Plus, you get to see Steven Perry prancing all over the stage. No one pranced like he did. Count your blessings.
This tune would've been much more radio-friendly if it began at about the 2:40 mark. There are about four song component parts in it before that, with no dominant theme.
Remote Patrol
Kavanaugh V. Ford 
10 a.m. ABC CBS NBC CNN FOX News MSNBC (and probably PBS)
The most important Supreme Court case of Brett Kavanaugh's career, and he may never even have an opportunity to don the robe. Dr. Christine Blasey Ford is the plaintiff.