https://mediumhappy.com/?p=7790
by John Walters
*Before you read this, why not read something funny? Go to "A Message From Katie" (it's just over there to the right…See it?….Look at you owning the internet) and click. Thanks!
Starting Five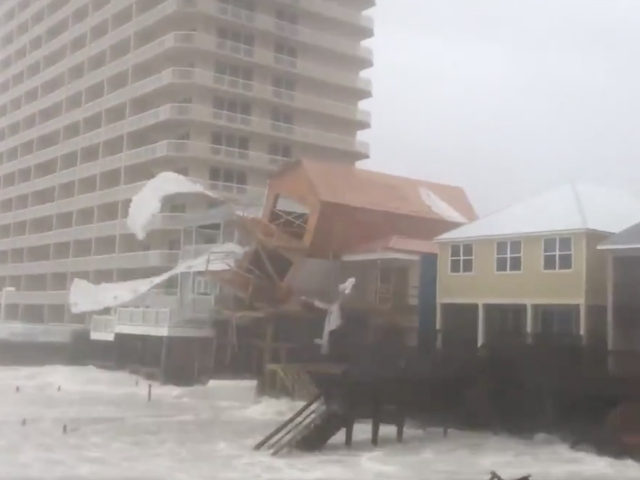 Tragic Mike
The Florida Klanhandle transformed into Desolation Row yesterday as Hurricane Michael came ashore with its 155 m.p.h. winds laying waste to a 200-mile swath of the Gulf Coast. The loss of life was minimal (two souls) but countless pairs of air-brushed sleeveless T-shirts have been lost or irreparably soiled.
Climate change isn't God reaching His hand through the clouds like an animated Monty Python bumper. No, it's a storm like Michael so soon after Florence, it's Connecticut experiencing a record number of 80-plus degree days (such as yesterday). Here in the northeast, seasons are fast becoming Summer, Indian Summer, Winter, Rain, repeat.
But, you know, it's too soon to talk about climate change right after such a devastating storm…
Michael did pose an inconvenience of sorts for our 45th president, who wanted to express concern and all but wasn't about to pass on the ego boost that a White Power Rally provides him. So here's what he did. First, he tweeted this (which, okay, no one expects him to fly to Panama City and use a T-shirt cannon to shoot paper towels into people's homes, but the fact is he literally was NOT with them)
We are with you Florida! https://t.co/qzrVLeFbyFhttps://t.co/HVVhSmBg7S pic.twitter.com/rcB6OCwLeH

— Donald J. Trump (@realDonaldTrump) October 10, 2018

and then of course he boards Air Force One and flies to Erie to feed off the hostility of his followers toward those who have nothing to do with the fact that they're losers….
Couldn't let these great people down. They have been lined up since last night – see you soon Pennsylvania! pic.twitter.com/jSrsmncw85

— Donald J. Trump (@realDonaldTrump) October 10, 2018
2. Seeing Red
The stock market took a precipitous plunge yesterday, more than 832 points (or 3.2%), its greatest one-day loss since February 8…which no one really remembers because the DOW has been so upwardly trending since then. Is it a blip or is it a trend?
Well, when we began typing this morning the DOW's implied open was -300 or so and now it's at -138. We think it's a correction and President Donald "The Fed has gone crazy" Trump blames it on the Federal Reserve and its raising of interest rates.
To all our clients at Walker Capital and to my colleagues at the Cookoutateria who texted in a panic last night, read these words of wisdom from the NYT.
3. The Butler Did It
Of trades and tirades…
Minnesota Timberwolves guard Jimmy Butler, who has been requesting a trade the past three weeks, went full mic drop on his team yesterday after showing up for the first time this preseason. Butler rounded up a supporting cast of third-stringers and whipped, repeatedly, the first-string squad that included former overall first picks Karl-Anthony Towns and Andrew Wiggins.
During the scrimmages, Butler cussed out the team's GM and coach and told them how badly they need him (they already knew this, which is why they don't want to trade him). Then he just walked out of the gym, leaving everyone's jaws agape.
Okay, so Butler has gone from 30th overall pick in 2011 to one of the league's most dynamic players. And now he's a diva. We get it. We just don't understand the logic. How do you go from "You need to trade me" to "You need me?" Or is it just that he's pissed that he's not paid as much as Towns and Wiggins?
Here's what we like about Butler, who as you can see even looks a little bit like Michael Jordan (and started out with the Bulls): He's honest. He's also a competitor, as opposed to just an AAU stud. For all their young talent, the T-Wolves don't have an Alpha Wolf if he's not there.
4. Katie's Boner
If everyone believes the sun revolves around the earth, there's not much upside to being Galileo. If you live long enough, you'll learn that it's not necessarily a good thing to have more experience and knowledge than a millennial if all the other millennials are as ignorant as he or she. Now I'm not trying to pick on millennials…okay, maybe I am to a degree.
Here's Bill Simmons appearing on his friend Katie Nolan's ESPN show recently, and being a good sport about going back to defend himself in terms of past TV clips (Why didn't they show the Sage Steele clip from the 2013 NBA Finals, we wonder?). Anyway, at one point (the 2-minute mark) she chides him about using the word "boner" on PTI and he tells her that while it gave him a vicarious thrill to use that double entendre on TV, also reminds her that it is a famous sports term dating back a century.
"Wait, people say 'boner' to just mean mistakes?" Nolan asks. "I'd never heard that."
"You know, Merkle's Boner?" Simmons asks, and then provides vague and not exactly historically accurate details about Fred Merkle (it was the 1908 World Series, not 1912, but   probably only Bob Costas and Keith Olbermann would know that off the top of their heads).
What's funny is the blank stare that Nolan gives Simmons. Like, "Whatevs, Bill." But he's not in the wrong here. She is, for being the host of a sports show and having no idea what Merkle's Boner is. And okay, we can forgive that, but it's the look she gives him as if to say, "You're nuts" instead of being humble enough to appreciate that Bill Simmons probably has a better historical sports mind than she does. Maybe she could actually learn something here.
Now, the typical millennial response to this might be, "What do you expect? I wasn't alive back then." But guess what? Neither was Bill Simmons. Neither was I, but I know what Merkle's Boner is.
So, yeah, millennials are awful. And they don't read enough because they're too busy posting selfies on Instagram. And I'm joking but I'm also not.
5. Olivia's Odyssey
This story from Olivia Nuzzi of New York magazine about her bizarre visit to the Oval Office a few days ago is just wild. She's called in to meet with President Trump about a story she's working on that Chief of Staff General John Kelly's job is in jeopardy and next thing you know she's being full-court pressed by Trump, Mike Pompeo and Mike Pence among others.
Reserves
Before we forget, this performance from Flight of the Conchords on Late Show recently. It's good to have the band back together.
***
Also, if you want to read an excellent celebrity un-profile, this piece from Taffy Brodesser-Akner on Bradley Cooper in The New York Times is wonderful.
Music 101
Girlfriend
1991, Matthew Sweet, and one of the earliest uses of anime in a rock video. The Nebraska native had moved to Athens, Georgia, in the early Eighties to attend college and be part of that burgeoning music scene that included B-52s and REM. His success came later and lesser than theirs, but this breakout hit still went to No. 10 on the charts.
Remote Patrol
His Girl Friday 
8 p.m. TCM
This 1940 comedy marks the second time in as many years that Cary Grant played a character who successfully woos his ex-wife back (The other film? The Philadelphia Story). Was that a thing back then?