https://mediumhappy.com/?p=7812
by John Walters
Tweet Me Right
The moral of the story here is JoePa did nothing. Oh so familiar. https://t.co/3OjTECvF5G

— Cole Wagoner (@colewagoner) October 25, 2018
Starting Five
MAGA Millions Lottery Winner!
I have a cat. I love my cat. He's everything you'd want a cat to be: cuddly, passive-aggressive, fiercely unaffectionate unless he wants food, and an instigator of all sort of fluid-related messes.*
You know what he doesn't do? Fetch. Which is why I never throw him a ball to retrieve.
NBC's Andy Lack hired one fantastic cat and then ordered her to bark and for that, they're both bozos. Lack is a bozo for ever thinking Megyn Kelly could be a daytime host with broad appeal and Kelly is a bozo for ever believing she'd be able to step out of the Fox News vortex of hate and paranoia and be the next Kelly Ripa or Ellen.
But Lack, 71, will still retire with a pile of gold and Kelly may walk away with as much as $69 million. She gets the money and she doesn't have to do the job? Is America great or what? That's just purr-fect.
*My cat would not authorize MH to use a photo of him for this piece.
2. Try A Little Tenderness
Kindergarteners learned to sign "Happy Birthday" song to Deaf custodian, Mr. James.

And he was surprised 😭 pic.twitter.com/cVhthZDYlh

— Nyle DiMarco (@NyleDiMarco) October 25, 2018

Look at these crisis actors! Crossing racial lines to actually be kind to one another. What is this country coming to, anyway?!? Hoping Twitter can get on top of this and suspend the accounts of the people who promulgated these videos. Did you watch the second video kind of wondering if the lady was going to call the police or take a pot shot at them? Because we've seen enough of those.
These men noticed a lady paying for her gas with pennies and decided to give her some money. Little did they know, she had just lost her husband and was having a rough time. We can all make a difference. pic.twitter.com/j2Pu7erH80

— Kevin W (@kwilli1046) October 25, 2018
*MH staffers watched that video and thought, Well, she may be paying for gas with pennies but at least she owns a car. Must be nice!
3. Mike and The Fred Dog
To be fair, Mike probably thought the caller was referring to Alberto Jose Babers. pic.twitter.com/BUj63g2AyP

— Ƒunhouse (@BackAftaThis) October 26, 2018

We get it, Mike Francesa. You're a New Yawk City guy, and New Yawk is a pro sports town, and here's some schlep from Syracuse calling to ask your opinion about Fred Flintsone's pet. Besides, college coaching names are whacko what with Dino and Dabo and Jimbo and Ed. O.
Still, it's funny and very in character that Francesa is so dismissive of the caller. Instead of saying, "Who is that?" he decides to simply declare that such a person does not exist. Francesa, 64, retired last December and remained retired a full four months. He missed that daily jolt for his ego. He either needs to do more homework—Syracuse is the only Power 5 school in New York state and having a good season and, oh, they play Notre Dame in Yankee Stadium next month—or hang out with Megyn Kelly.
4. Yosemite: 2 More, That Makes 8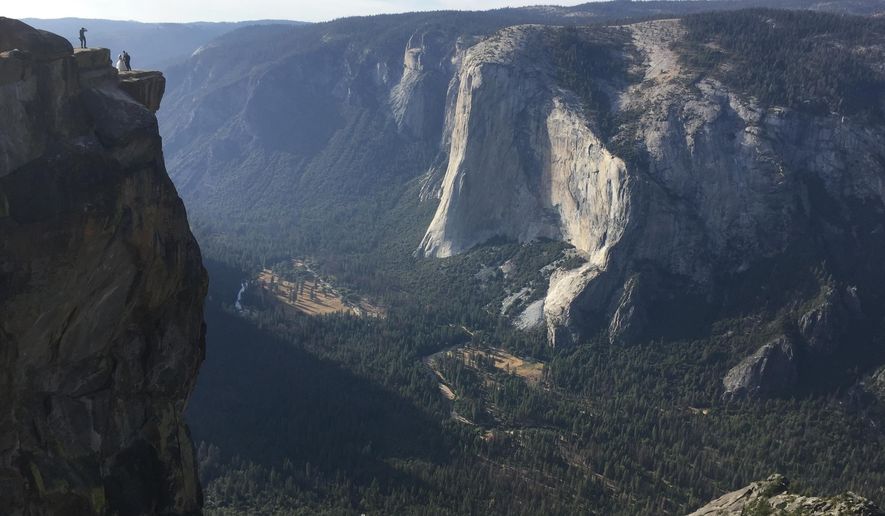 Two more people died in Yosemite National Park this week, bringing the total this year to eight and making it far more dangerous than surfing but still less dangerous than riding in an SUV limousine in upstate New York (too soon?).
By the way, this story is strange, or at least its coverage has been weird and perhaps a tad confusing (or incompetent). What happened was, a couple apparently was standing at Taft Point, a popular but perilous overlook at Yosemite and no one knows what caused it but they fell a few thousand feet to their deaths.
What makes this odd is that every story you read talks about how another couple posed at this spot a week ago, a photographer shot them in his frame and then went about on social media trying to locate them. Apparently that shot went viral and he's still attempting to locate them but WHO THE F&%* CARES, THEY'RE NOT DEAD YOU JUST HAVEN'T LOCATED THEM AND WHY WOULD YOU THINK THAT YOU COULD?
Anyway, most stories we've read have focused more on this photo and the man's search for this elusive couple than on the couple that actually died and I'm sure I had to read the story more than once or twice before I was absolutely sure we weren't talking about the same couple (which, sure, we might be if the same couple visited the same spot one week apart).
I'm more frustrated than I ought to be by this. But you know, death by gravity, that's just part of lie (Rule No. 1) whereas Bad Journalism, that's something we ought to be able to combat.
5. This Is You, And That Is Every Day
Injury Report:

Pile of leaves out 3-4 weeks after getting hit by a bundle of good boy pic.twitter.com/vlwYf1zxmh

— Barstool Sports (@barstoolsports) October 25, 2018

We can all learn a lot from this pooch.
Reserves
Two crazy moments from an NFL Thursday night game….
ICYMI DeAndre Hopkins is that dude. pic.twitter.com/2tvpeUahBR

— Field Yates (@FieldYates) October 26, 2018
jjjjj: DeVante Parker catch TNF 10/25/18 NFL Network Thursday Night Football: Miami Dolphins at Houston Texans https://t.co/AvBOy6Gpzv pic.twitter.com/Q0PDsaMMpc

— FanSportsClips (@FanSportsClips) October 26, 2018
************************
Proud Boys member gets makeover for court appearance https://t.co/qSy0aBc9CN pic.twitter.com/5riGKuESns

— New York Post Metro (@nypmetro) October 25, 2018
'
The dude in the suit is thinking, Wasn't forcing me to shave this glorious beard punishment enough?
*****************
Being forced to watch videos of serial killers at breakfast but it's not toxic at Maryland? Okay…At the very least it's twisted.
My @TheAthleticCFB column on the Maryland report & on the culture under DJ Durkin — which is toxic whether or not they want to use the word: https://t.co/7KhJTTrzcA pic.twitter.com/v0Ay72Du9a

— Nicole Auerbach (@NicoleAuerbach) October 26, 2018
Music 101
The Rest Of The Dream
While certainly a song of its era in terms of sound, this 1990 offering from criminally underrated musician/songwriter John Hiatt remains a timeless gem. It's an ode to parents and their children ("When you can't find a light at the top of the stairs/When you cry in the night/You know I'll be there") and the Nitty Gritty Dirt Band liked it enough to cover it the same year it was released (and it's really lame, but we run it so that you can appreciate how awesome Hiatt is). Hiatt is in the midst of an East Coast swing right now and coming to a theatre near you!
Remote Patrol
World Series: Game 3
Red Sox at Dodgers
8 p.m. FOX
As our Twitter pal Andrew Hammond asked Wednesday night, "Does anyone really think this series is returning to Boston?" L.A. would need to win two of three in Chavez Ravine for this to happen. The Sox are 9-2 in the postseason after a 108-win regular campaign and we feel obliged to remind you, again, that all this has been done without Dustin Pedroia who, while no longer in his prime, is still a mighty good player.
Boston, before Game 1 of the World Series. Not my picture, but a damn good one. pic.twitter.com/e9PCPDNII0

— Stephen King (@StephenKing) October 26, 2018

This actually looks like the opening scene from a Stephen King horror novel.