https://mediumhappy.com/?p=7850
by John Walters
Tweet Me Right
I don't think prominent military figures are beyond criticism but I'll just note that the Republican Party held a twenty something SNL comedian to a much higher standard than the president of the United States

— Tacchino è buono 🍝 (@AdamSerwer) November 20, 2018

Starting Five
54-51
With Rams 54, Chiefs 51, in a game between the NFL's top two teams, the league officially joined the Big 12 last night:
–The highest-scoring Monday Night Football game in NFL history.
–The first game ever in which both teams eclipsed 50 points.
–10 passing TDs, 6 by Pat Mahomes (who also threw a pick-six)
–Each quarterback threw for more than 400 yards.
–Oddly enough, Todd Gurley's 13-game streak of at least one touchdown per game ended.
It was the first Monday Night game in the Los Angeles Coliseum in 33 years. Don't wait so long for the next one.
Chicago Fire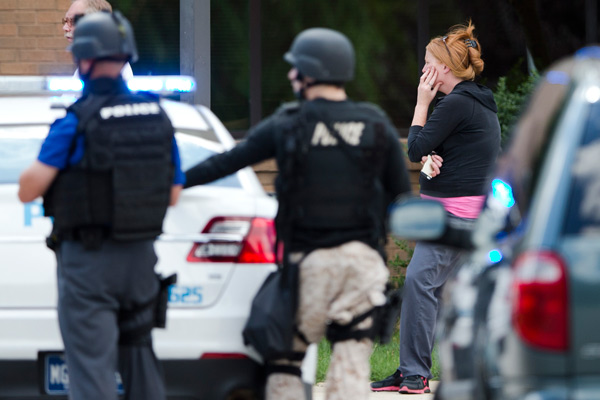 Four dead in Chicago after a mass shooting at Mercy Hospital. A 38 year-old ER doctor, Tamara O'Neal, was the target of the gunmen's wrath. She had recently broken off an engagement. It appears he shot her in the parking lot and then ran into the hospital as he was exchanging gunfire with police who responded to the call.
A 25 year-old pharmacy resident, Dayna Less, apparently was struck by stray fire. A policeman, Samuel Jimenez, was also fatally wounded. What a mess.
Stay tuned for the president's praise of the HEROES who prevented it from becoming a greater tragedy (this most likely was not a mass shooter-style incident, but rather a domestic violence incident).
3. All The Small Things*
*The judges will not accept "In the Blink of an 'i'"
It's moments such as this when the internet and Twitter are fun.
It began when James Corden, host of The Late Late Show and a Brit, said that across the pond Blink-182 is pronounced "Blink One-Eight-Two." And that got the ball rolling…
The British call Blink-182 "Blink One Eight Two" and I'm not saying that's WHY they lost the Revolutionary War, but…

— Karmitzvah (@IanKarmel) November 19, 2018

Then Cordon replied…
Don't start this. I admit we are wrong on this. America calls them Blink One eighty two. Which is also wrong. They technically should be called Blink one hundred and eighty two. Don't take some moral high ground here. https://t.co/zm2Gpb6xtT

— James Corden (@JKCorden) November 19, 2018

At this point Tom DeLonge, the band's original vocalist and guitarist, entered the fray…
It's actually— Blink eighteen-two. People have all gotten this wrong for years. Sometimes this can happen with very complex, thoughtful and elevated art. https://t.co/jmsfv401KF

— Tom DeLonge (@tomdelonge) November 19, 2018

And from here we were watching and waiting, an-ti-ci-pa-ting…..
"Nobody likes you when you're XXIII." https://t.co/SvQx3FeDqC

— Andrew Bucholtz (@AndrewBucholtz) November 19, 2018

What's my age again? What's my age again?
4. Lanka Her Up 
News from Washington, D.C.: Ivanka Trump, alias "First Daughter," alias "Secretary of Handbaggery," alias "The One That Got Away" (in dad's opinion), has apparently been using a private email server to conduct government business. This almost automatically erases her chances to win the 2016 presidential election.
5. The DOWN Jones Industrial
Catch me I'm falling! Whoa, what a stinker of a week for the stock market. As we type this the Dow has already fallen nearly 600 points this morning. Let's hang on/To what we got/Don't let go, girl/We've got a lot/Got a lot of stocks between us…
We reminisce to last year at Thanksgiving, when Bitcoin was soaring and Walker Capital was raking in the cash (and obviously, using those rakes on cash instead of forest floors, where we should have been using them, proved catastrophic). All's we can say is that if you haven't sold or shorted already, you may as well hang on for the ride. At some point this beast must resurface for air.
In the meantime, here's where Bitcoin Investment Trust (GBTC) was last December 18
$38
and here's where it is today….
$5.
So there's that.*
*We got out long ago