https://mediumhappy.com/?p=7852
by John Walters
Tweet Me Right
HOLIDAY TRADITION: Bumper-to-bumper traffic in Los Angeles on Tuesday night as Americans get a head start on Thanksgiving travel. https://t.co/qIY7g4S4VV pic.twitter.com/J80Ruw1W6n

— ABC News (@ABC) November 21, 2018

To be fair, this could be any Tuesday night in Los Angeles. 
Starting Five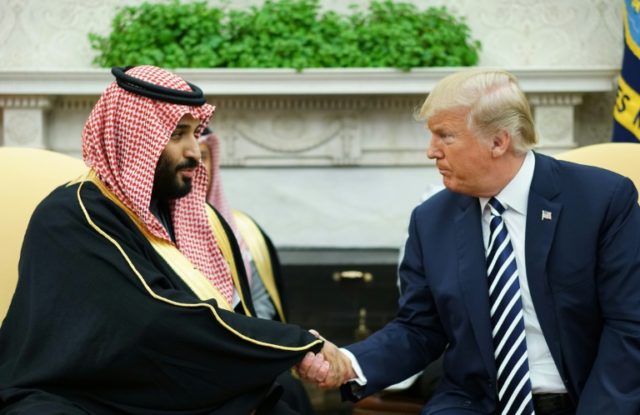 1. America Worst!
Donald Trump, after weeks of hoping that there was a vaguely passable way to exonerate MBS in the murder of Washington Post contributor Jamal Khashoggi, finally throws up his hands and employs the old "But we need the eggs" excuse. In a 633-word statement, he basically asks, "So what?" and also defies the CIA's conclusion with, "Maybe he did—maybe he didn't!"
We really don't, as only 11% of United States oil consumption emanates from Saudi Arabia.
But that's not really the point, now is it? Trump, using Trumpian values as opposed to American values, is arguing that as long as it makes you richer, who cares what laws of nature or ethics one must violate? Moreover, our guess is that is whatever is transpiring behind the scenes is not enriching the U.S.A. anywhere near as much as it is enriching Trump, which may explain why he keeps using wildly inflated numbers to discuss the weapons sales we are making with them (and what's smarter than making weapons sales to cold-blooded killers?).
Meanwhile, The New York Times already made a compelling argument last week of how this murder took place.
9/11 was the wakeup call. Forget whatever revenge we wanted to exact on whoever did it (and how long it would take!), the best revenge was to pivot away from an oil-based economy, something that is entirely possible with a little ingenuity. Not only would it liberate us from having to do business with some of the world's worst people, it would be great for the environment. But that was never going to happen because the man in the White House back then, well, his family made its fortune from oil.
And so now this is where we are. Saying, "So what?" when an American resident is choked, dismembered and dissolved in acid under orders of a Saudi prince.
2. Yo Adrian
After 21 seasons and 3,166 hits, Adrian Beltre called it quits yesterday. The idiosyncratic superstar who spend more than two decades under the radar. Four teams, four All-Star seasons, five Gold Gloves, 477 career home runs, one season leading the league in HRs (48) and another one leading it in hits (199).
There's some great GIFs on @CespedesBBQ that illustrate that Beltre was a little toys in the attic. Here are our two favorite. The first is when an ump told him to return to the on-deck circle because he was standing too close to the plate, so he simply moved the on-deck circle (the ump tossed him):
That time the umpire told him he was too close to the batter and had to stand on the on-deck circle so he just dragged the circle to where he was standing before and then the ump tossed him. pic.twitter.com/v108bIkyMn

— Cespedes Family BBQ (@CespedesBBQ) November 20, 2018

The second pertained to the fact that his Ranger teammates, particularly Elvis Andrus, loved to touch the top of his head because they knew it annoyed him:
That time he got so pissed off with Elvis Andrus touching his head that he threw his glove at him during a pitching change. pic.twitter.com/UpNU8jqVAH

— Cespedes Family BBQ (@CespedesBBQ) November 20, 2018

Beltre was never a household name outside of baseball households, or maybe even Texas baseball households. But it's a Hall of Fame career, no doubt. The dude is 16th on baseball's all-time hits list and 30th on its all-time home runs list.
3. The Fall of The Romaine Empire*
*The judges will also accept "Leaf It Be" or "The Iceberg Cometh" or "Salad Daze."
Suddenly Romaine lettuce is no longer safe to eat? The CDC reports that 32 people in 11 states have gotten sick from a strain of E. Coli in the past few weeks and while no one has died, they are urging folks not to eat it and restaurants not to sell it. Of course, if you believe that everything you read is Fake News, then go right ahead and chomp away.
4. Muck of the Irish
Last week, on Twitter, we suggested that for this week of College GameDay, they should simply run a segment of all the times this season the boys on the desk picked against the Irish (at least one panelist, and sometimes as many as three, picked agains them for Michigan, Stanford and Virginia Tech games, and also stated that the Syracuse game would be tight).
That's when someone named Derek Muller, whom we don't know, sent us the above YouTube video along with a note that read, "I did a thing for the first time inspired by your tweet."
5. Stanford Standouts
It's been a forgettable football fall on The Farm in Palo Alto, but the women of Stanford University have been crushing it. The Cardinal women's soccer team is 20-0-2 heading into the College Cup while the women's volleyball team is 26-1, its lone defeat a 5-setter at Brigham Young back in August.
Both squads are ranked No. 1 in the nation.
Music 101
Lady Marmalade
The song in which Patti LaBelle taught Americans a French phrase. The song roared to No. 1 for one week in 1974, but it has had a much more auspicious shelf life than its original reception would have suggested. And in case you were wondering:
Giuchie, Giuchie, ya ya dada (Hey hey hey)
Giuchie, Giuchie, ya ya here (Here)
Mocha Chocalata ya ya (Oh yea)
Creole lady Marmalade
Remote Patrol
Duke vs. Gonzaga
5 p.m. ESPN
Top-ranked Duke already waxed No. 2 Kentucky—by 34—in its season-opener. Now K's Kids take on the No. 3 Zags, whose coach, Mark Few, has never beaten the Blue Devils, in the final of the Maui Invitational. To quote Jay Bilas last night: "Zion Williamson is a phenomenon, but he's not the best player on his own team—R.J. Barrett is, and he'll be the No. 1 pick in the draft."
Note: We