https://mediumhappy.com/?p=7932
by Chris Corbellini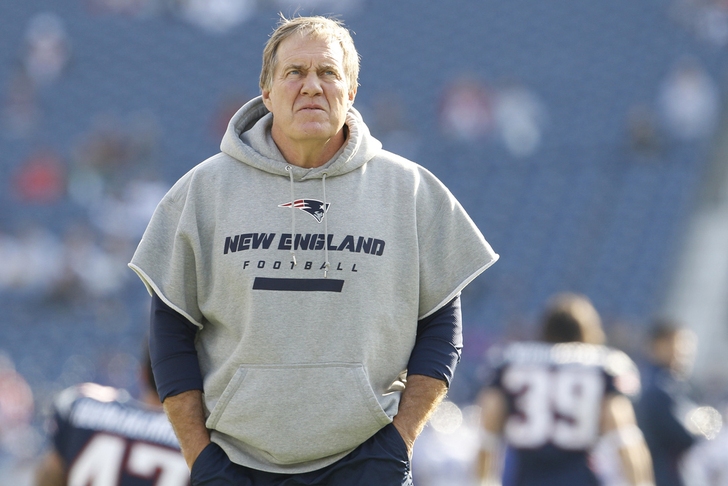 Championship Weekend Picks: The case for Bill
On the eve of yet another AFC Championship Game for the New England Patriots, I ask, who had more to do with this Patriots' run of ridiculous: Bill Belichick, or Tom Brady?
Don't give up so easily and answer both.  No … truly … who made more of an impact on this NFL dynasty from the years 2001-19: The Hall of Fame-bound coach, or the GOAT QB?
Are you a Belichick person? Or a Brady person?
It's not a hard answer for me to get to. Brady is one of the five best QBs of all-time in my estimation, and probably No. 1. And still, I choose Belichick every day and a thousand times on Sunday. He has been a part of my Sundays since I was in my early teens. I'm now in my 40s, and he still shows no signs of wanting to retire to the broadcast booth or his Nantucket compound to fish. Actually, he shows no outward signs of anything beyond "Do your job," and trust me, football followers like me are watching closely.
I read an essay in Esquire about bar wisdom that theorized that success is a point on a graph where faith and purpose meet. And Bill and his hoodie has been standing at that point for decades, arms crossed and scowling and pissy and secretive. He belongs on a sideline. You'll need to pry his headset from his cold, dead hands.
For me it all started with '80s Belichick, skinny and under-dressed and baby-faced (really) and scribbling purposefully at RFK or Giants Stadium on a white board as grizzled Giants defensive players like Carl Banks and Everson Walls looked on. He was not quite the first football assistant coach/defensive coordinator I'd ever seen — my first Pop Warner assistant coach would sleep off the wild night before in the parking lot before practice, and one of us would have to tap on the window of his car to wake him up.
That guy was hilarious, and hard-nosed, but nowhere near the vicinity of in charge. No, Belichick was the first assistant that I recognized had value on the greatest stage in pro football at that time — the NFC East. Belichick was Parcells' guy. He was going to be the HC of his own team one day. John Madden told us that on NFL Sundays, and I believed it. Football-wise, Belichick showed me if you grind and succeed for someone like Parcells, and help win the biggies when all of us are watching, you'll get your shot. Throw in Buddy Ryan's 46 defense in that era, and I quickly surmised you are your coaches — great assistants were the difference makers between a very good team, and a Super Bowl one.
From there, four BB anecdotes have stood out to me over the years:
1-Thurman Thomas and Super Bowl XXV: As I discovered while helping out on the 1990 New York Giants America's Game show for NFL Films, Belichick told his Giants defense that if they allow All-Pro Thurman Thomas to rush for 100 yards, they will win the game. This, naturally, infuriated some the veteran defensive players, and though Banks wouldn't say who in his on-camera interview, no doubt the mercurial Lawrence Taylor was part of that vocal group. But no, BB stood firm. Let Thurman eat. Let him slip free just enough. Let him get 100. That's clock-ball. That will keep the K-Gun offense – led by Jim Kelly and Andre Reed and James Lofton — grounded and confident the ground game is enough. Amazingly enough, Banks noted, it all came to pass as Belichick predicted. Thurman had 135, and the Giants edged the Bills, 20-19.
2-Brady over Bledsoe: This one took real stones. Belichick chose Brady as the starter over franchise passer Drew Bledsoe for Super Bowl XXXVI, and the dynasty began.
3-He will remain anonymous, but: Belichick agreed to a Films doc about the 2009 season (a 10-year BB challenge!), and as part of that film, he was wired for every game and gave the crew unparalleled access – provided Films didn't give away strategy. Not long after shooting was completed I asked someone who scrolled through all that footage the Belichick-Brady question, and he answered very quickly: "Bill. He's the brains behind all of it." I've never forgotten that.
4-Sterling Moore/Julian Edelman 2012 AFC Championship Game: This might be BB's greatest coaching moment, and it only involved defensive backs. His secondary decimated by injuries, Belichick used Julian Edelman as a slot corner, and at one point the receiver was actually covering Anquan Boldin in the AFC Championship Game, and doing a decent job of it. Sterling Moore, a rookie who started the year as a practice squad player for the Raiders, would then break up a touchdown pass to Lee Evans that sealed the game. It was an incredibly heads-up play, timed perfectly, and it wasn't an accident. Moore explained to reporters afterward he had practiced that move over and over in practice, so much so it became pure instinct. When someone asked him who specifically taught him that slap-away move, he answered simply:
"Coach Belichick did."
If this year's AFC Championship Game is close, I'm giving the edge to BB. In the close ones, his teams are just better prepared – even bottom-of-the-roster guys like Sterling Moore manage to define big moments. As Steve Sabol once wrote of Belichick, "His complex schemes work like a kaleidoscope: with each little twist, they present different pictures to the opposition." And that's why I give the edge to Bill over Brady. Tom clawed his way out of the slime as a sixth-round pick to become arguably the greatest QB of all time, and holy sh-t, that 75-yard throw he made at the end of Super Bowl XLII to Randy Moss that was knocked away by Corey Webster at the last moment was the most beautiful 'almost' I've ever seen on a football field. I was there. And still, every Sunday, be it the preseason or a Super Bowl and all games in between, BB comes up with something totally unique on that football field.
It must drive opposing coaches batsh-t crazy.
I just wonder if the Patriots can keep it close in KC to make Andy Reid BB's latest victim.
As usual, I have William Hill odds here, with the home team in caps.
Rams (+3) over SAINTS
So, anyway, yeah, Michael Thomas vs. Marcus Peters is a huge mismatch. In their last meeting on November 4, Thomas turned Peters into a whimpering puppy, hauling in 12 catches for 211 yards. The issue here is that the Rams have mismatches ahead for Robert Woods AND Brandin Cooks. I think the Rams steal this, even in that glorious pleasure dome down in New Orleans.
CHIEFS (-3) over Patriots
I flip-flopped on this one twice. If KC keeps it close, then the BB mind games start. If Patrick Mahomes tries some kind of funky throw — underhanded perhaps — then the Patriots D will sniff it out and capitalize. Plus, given KC's relative weakness defending out in the flat, I see James White having a big day catching passes out of the backfield.
And yet … if the Chiefs go up big early in the cold in front of all that red at Arrowhead, then it's over and a new AFC power rises. And I can easily see that happening. Mahomes plays like he has nothing to lose on every snap. He's a win or two away from being the face of the league.
But again, I flip-flopped twice on this game. Call me sentimental. I've been watching BB pull out close playoff games for decades … with back-ups like Moore, and rock stars like LT and Brady. It doesn't seem to matter who he fields out there, and that is his enduring greatness.
Last week: 1-3
Playoffs: 3-3-1
Overall: 27-41-1