https://mediumhappy.com/?p=7941
by John Walters
Tweet Me Right
Here's a question I'd like to ask someone who went to #FyreFest: "If you were stranded on a deserted party island, which Fyre Fest doc would you bring with you?"

— Andrew Goldstein (@AngeGold) January 24, 2019
Starting Five
Commerce Secretary Wilbur Ross tells CNBC regarding the shutdown: "I don't really quite understand" why federal employees need food banks https://t.co/TzGaaGbe8v pic.twitter.com/lNFbdEdnwm

— Media Matters (@mmfa) January 24, 2019
1. Intolerable Cruelty
He's a silly little man, that Secretary of Commerce Wilbur Ross. The billionaire, appearing on CNBC yesterday morning with Andrew Ross Sorkin, said he did not understand why furloughed government workers are going to homeless shelters for food (tip: this is what many people who don't get paid do). They should be taking low-interest loans out from banks instead.
CNBC: Secretary Ross, do you worry about safety at airports amid the shutdown?

ROSS: I do, & it's disappointing that air traffic controllers are calling in sick

CNBC: Many of them can't afford to support their families

ROSS: Well, remember, they are eventually going to be paid pic.twitter.com/rsiXVDRcEQ

— Aaron Rupar (@atrupar) January 24, 2019

Check out the second video where Ross refers to a family being broke as a "liquidity crisis." Good grief. I'm sorry, who are the elitists? The good news is that Savannah Guthrie will probably have a sit-down with Wilbur later this week.
Later, attempting to ameliorate the gaffe but instead only exacerbating it (that's two, TWO SAT words in one clause!), President Trump painted a Rockwellian portrait of being broke, "Local people know who they are, when they go for groceries and everything … They will work along. I know banks are working along … They know the people. They've been dealing with them for years. And they work along."
When did "work along" become a phrase? And does Trump really expect Americans to believe we're all living through the bank run scene from It's A Wonderful Life ("Why, your money's in Joe's house…"). By the way, it struck us yesterday that it must seem like old times for Donald Trump: he's got thousands of people working for him who are being told they'll be getting paid later. You may want to ask a few dozen contractors, plumbers and construction workers in the Tri-State area how that movie ends.
2. In Other Jimmy Stewart Movie News
.@SenatorBennet responds to @Sentedcruz: "These crocodile tears that the Senator from Texas is crying for first responders are too hard for me to take." pic.twitter.com/g4FBxdfiGY

— CSPAN (@cspan) January 24, 2019

Early last evening a normally mild-mannered Senator from a flyover state gave an impassioned speech on the floor of the U.S. Senate. And he didn't even have to filibuster. Michael Bennett (D-Colorado) let bearded counterpart Ted Cruz (R-Texas) have it right between the eyes.
Our little commentary on how yesterday killed THE WALL, in the form of a geometric proof:
President Trump proclaimed that he was going to build THE WALL and Mexico was going to pay for it.
Mexico isn't going to pay for it.
Trump's next step was to hold the budget hostage unless he got funding he wanted for THE WALL.
In fact, ON CAMERA, in the Oval Office, Trump assured Bennett's Senate colleagues Nancy Pelosi and Chuck Schumer, that he would take the blame for the government shutdown: "If we don't get what we want… I will shut down the government…

I am proud to shut down the government for border security, Chuck. … I will take the mantle. I will be the one to shut it down."

The government has been shut down for 35 days.
Now the very people who were with Trump on this shutdown are watching as he and his billionaire cronies stiff hundreds of thousands of Americans and put air-traffic security at tremendous risk in order to get THE WALL.
Trump doesn't really care about Americans, he cares what Sean Hannity and Laura Ingraham think. He's not even willing to listen for one moment to reasonable alternatives to THE WALL. Because he understands that THE WALL is the symbol of his presidency. And if it fails, he fails. He's willing to screw Americans for as long as it takes in order to get THE WALL.
Yesterday, America got to see just how out of touch Trump and his cronies are with most of Americans. "Liquidity crisis" and "work along" from billionaires who've never had to work paycheck to paycheck.


WATCH: Full video of heated Oval Office meeting between President Trump and Democratic leaders Schumer and Pelosi over border security and a potential government shutdown https://t.co/o17CEUyMe9 pic.twitter.com/Z9E1v0Q5Ko

— CNBC (@CNBC) December 11, 2018

Having already lost the battle as to whom is to blame for the government shutdown, yesterday the White House lost the battle as to who the true elitists are. The only people who still believe in them are hopelessly racist or foolish.
3. Intolerable Cruelty, Part II
You need more? Here's Larry Kudlow, the president's economic adviser, attempting to portray his fundamentally wrong—and he knows it—interpretation of "volunteering" as a battle of semantics. It simply isn't.
Q: "That's not volunteering if you're being forced to work without pay. If you don't show up you lose your job. That's not volunteering…"

Larry Kudlow: "I'm not even going to go there. You know what I'm saying. It's very clear…" pic.twitter.com/w1CNOmafBZ

— CSPAN (@cspan) January 24, 2019

Of course, being told that you must come to work and do your job without pay or else be fired is not volunteering. It's forced labor. Indentured servitude. It's a hostage situation. But I'm sure Bill O'Reilly would point out that they are being well-fed.
How many more examples does America need to demonstrate just how little the filthy rich care about most of them? There's only thing they want from you, there's only thing they need from you and that is YOUR VOTE. And trust us, if there were a way to remain in office without having to figure out ways to manipulate you in order to obtain it (what do you think voter suppression is, anyway?), they'd go that route. They want NOTHING to do with you other than that you do your jobs for as little as possible.
4. Wait, There's More?
This morning, before sunrise (just before 6 a.m.), FBI agents pounded on Roger Stone's door in Fort Lauderdale: "FBI! Open the door!"
Stone, a longtime friend and consigliere to Trump, was arrested and indicted on seven counts. The circle is closing.
And yes, in case you're wondering, the FBI agents who conducted that raid have yet to receive a paycheck in 2019.
5. He Bru Outta Here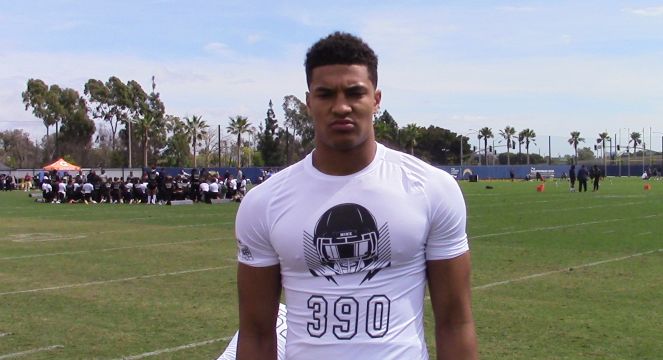 *The judges will also accept "Bru's Your Daddy"
Just weeks into his early enrollment classes at USC, Bru McCoy, the Trojan's lone 5-star recruit of 2019, enters the transfer portal. We're not exactly sure how this will go down, but it could work out that McCoy will have to sit out a year no matter where he transfers (if indeed he transfers) even though we're still one week away from National Signing Day. That's because he signed during the early period and already enrolled at USC.
But that was before the Trojans' new offensive coordinator, Kliff Kingsbury, moved on to the head coaching job with the Arizona Cardinals. It almost—I mean almost—seems unfair. McCoy, rated the No. 1 athlete prospect in the nation and a product of Santa Ana (Calif.) Mater Dei, a giant feeder school for both USC and Texas, is reportedly thinking Longhorns. That would be a huge pickup for Tom Herman (until the NCAA finds out someone from the Longhorns was tampering…we're only kidding…they'd never do that!).
The only other question is whether "Bru" is the past tense of "Bro" or of "Brah."
Reserves
Bill Walton Ain't Afraid Of No Ghosts
During the second half of last night's "Conference of Champions" classic from Eugene, Bill Walton told partner Dave Pasch (I can't recall why it came up) that he had been in Ghostbusters but that his scene was cut. Pasch, not surprisingly, was dubious. If you travel to the film's IMDB page, however, you'll find Big Red's name in the cast credits, in the "others listed alphabetically" area.
Now, if only we can gets someone from ESPN to twist Ivan Reitman's arm to release Walton's deleted scene(s).
Music 101
Fat-Bottomed Girls
It never got the radio play of Queen's other late Seventies/early Eighties hits—maybe it had something to do with the title and lyrics?—but few tunes exemplify everything that made the band original and unmatchable: cheeky (!) lyrics, crunchy guitars, ethereal harmony and Freddie Mercury's charismatic and inimitable voice. The song was released in 1978 as a Double A-side single with "Bicycle Race." Talk about a bargain for $1.99. It went to No. 24 on the Billboard charts.
Looking back, it's almost tragic that this band did not write the soundtrack for The Rocky Horror Picture Show. The two were off by just a few years, but they would've been perfect for it.
Remote Patrol
Senna 
Netflix
Definitely falls into our Top 10 favorite documentaries list along with Grizzly Man, American Movie, Free Solo and The Mule. Wait, what?
Brazilian Formula One champ Ayrton Senna had it all. Then he lost it all on one bend in the road on a day when he knew he shouldn't be driving. Worth noting: the driver directly behind him that day was Michael Schumacher, who himself has been in a vegetative state due to a post-retirement skiing accident that took place more than five years ago.