https://mediumhappy.com/?p=7973
by John Walters
Tweet Me Right
$1 million sitting at the top waiting on you. You climbing or nah? pic.twitter.com/JNqmrZxIgB

— Jimmy ✊🏾 #PowerToThePeople (@jwheels74) February 17, 2019

Ad idea: Woman reaches top of pole. Zoom in and she's grabbing an Arby's cheddar deluxe.
Starting Five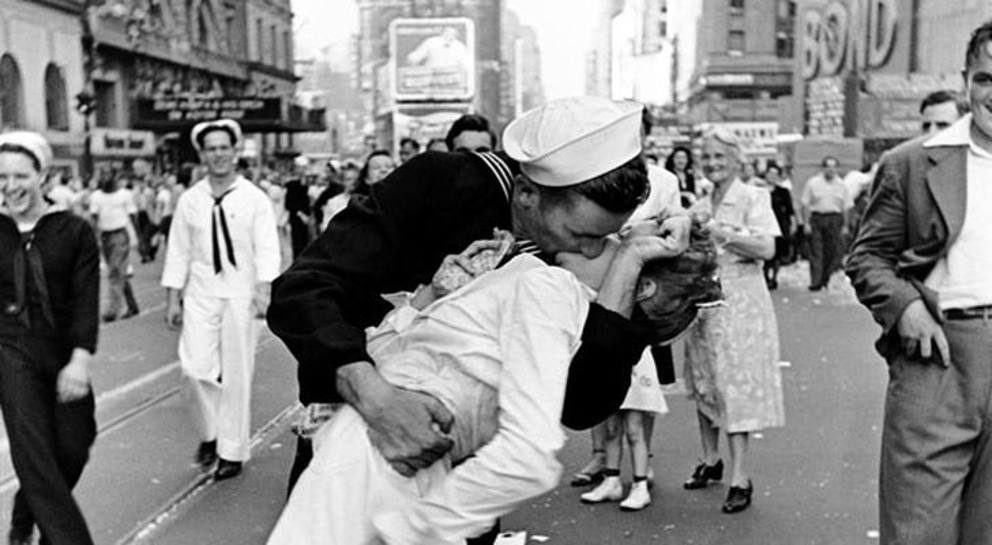 1. Bye, George
Our first thought upon seeing this iconic photo of George Mendonsa planting one on Greta Friedman in Times Square on V-J Day (August 14, 1945) was, Things sure were a lot less complicated before #MeToo.
Mendonsa died yesterday, two days before his 96th birthday, after falling at the assisted living facility where he lived with his wife of 70 years in Middletown, R.I. The photo of the strangers smooching, shot by Alfred Eisenstadt (four frames in 10 seconds), captures all of the euphoria of World War II ending and The Greatest Generation winning it.
One can argue that, short of writing and adopting the Constitution, helping to defeat Adolf Hitler and also Japan in World War II is the single greatest achievement, without any downside, of this nation. The photo of Mendonsa and Friedman basks in the moment and is the single greatest unstaged photo (unlike the planting of the flag at Iwo Jima) from that war.
2. Great, And Not So Great, Walls
A memory: When I was working for NBC Sports at the 2008 Olympics, and cognizant that my old colleague Grant Wahl was there for SI to cover soccer, I pitched a semi-regular segment called "The Grant Wahl of China" in which Grant would appear and talk about the soccer goings on. Grant was, understandably, all for it. The NBC brass, not so much.
Anyway, one of our takeaways from the border wall debate (and you are free to watch Stephen Miller debate Chris Wallace on Fox News, or Trevor Noah or John Oliver demolish the idea) is how President Trump and his sycophants refer to this as an "invasion." The Chinese erected their "Great Wall" mostly during the Ming Dynasty (14th to 17th century) to keep out invaders from the East and it was greatly effective. It also helped China become the most reclusive and soul-crushing-to-its-individuals nation on earth. There are few things more hopeless than being a Chinese citizen.
(Will someone with more tech expertise than us do a mashup of this viral moment with the one where Jeb Bush despondently begs, "Please clap?")
As for our proposed wall, it just seems different to be talking about "invaders" who, should they get through, may be working for you as a housekeeper, lawncare specialist or back-of-the-house kitchen staff off the books. It's curious how many MAGA fans, including the MAGA master himself, employ these invaders.
3. Jules
Beck Bennett is one of the few SNL cast members of the past 25 years, if not the only one, who was actually more heralded before he joined the cast. Bennett has been, like the other males currently in the cast, a solid but unspectacular performer the past few years (Kate McKinnon is the show's unchallenged standout). This bit, though, and this character, "Jules, Who Sees Things A Little Differently," caught our eye. It's a smarmy version of Stefon, perhaps, but we enjoyed it (video in the hyperlink)
4. Like A Roiling Stone
Facing trial, Roger Stone posts a photo of the judge who will hear his case on Instagram with crosshairs behind her, and then uses the word "hitman" in the first sentence. Later yesterday he formally apologized and blamed the posting on some rando who works for him (Eric? Don Jr?). But Roger understands how the internet works and the horse is out of the barn.
It's a minor miracle that none of the major players from the media or those investigating this sham of a White House, or that none of those associated with the President Trump, have yet been assassinated. But at this point would it really surprise you? And if we sound over-dramatic, that's only because in just the past week both Donald Trump and his A-1 patsy, Roger Stone, have not-so-subtly issued a call to arms. It won't surprise you or me if something terrible happens. Let's not pretend no one saw it coming or that the agents who encouraged it did not know what they were doing. This is Gotti-style intimidation.
5. Postmodern Jukebox Heroes
Call us late to the party. Guilty. Postmodern Jukebox has apparently been around since 2011 and we'd never heard of them until we were researching the tune for today's Music 101 below (I'm now girding for an incredulous comment from Susie B.).
Founded by pianist Scott Bradlee (that's him banging the keys in the videos) out of his Astoria, Queens, apartment, PMJ is a rotating collection of musicians who put a classic (if not classical) touch on contemporary favorites. But to say that is selling them far short. The arrangements are solid and the music videos for "Umbrella" and especially "Don't Stop Believing" are as good as anything we've seen in years (the choreography for the latter is as good as anything in La La Land).
It's fun. It's happy. It swings, baby, it really swings! And PMJ's arrangements of modern tunes demonstrate that a well-written song is timeless (and maybe just maybe sounds better with real instruments and no auto-tune) no matter what style you play it in. Like me, you might just begin to wonder if PMJ's reimagining of a few of these songs are not superior to the original versions.
And you just have to feel so good for all those parents who sent their kids to Julliard or Berklee or Belmont and wondered if they'd ever do anything with all that musical schooling. Look, ma, I'm doing "Blurred Lines" as a hoe-down!
We went down a PMJ rabbit hole last night and here are our five recommended favorites, ranked, for suggested YouTube binging: 1) Don't Stop Believin' 2) Shake It Off 3) Umbrella   4) Blurred Lines 5) (See Below).
PMJ is currently on tour. This is what it should sound like when/if you arrive in heaven.
Music 101
It Wasn't Me
It doesn't matter if it's Shaggy and RikRok or here, Postmodern Jukebox, or even if it were Shaggy and Scooby Doo (I'd listen). Lyrics may offend some, but this is a certifiably classic song. From 2001. The vocalist here is Ariana Savalas and yes, she's Telly's daughter. Who loves you, baby? (Stick around for the Carlton Dance).
And for those yearning for original recipe, here's the original duo performing it in front of Michael Jackson ("You the original banger!"), Elizabeth Taylor and Macauley Culkin.
And yes, the "Shaggy Defense" is now an actual defense and it's being trotted out daily from certain well-known precincts.
Remote Patrol
Captains Courageous
8 p.m. TCM
Our cousin is a big movie buff. In fact, few buffs are buffier than she when it comes to films. And last weekend she told me that this, Captains Courageous starring Spencer Tracy, is her VERY FAVORITE film. That's good enough for us. From 1938. Tracy won a Best Actor Oscar for this portrayal.