https://mediumhappy.com/?p=7983
by John Walters
Tweet Me Right
Senior Bryce McCormick with this 75 foot shot in @cpa_basketball 2 point win to get to the TN High School Final 4! #SCtop10 pic.twitter.com/CcXKrQ30S9

— Drew Maddux (@DrewMaddux) February 26, 2019

Is it just us or was there a noted absence of chalance from the players after this shot fell through?
Starting Five
Harden had 28 points with 10 seconds left.

Hawks weren't letting that streak continue 🤣 pic.twitter.com/6tP0LvzE7j

— Bleacher Report (@BleacherReport) February 26, 2019
The Streak Is Dead! Long Live The Streak
The string of consecutive 30-point games ends at 32 for James Harden. That final sequence above is informative as the Hawks have no chance of winning but bring as many as four defenders around Harden, who went 0-10 from beyond the arc last night, to prevent him from scoring. When the play begins The Beard appears intent on making a try at it—he knows what his point total is—but by the time he crosses midcourt he realizes that they're on to him. Still, a ridiculous and meaningless heave would have been suspenseful.
The Rockets won 119-111. Trae Young scored a career-high 36 for Atlanta. Harden's streak is stopped just 33 games shy of tying Wilt Chamberlain's record (65) and why no one under age 40 recognizes Wilt as the true GOAT is utterly mystifying.
2. Decree of Difficulty
When we saw that a mother, 45, and her daughter, 19, had been arrested for the murders of five family members outside Philadelphia, we were curious. Then more curious when their names weren't initially listed and when the story received relatively so little attention. And so we assumed…they're probably poor and they're probably minority. Because blonde people, if this happens to them, it's THE NEWS of the day, if not week.
Dug a little more: the accused are Shana and Dominique Decree, and somehow they'd been managing in their apartment the past few days with the corpses of Shana's two children (Dominique's siblings), Shana's sister (Dominique's aunt) and Shana's twin nieces (Dominique's cousins). They were all found inside a bedroom and only after neighbors called the cops because nobody had seen them for days. Someone must have smelled them, no?
Police have yet to release the modus operandi.
3. Mu! Who Knew?*
*The judges will also accept "Athing Is A Thing"
This is Athing Mu of Trenton, N.J., and you're going to be hearing more about her. Last weekend Mu, 16, set the American record (time above) for the 600 meters indoors. Granted, it's not the world's most popular event, but this wasn't a high school mark. It was an overall mark. And Mu, who chooses not to run for her high school in order that she can concentrate on training with the Trenton Track Club and coach Al Jennings, is still just a high school teen.
We'd call Mu the most precociously talented female New Jersey track star in years, but you may recall that just three years earlier Sydney McLaughlin of Dunellen, N.J., became the youngest American Olympian in 40 years when, at age 16, she qualified for the Rio Olympics in the 400 Hurdles (McLaughlin won the NCAAs in that event as a freshman last  spring for Kentucky). She's the true Syd The Kid.
4. The Oregon Rail*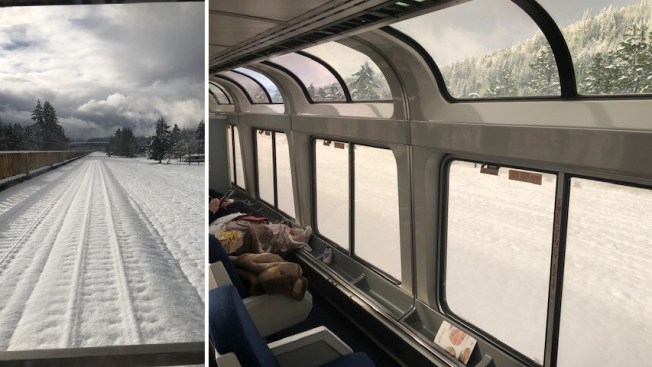 *The judges will also accept  "Train In Vain," "All Are Bored" and "Lost: The Choo-Choo Version"
An Amtrak train heading from Seattle to Los Angeles struck a tree (Did it veer wildly off course, we wonder?) about 45 miles southeast of Eugene, Oregon, early Sunday night. The 183 passengers aboard, all fine, have been stranded on the choo-choo ever since.
Amtrak officials chose to keep the passengers on the train since electricity is out in the area. If you don't have a sleeper car, here's hoping you've made friends with someone who does.
Question: Knowing the outcome in advance, would you rather be stranded on this choo-choo or a passenger on Sully's ill-fated (but ultimately safe) LaGuardia to Hudson River flight?
5. A Tale Of Two Teams From One City
Los Angeles Clippers: Doc dabs Dirk.
What a beautiful moment in LA. Thanks Doc and @LAClippers! 👏🐐 pic.twitter.com/gsYq923VSX

— Dallas Mavericks (@dallasmavs) February 26, 2019

Los Angeles Lakers: Just one play to demonstrate why so many of us will never consider LeBron "The GOAT" (and we're right). Opts not to cover his man against the Grizzlies, then when the dude buries the three, King James looks around as if it's someone else's fault. We've all played with this dude in pick-up games, haven't we?
So the Lakers lose tonight to the Grizzlies, two nights after losing to the Pelicans without Anthony Davis. You think LeBron is going to tell his teammates to play with "more urgency" like he did after last game 🤔🤔pic.twitter.com/jAGpwTGdCZ

— Aaron Torres (@Aaron_Torres) February 26, 2019

This is aging well…
Reserves
Veal Oscar Leftovers
We neglected to include Olivia Colman's speech in yesterday's Oscar wrap, but there's so much to love here: use of the term "snog," a fart noise, an apology to Glenn Close, telling her kids "well done" if they are not watching ("this won't happen again") and even teasing her husband that he's going to cry. If you missed it the first time.
***
About Spike Lee's speech: Like everyone else at the Oscars, he never mentioned the president by name or even by office. Here is what he said:
"Before the world tonight, I give praise to our ancestors who have built this country into what it is today along with the genocide of its native people. We all connect with our ancestors. We will have love and wisdom regained, we will regain our humanity. It will be a powerful moment. The 2020 presidential election is around the corner. Let's all mobilize. Let's all be on the right side of history. Make the moral choice between love versus hate. Let's do the right thing! You know I had to get that in there."
So naturally Donald Trump took this personally.
Be nice if Spike Lee could read his notes, or better yet not have to use notes at all, when doing his racist hit on your President, who has done more for African Americans (Criminal Justice Reform, Lowest Unemployment numbers in History, Tax Cuts,etc.) than almost any other Pres!

— Donald J. Trump (@realDonaldTrump) February 25, 2019
****
We have yet to see Green Book, but we have to think Peter Farrelly taking the stage after it was announced as Best Picture and saying more than once, "We couldn't have done this without Viggo (Mortensen)" was precisely the type of quote that exemplifies why so many people are upset that it won. It's a racism film about black people for and by white people. Or at least that's the criticism.
*****
Finally, how did we go a day before someone made this Wet, Hot American Summer connection?
🎶Tell me something girl… pic.twitter.com/XLNDSbXlRe

— lauren scharf (@LLcoolscharf) February 25, 2019
A Mighty Wind
Music 101
Fast Car
Some songs defy their era. They are timeless. When Tracy Chapman's eponymous debut album was released in April of 1988, no one was making music that sounded anywhere near close to this. New Wave was choking out its last breaths while Hair Metal was at its zenith. Hip-hop was just beginning to flirt with being mainstream.
And then there was Chapman, who was straight out of the Joni Mitchell-Carole King school of epic female songwriters. This in fact, is the highest-rated song on Rolling Stone's list of the 500 Greatest Songs Of All Time that was both written and performed by a female artist (we think Misses Mitchell and King may want to appeal that ruling).
Remote Patrol
Annie Hall
Netflix
Woody Allen's career-peak comedy deservedly won Best Picture in 1977 (sorry, Star Wars fans) and no true comedy has won since—though Terms of Endearment, Forrest Gump and Shakespeare In Love both had plenty of lighter moments. It's brilliant, creative, witty and one of the top five films ever to capture the essence of New York City at the time it was made (we'd also put Do The Right Thing and Mean Streets in there). La di da, la di da, la la.