https://mediumhappy.com/?p=8081
by John Walters
Tweet Me Right
"His mother was a mudder!"
Starting Five
I'll Take "Jeopardy! GOAT For $697,787″*
*and counting
Naperville native-turned-Vegas gambler James Holzhauer is our early favorite for Sportsman of the Year. On last night Jeopardy! episode, Holzhauer's 10th consecutive victory, he pitched a perfect game, going 40-for-40 in the first two rounds. Then in "Final Jeopardy" Holzhauer risked $60,013 on "20th Century Literary Characters". The question? "His first name refers to the ancient district in which you'd find the Greek capital; his surname is a bird."
Holzhauer: "What is Atticus Finch?"
That gave Holzhauer a single-day total of $131,127, a new record for the show. He owns the four top single-day marks in the show's history and has already accumulated just under $700,000 in 10 appearances. Only Ken Jennings, who won $2.5 million in a 74-appearance streak, has topped Holzhauer's total but Holzhauer can, if he maintains his brilliance, exceed Jennings' total in half the appearances.
And in what seems like poetic justice, the circle coming all the way back around, Vegas is now offering odds on Holzhauer's continued success.

Barr Tab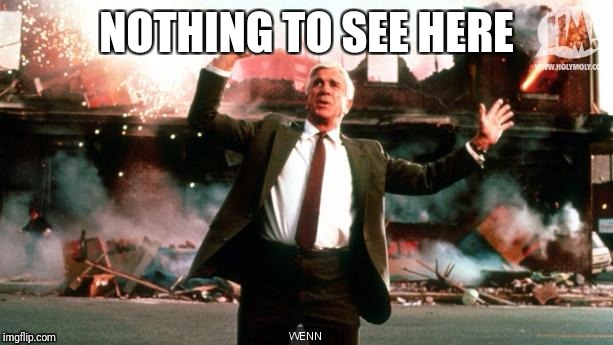 The Mueller Report is being released today, in all its redacted glory, but first Attorney General William Barr felt the need to step to a microphone and give an oral book report of what he'd read. Why? So that this way no matter what folks who comb through the wreckage find, Fox News and similar outlets can play the video of Barr proclaiming the report "found no evidence" that any member of the Trump campaign conspired with Russia in its effort to interfere in the 2016 presidential election. "The special counsel found no collusion by any Americans."
Personally, we just wonder if this is Sarah Huckabee Sanders in heavy makeup. Has anyone ever seen these two together in the same room?
But What If God Invented Science?!?
As one tweep, Dan Broadbent, replied, "Because the melting point of gold is 1064 degrees Celsius and a wood fire burns at around 600 degrees Celsius."
Okay, but does this explain whether jet fuel can melt steel girders?
And then there was this:
Not, In Fact, A Happy Ending
*The judges will also accept "Kraft Services," "On Further Review" and "Not Great, Bob!"
If you've always wanted to see someone other than Roger Goodell get an NFL owner off, well, the Palm Beach State Attorney's Office is here to assist you. Alas, Circuit Judge Joseph Marx has issued a temporary protective order on the release of the Robert Kraft hand job tape until April 29 so, unlike the Pats owner, you're going to have to deal with a little delayed gratification.
Insane Clown Posse
The tweet, since deleted, told a short but bizarre tale of a man, his clown lover, and his murdered ex-wife. Frankly, it was the Budweiser shirt that drew us in. How many garage sales are we going to have to roam through before we find a replica?
This paragraph, which appeared in the South Florida Sun-Sentinel, must have been a joy for reporter Marc Freeman to type:

On May 26, 1990, the 40-year-old victim opened the door of her Aero Club estate home for a clown wearing an orange wig, a red bulb nose, gloves and a smile painted on white makeup. The clown held two balloons and flowers in one hand and a pistol in the other.
The victim, Marlene Warren, was married to Michael Warren, who is now married to Sheila Warren (then Keen), who is the suspect. At this point it feels as if we're piling on Florida, but the state is an endless bounty of mischief and miscreantism. Don't blame us.
Biblio Files
With The Old Breed
by Eugene Sledge
Our mom had three older brothers who fought in World War II and a cousin who fought on Iwo Jima (that's why we won…duh!). Anyway, it is our (and perhaps Tom Brokaw's) opinion that World War II was the greatest moment, in terms of valor and idealism, in American history. But, in order to produce this triumph over fascism and evil, millions of good young men had to suffer through unspeakable evil.
It's important for us to learn as much about this era as possible. And one of the most revealing and unvarnished accounts is found here, from a U.S. Marine's experiences fighting on Peleliu (an island whose ultimate strategic importance turned out to be nil) and Okinawa. Sheer hell. And as a companion piece…

Remote Patrol
The Pacific
HBO
…we recommend you watch this 10-part series from 2010, where one of the three major story lines is constructed around "Sledgehammer's" memoir. Another reason to watch? Rami Malek as Snafu, Sledge's mortar duo partner. This is Malek 10 years ago, but it's so easy to see why he'd go on to win an Oscar.