https://mediumhappy.com/?p=8128
by John Walters
Tweet Me Right
Starting Five
Deer In The Headlights
The Milwaukee Bucks took a detour from being the club Charles Barkley predicted will win the NBA championship to lose their second game in Toronto in three days. The Eastern Conference finals are now tied 2-2 while the Warriors enjoy the 10-day break between clinching the West (4-zip) and Game 1 of the NBA Finals on May 30.
Yes, that'll be the Dubs' longest break since before the season began. Golden State will start out on the road regardless, which may actually be to their advantage. They're 6-2 on the road in these playoffs and whichever East teams plays them will probably have those opening night jitters compounded by playing in front of its own fans (see: the 1993 Phoenix Suns, who went 0-3 at home in the NBA Finals versus Michael Jordan and the Bulls).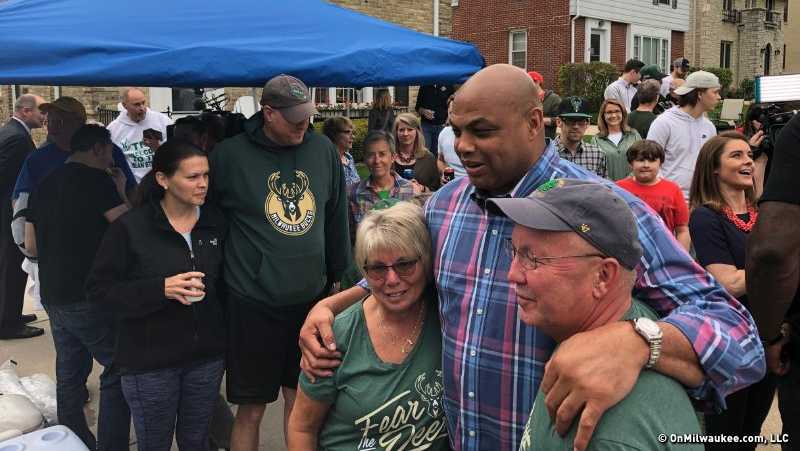 These are nice teams, these Kawhi Leonard-led Raptors and Giannis-led Bucks. But as the past four games have shown, neither is dominant against each other and the reward is playing the best basketball team since at least the late Nineties Bulls. The Warriors' toughest foe next weekend is going to be rust.
And Then What Happens?
Last night we tuned in to Rachel Maddow for the first time in what was probably at least a year. She still looks the same, still wears the one of two outfits she likes to wear on air (it's always dark blue or black), and is still repeating the same line that she's been using for two years now. Literally, she said about the president and the network of investigations that never seem to entangle him, "This is all moving very, very fast."
Except that, of course, it is not. Don McGann and William Barr have ignored subpoenas to appear before Congress. Hope Hicks was subpoena'd yesterday and she'll probably spend the month on Nantucket. The Treasury Dept. is ignoring a request by a House committee to turn over the president's tax records even though Maddow spent a lot of time last night spelling out the fact that it is MANDATORY they do so.
Here's the question that no one, not even Maddow, is answering: How exactly do you enforce these rules when the president and all of his cronies are the ones breaking them? Who actually marches up to Steve Mnuchin (Treasury Sec.) and arrests him for contempt?
Let me explain this in terms that at least I can understand. Everyone in your 3rd-grade class agrees that when lining up for lunch or recess, etc, there are "NO BACKSIES." But then the wormy, sycophantic pal of the class bully lines up right in front of you (this would be Stephen Miller) and he grants that class bully (Trump) backsies. Now Trump is standing right in front of you and you say, "You CAN'T do that." And the class bully says defiantly, "What you gonna do about it?"
That's where we are, sadly, as a nation. So who's gonna be the one to take a swipe at the class bully? A real swipe, not some high-minded MSNBC guest or commentator fulminating on what needs to be done. Related, Jeff Daniels appeared on Nicolle Wallace's show yesterday afternoon and, unaided by an Aaron Sorkin script, said what we've been saying for a couple of years now: When it all comes down to it, the support of Trump in the face of all previous claims about integrity and character and family values and religion, etc., from Republicans, is about that one last gasp of white supremacy.
And we also agree with Daniels that what may be needed in order to end Trump's presidency is for someone on the other side to play just as dirty as he does. The American who leaks the unredacted version of the Mueller Report to the Washington Post or New York Times will be this era's Daniel Ellsburg, who was the man who leaked the Pentagon Papers to the The New York Times. If you're not familiar with that story, watch The Post (nowhere near as good a film as All The President's Men, but it's got Tom Hanks and Meryl Streep so it doesn't exactly suck).
If you're wondering why they made a film about the Pentagon Papers and named it The Post instead of The Times, well, I don't have all day to explain inexplicable Hollywood manuevers. I have tables to serve and cocktails to make…

The Uh O's
In last night's 11-4 loss to the New York Yankees, Baltimore Oriole pitchers served up one home run balls to Gary Sanchez and two to Clint Frazier. The third home run was the 100th the O's have given up this season, after only 48 games. The previous fastest pitching staff to 100 homers? The Kansas City Royals in 2000, who allowed 100 in 57 games.
By the way, this passage below from espn.com's game story is why sportswriters should not do math. Can you spot the error?
Nearly a fifth of New York's 47 games thus far have been against the Orioles, who are 6-17 at home and 15-33 overall, the worst record in the AL. The Yankees are 8-2 against the Orioles…
It Isn't Brain Surgery
Once upon a time Dr. Ben Carson was a highly-regarded brain surgeon (as opposed to poorly regarded brain surgeons?). Now he's the Secretary of Housing and Urban Development (HUD) because he's the only black person Donald Trump knows and likes (besides Kanye). But the hypothalamus and housing projects have little to do with one another, as this exchange on Capitol Hill yesterday illustrated…
What's so sad about this is that, as an SNL sketch, we'd skewer it for being little more than a pun. You can see Chris Redd (or bring back Jay Pharoah to reprise the role!) as Ben and Aidy Quinn as Katie Porter without either having to stretch.
Mama Said Knock You Out
We should have shown this on Monday or Tuesday. Our bad. Here's 6'7″ heavyweight Deontay Wilder ending opponent Dominic Breazele's night in the first round Saturday night. We haven't seen a first-round heavyweight KO with this much raw violence since 1980s Mike Tyson. Wow.
Wilder, 33 years old, won a bronze medal at the Beijing Olympics and is 41-0-1 as a professional. A Tuscaloosa native, he dreamt of playing for the Crimson Tide out of high school but a girlfriend's pregnancy (I'm not going anywhere near an abortion law line here) changed his plans. He could've been the Crimson Tide's version of Jadeveon Clowney. Nicknamed the "Bronze Bomber," Wilder remains an avid supporter of the Tide and even spoke to the team last August.

Music 101
Radioactive
If Asia thought it was a supergroup in 1981, then The Firm decided to do them even better three years later with guitarist Jimmy Page (Led Zeppelin) and lead singer Paul Rodgers (Free and Bad Company). The song was released in the spring of 1985, almost exactly one year before the Chernobyl nuclear disaster. For the axe geeks out there, Page is playing a red doubleneck 1971 Gibson EDS-1275.
Remote Patrol
All In The Family/The Jeffersons Live
8 p.m. ABC
Of course we're dubious, but appreciate the inspiration behind this. Norman Lear, who produced both CBS sitcom classics that ran in the 1970s, will turn 97 later this summer. He's teamed with Jimmy Kimmel to re-produce one episode from each show and tape it live. You already know the written material is timeless; the trick is to see if the casts can hold up their end. They've assembled some heavyweights: Woody Harrelson and Marisa Tomei as Archie and Edith Bunker; Jamie Foxx and Wanda Sykers as George and Weezy. If you're not happy with those leads, we suggest you STIFLE!