https://mediumhappy.com/?p=8136
Tweet Me Right
by John Walters
Starting Five
Above The Law
Special Counsel Robert Mueller came out yesterday and said, "The special counsel's office is part of the Department of Justice and by regulation it was bound by that department policy. Charging the president with a crime was, therefore, not an option we could consider."
Amber said WUT?
Why not? Isn't it weird that the chief executive of the United States is the one person who cannot be charged with a crime by prosecutors/law enforcement? And, by the way, did you already know that? Did your favorite cable news channel, in all the hours it spent over the past two years mulling Mueller's investigation, make that clear to you? It was never clear to me.
Was Donald Trump right all along: "I can walk out on 5th Avenue and shoot someone and get away with it?"
Mueller said that it the Constitution "requires a process other than the criminal justice system to formally accuse a sitting president of wrongdoing."
First of all, DOJ policy is not some intractable writ that cannot be revisited under extreme circumstances (I think we've found some). Second, numerous legal scholars disagree with Mueller that it is unconstitutional for a sitting president to be indicted.
Mueller's point, we believe, is that if anyone is going to press charges against Trump, it must be Congress. All he was charged to do was provide the investigation and unearth evidence. In this edition of Law & Order: Agent Orange, he played the role of Lenny Briscoe.
More Mueller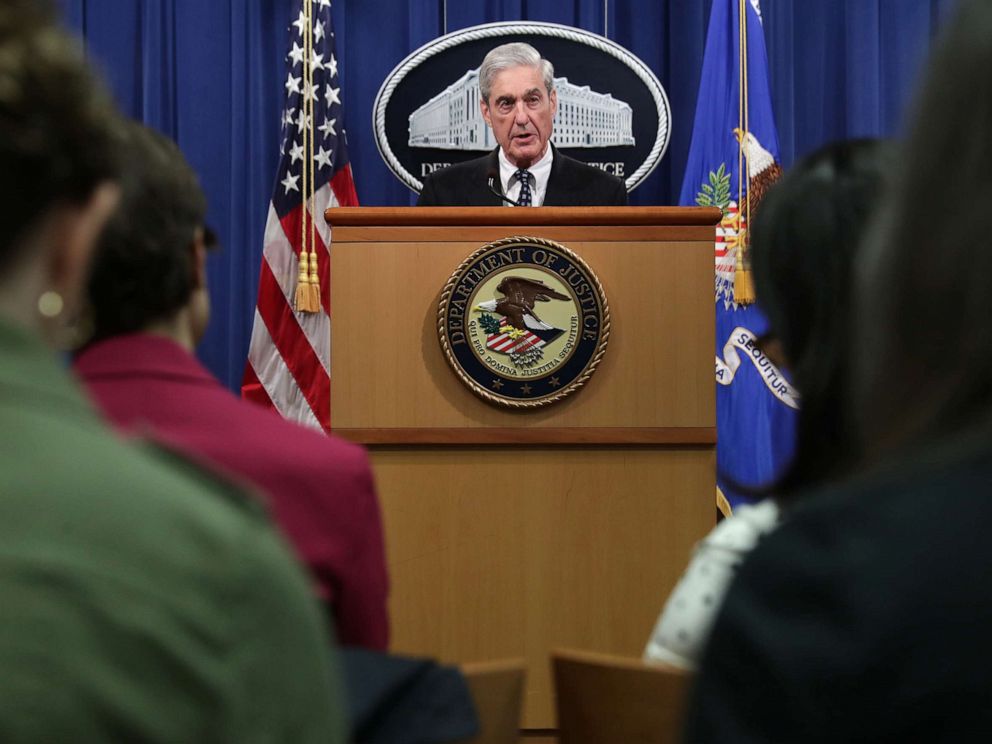 A few more thoughts on Robert Mueller's appearance yesterday:
–First, watching him, my sense was, "Oh yeah, this is what 'presidential bearing' looks like. I'd almost forgotten."
–Mueller's level of dispassion is both admirable and infuriating. He is the anti-Giuliani, and as such even Trump finds it difficult to to coin a nasty nickname for him or make it personal. Not because he is Trump's toadie, but because he never puts any emotion or vitriol in his voice.
–We agree with The Washington Post: while this was a nice showing, it's about six weeks late. There's no reason Mueller couldn't have delivered this same 9-minute address on the day that the 400-page report was released. Or maybe he just never expected his boss, William "Dis" Barr to flat-out lie in front of a nation.
–Barr did lie, by the way. He said that Mueller's team would have indicted Trump if they'd found sufficient evidence, but as Mueller made clear yesterday, in his mind that was never an option.
–Most importantly, and most disappointing, was that Mueller began and ended his statement with what is for him an emphatic plea for Americans to realize that the Russians systematically worked to interfere in the 2016 presidential elections without noting that all of their efforts were concerted toward favoring one candidate and smearing the other.
This would be like NBA commissioner Adam Silver announcing that Drake had paid off the officials to interfere with the outcome of the 2019 NBA Finals, which the Raptors won in seven games, without ever once noting that Drake was explicitly paying them off to make calls in Toronto's favor.
For Mueller, that fact may already be understood. But it was important for him to have said it. He failed.
Raccoon Dogs
We're all about raccoon dogs, two of which are roaming the English countryside in the village of Clarborough. Leave them alone. They're not bothering anyone and besides, they fancy your rubbish.
Speaking Of Quentin Tarantino
You know how every porn film is basically the same film, it's just that the settings are different? Well, just about every Quentin Tarantino film is, like pornos, just an excuse to set up the same set piece.
In porn, the setting may be a dentist's office or a car dealership or a lonely rich MILF's house, but it doesn't really matter. In a certain amount of time two people are going to take their clothes off and the sax music will begin.
Watching The Hateful Eight the other night (thumbs down), we realized that every Tarantino movie we've seen (Reservoir Dogs, Pulp Fiction, Inglourious Basterds, Django Unchained and this one) have the same scene: violent men, suspicious of or outright hostile to one another, in an enclosed space with guns at the ready. Instead of doffed clothing and horns, though, we get pontificating and gunplay.
If you've seen these films, you can recall the scenes we're talking about. It's a set piece, like in soccer. And most of the time the play is designed for Samuel L. Jackson to take the shot on goal.
She's A Man, Baby! (Or She Was)
Last weekend CeCe Telfer, a senior at Franklin Pierce University in New Hampshire, won the Division II women's national championship in the 400-meter hurdles. What makes that odd is that in 2016 and 2017 Telfer had competed for the school's men's track team. Because she was a he then.
This is all getting a little ridiculous, no? Announcing that you are going to take hormones and go transgender is not the same as coming out of the womb a certain sex and growing up as that sex your entire life. How many more examples on the track do we need to see?
Craig Telfer, as this story illustrates, never ranked higher than 200th in his event as a male in his freshman or sophomore years (he/she did not compete last year while undergoing transgender therapy, we presume). This year, as Ce Ce Telfer, she won the national title over the nation's best D-II female athletes by a nearly two-second margin. That's pretty dominant. And patently unfair.
Reserves
Jeets!
Coincidence or tribute? Yesterday, on the 24th anniversary of Derek Jeter making his New York Yankee debut, San Diego Padre outfielder Hunter Renfroe (not that one) made a patented Jeter throw…from centerfield. Intentional? Or happenstance?

Music 101
Right Back Where We Started From
The film Slapshot, arguably the funniest sports film there is, was released in 1977, which is how an unapologetically disco tune such as this found itself as the first track played in it. Released in 1975 at the dawn of the disco era, this song with vocals by Maxine Nightingale rose to No. 2 on the Billboard charts.
Remote Patrol
NBA Finals, Game 1
9 p.m. ESPN
The Warriors have not gone nine days between games since before the preseason began. Kevin Durant will not play. The last time Kawhi Leonard faced Golden State in the postseason, he'd staked his team to a 20-point lead at Oracle and that squad was no more talented than this Raptors unit. We like the Dubs: no matter how many times Steph, Klay and Dray put on their 5th-gear show and erase 18-point leads in a few minutes, or take tie games and make them blowouts in the same span, people seem not to appreciate or respect what they're seeing. Simply put, no one plays on their level when they're in synch.