https://mediumhappy.com/?p=8139
by John Walters
Tweet Me Right
Starting Five
Fat And Furious*
*The judges will not accept "Answering The Taco Bell"
Andy Ruiz, Jr., entered New York a relative unknown and exited Madison Square Garden late Saturday night as the heavyweight champion of the world. If you can make it there…
Ruiz, 6'2″ and 268 pounds, knocked out (and knocked down four times) undefeated and 6'6″ champ Anthony Joshua of England. We've seen men of Ruiz's girth come to New York City this time of year and be crowned champion, but only at the Nathan's 4th of July Hot Dog Eating Contest. Boxing's biggest upset since Tyson-Douglas?
I don't know how you say "Rocky" in Spanish, but Ruiz, who is from Imperial Valley, Calif., only landed this fight one month earlier after Joshua's scheduled opponent, Jarrell Miller, tested positive for ALL THE DRUGS. This was Rocky Balboa by way of Taco Bell
Kevin Can Wait*
Minus Kevin Durant for a seventh straight game, the Warriors found themselves trailing by at least a dozen in the first half for a sixth straight game. No matter.
The Dubs asserted their will in the third quarter, opening with an 18-0 run against the Raptors in Canadia, wresting both the game and control of the series away from the Raptors. Draymond Green (above) was again spectacular, a "wrecking ball" of sorts, as he finished one assist shy of becoming only the third player (Wilt, Magic) to post consecutive triple-doubles in NBA Finals games.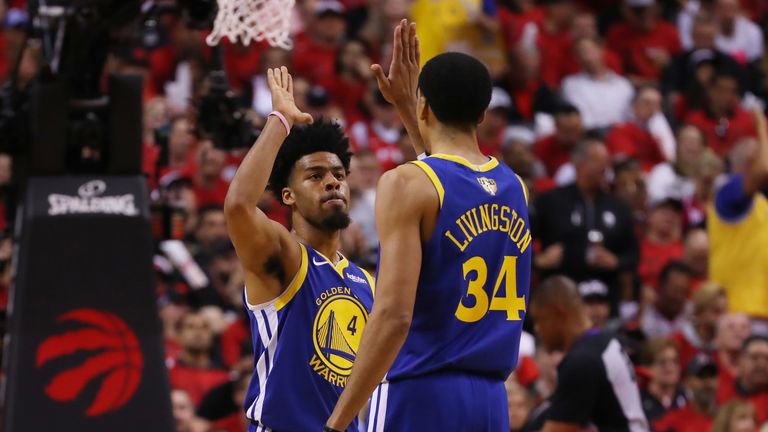 As Doris Burke said afterward, and we agree, this was all about championship mettle. Minus Durant, minus Kevon Looney after a first-half injury, and minus Klay Achin' for the final seven minutes, the Dubs held on to win.
How does Kawhi fail to get this steal and how might the series have changed if he had?
We were amused by the assertions of JVG and Mark Jackson in the first half, decrying the Warriors' dearth of good bench players. With so many starters hurt, Quinn Cook (three for three on threes in the second half), Andrew Bogut (three second-half alley oops!) and Shaun Livingston gave the Dubs huge second-half minutes. Toronto, meanwhile, looked like a moose in the headlights. They shrank in the spotlight and, except for Kawhi and Fred Van Vleet, looked timid. Fragile.
Also, if I'm an enterprising Bay Area resident, I print up 10,000 "We The West" t-shirts (blue with yellow lettering) and sell them for $20 a pop outside of Oracle Arena starting early Wednesday afternoon.
They Went To Jared
This video needs no introduction. Or commentary. Watch.
Minor League, Major Change
We were listening to the Red Sox-Yankees game on Friday night when YES announcer Michael Kay, in a conversation about comparing offensive numbers of modern players versus yesteryear, introduced the aspect of the juiced ball. Kay noted, as evidence that there must be something different about the baseball now being used in the big leagues (which is made in Costa Rica), that this is the first season that MLB insisted that its AAA teams also use the same baseball that's being used in The Show. And, he noted, home runs at the AAA level are up an astounding 50%.
We trust Kay's reporting—he was a New York Daily News beat writer before landing this gig in 2002 (Kay was also the Fordham University roommate of Mike Breen, who is calling the NBA Finals right now). Still, we looked it up and it's true. Whether the ball is packed differently or the seams are lower, making the ball more aerodynamic, baseballs are flying out of parks like never before. And it's not just that hurlers are throwing harder to stronger men, though that too is part of it.
Sunday Silence
The Sopranos: January 10, 1999—2007
The Wire: 2002-2008
Mad Men: 2007-2015
Breaking Bad: 2008-2013
Game Of Thrones: 2011-May 26, 2019
What do these television shows have in common? Besides being the five most influential, and in our opinion BEST, dramas of this century, they also all aired on Sunday night. True, not every single Sunday the past two decades has had a fresh episode of one of these series, but for more than 20 years at least one of them has been in circulation without cease. We were either watching one of them or anticipating the next season of one of them.
No more. When Game Of Thrones wrapped up two Sundays ago, we found ourselves without an all-time classic Sunday night watch for the first time since the first Sunday of 1999. That was a time before smartphones, Facebook, Twitter, Instagram and really, much of what you currently consider to be the internet.
Some Showtime fans may mention Billions as the natural successor to this quintet, but I don't think it rises to that level (going on what I've heard, not seen). Will something come along to fill the void or can we just appreciate what a peak period just ended and that it's incredibly difficult to maintain that type of standard? I guess we'll just have to return to being satisfied with 60 Minutes and, for part of the year, Football Night In America?
Music 101
Despacito
Look at the views on this. We'll wait….that's right, more than 6 BILLION views for a song that came out two years ago and is sung entirely in Spanish. You can wear a MAGA hat to a rally and howl at the wind or you can press the SAP button on your life and accept reality.
Remote Patrol
Chernobyl
9 p.m. HBO
The finale of the mesmerizing and horrific 5-part series about a 33 year-old disaster that offers countless lessons about what is percolating in the world today. Creator/producer Craig Mazin and star Jared Harris are going to hear their names called on Emmys night and deservedly so.