https://mediumhappy.com/?p=8149
by John Walters
Tweet Me Right
Starting Five
Papi Shot
The good news is that David Ortiz is going to be okay. The three-time World Series champion and figurative Yankee killer was seated with friends at an outdoor bar in the Dominican Republic last night when a motorbike rider idled up behind him and shot him from behind. To go from being in the DR to desperately needing a Dr. in an instant.
Rocker Star
Vanderbilt freshmen pitcher Kumar Rocker, the son of erstwhile Auburn Lombardi Award and Outland Trophy Award winner Tracy Rocker, pitched an unbelievable gem this weekend in the NCAA regionals. Rocker, 6'4″, struck out 19 Duke batters AND pitched a no-hitter as Vandy won , 3-0.
It was a no-hitter statistically, if not literally. Rocker hit a Blue Devil batter with a pitch in the head in the first inning. Anyway, time always chases dow irony, as once again there is a pitcher named Rocker in the South making news.
Barry's Baldy
It is not long into a discussion about HBO's Barry before someone in it notes, "You know who my favorite character is? NoHo Hank."
Played by Boston-born actor Anthony Carrigan, who has alopecia areata (which causes hair loss everywhere, including the eyebrows), Hank was supposed to be a one-off character who was simply too charming and funny to cast aside. He's a Chechen henchman played, by Carrigan, as a full-on metrosexual whose relentlessly sweet and positive disposition makes him an ill fit for the profession (Chechen Mafia) in which he finds himself. He's a gangster with the heart of a florist.
For those of us who are not too far into Season 2, Carrigan has a complicated relationship with the eponymous star of the series, played by Bill Hader. There are times when it's a murderous relationship, times when they've saved one another's lives. Hader has said that it's difficult for him to make eye contact with Carrigan during their scenes for fear that he will break and start laughing. Easy to see why.
Hadestown Owns The Tonys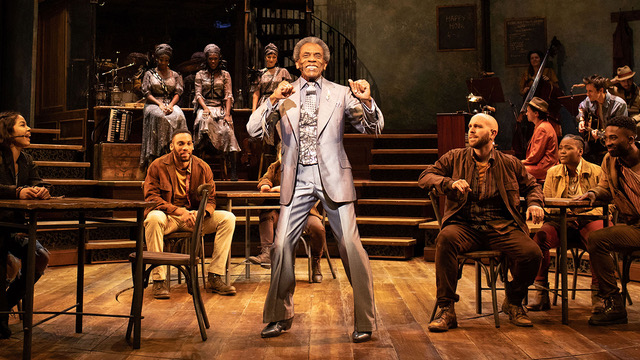 Just half a block east of Hell's Kitchen, a musical named Hadestown has received more buzz this past year than anything else on Broadway. Let's not devolve into hyperbole: it's not Hamiltonian buzz, or even Dear Evan Hansen buzz, but most thespian types have considered it the best show on Broadway in a season lacking luster…or rap musicals about men whose faces appear on currency.
Last night at the Tony Awards Hadestown cleaned up, winning eight Tonys, including Best Musical. Andre de Shields (above), won his first Tony (Best Featured Actor in a Musical) at the age of 73 for his role in the show, which is an adaptation of an ancient Greek myth (there are no original stories).
Other winners: Bryan Cranston for Best Actor in a Leading Role in a Play (Network), Ali Stroker, who is wheelchair-bound, for Best Featured Actress in a Musical (Oklahoma!), and to The Ferryman (Best Play).
Luke's Win
It was not quite two years ago when Luke Winn laid the groundwork for one of the better prospective SI "Where Are They Now?" pieces. As you know, departing SI is nothing new these days (just check out the masthead of The Athletic, I mean, if there were a masthead), but Winn is the only person we know who jumped to the other side.
Let's get this clear: there's not a ton of respect by sports organizations, pro or Division I, for most sportswriters. But if you read the exhaustively researched college hoops pieces Winn would write for SI.com, pieces that were often heavy on analytics with illustrations, you can see why an outfit such as the Toronto Raptors might offer him a job.
And so far, how has that worked out for both the Raptors and Winn? I'm a little surprised that none of my (former?) colleagues have picked up on this story, but then again I'm not.
I didn't know Luke too well when I worked there, but I can tell you (and I won't embarrass him further by explaining how or why) that he's one of the good guys. It's nice to see someone like him achieve this level of success.
Reserves
Clay Hellion
On Sunday Rafael Nadal made it an even dozen, winning his 12th French Open with a four-set victory over Swiss challenger Dominic Thiem. There are now only four other men—Roger Federer, Pete Sampras, Novak Djokovic and Roy Emerson—who have as many overall Grand Slam titles as Rafa has French Opens.
The Spaniard, 33, now has 18 overall Grand Slam titles, second only to Federer, who has 20. Federer has eight Wimbledon titles, which is the next-most titles at one Grand Slam that any man has after Rafa. Now imagine if Rafa or Federer had never picked up a racket. The other man would likely have that many more Grand Slams. It's bizarre, and it is never mentioned enough, how the two most prolific Grand Slam champions in men's tennis history basically overlapped careers for more than a decade, in their respective primes (and that's excluding Djokovic, who has 15 Grand Slams, in third behind those two, and just a year younger than Nadal).
Finally, and I've said this before, but it's rather odd that arguably the greatest men's soccer player (Cristiano Ronaldo) and greatest men's tennis player ever were born within 16 months of one another on islands off the coast of the Iberian peninsula (respectively, Madeira and Manorca). Also, Ronaldo played yesterday in leading Portugal past the Netherlands in the semis of the UEFA Nations League.
Music 101
Sweet Lady Mary
Search videos of Faces from the early '70s and in just about every one of them Rod Stewart looks completely soused. The band's two highest-profile members, Stewart and lead guitarist Ronnie Wood, were both refugees from the Jeff Beck Group who would later go on to even bigger things, as you know.
Remote Patrol
NBA Finals: Game 5
9 p.m. ABC
It's not exactly "K.D. and the Sunshine Band," but the Warriors may be as close to full strength as they have been in more than one month. That may not be enough to stop this dinosaur dyamo, though.
Forty-nine years ago Willis Reed limped onto the court for Game 7, and though he only scored two baskets (including the Knicks' first bucket), he is forever credited with saving that series for the bockers, who beat a Lakers squad with Wilt Chamberlain and Jerry West. What you should also know is that Walt Frazier led the Knicks with 36 points that night in an era before the three-point shot.