https://mediumhappy.com/?p=8158
by John Walters
Tweet Me Right
Ebert's autobiography, Life Itself, is a terrific read. MH staff recommends.
Starting Five
Fox Hunt
Dallas Morning News photographer Tom Fox was on his way to a federal courthouse to do what he gets paid to do, shoot photos. Just before he walked inside Fox encountered a shooter of another type. Instead of running, he took the shot of his life.
Fortunately, police gunned down the man as if he were a four year-old who'd stolen a Barbie and no one else was hurt. Also, because he was white, you won't hear the words "radicalized" or "terrorist" about him from anyone in the White House, if they even mention this incident at all, which they likely will not.
The shooter, a former U.S. Army infantryman, was fatally wounded by police.
Crowd Strike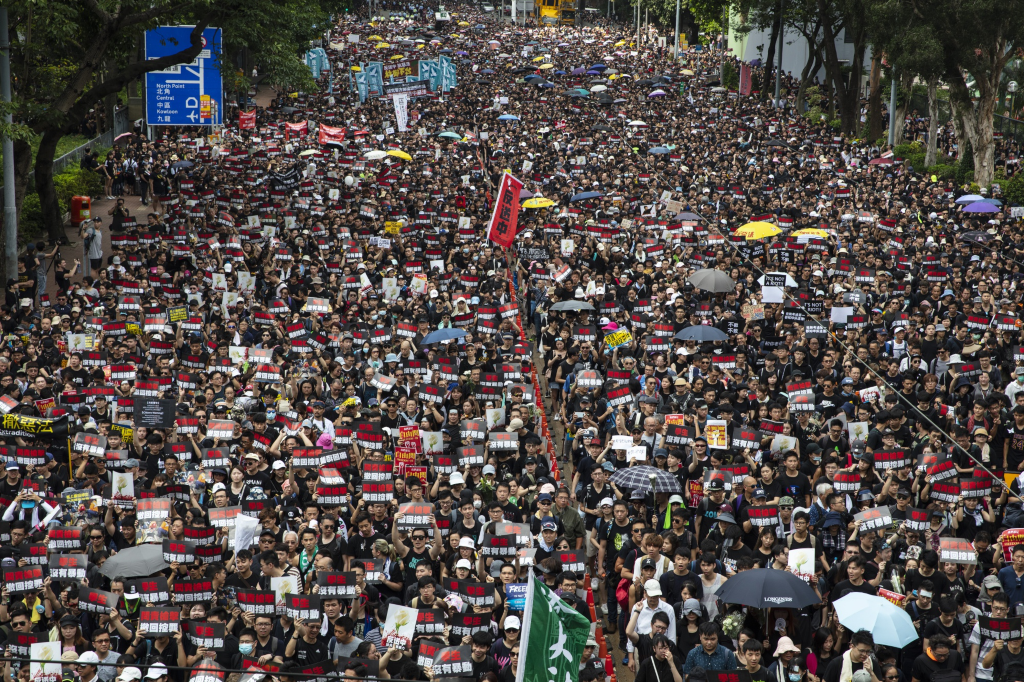 If you're scoring at home, some two million people in Hong Kong assembled to protest a new bill that would allow mainland China to extradite suspected criminals for trial. Public protesting in Hong Kong is itself a crime punishable by up to 10 years in prison and yet some two million of the territory's seven million citizens proudly took that risk.
Meanwhile in Toronto, hundreds of thousands gathered on a sunny and warm Monday to cheer the Raptors' first NBA championship and watch a parade.
In one of the two mass gatherings, three people were shot (none fatally) and four arrested. We'll let you guess which gathering (and no, David Ortiz was not at either event).
A New Zodiac Killer (and in the Bay Area, too)
We're enjoying Ben Mezrich's book, Bitcoin Billionaires, in which the Winklevi (twins Cameron and Tyler Winklevoss) disprove F. Scott Fitzgerald's famous dictum that "there are no second acts in American life."
In fact, what this week's events prove is that what happened before can and will happen again. In the past week Facebook, founded and still run by Winklevi nemesis Mark Zuckerberg, announced that it is launching its own cryptocurrency exchange named "Libra." What makes that funny is that the Winklevi launched a cryptocurrency exchange a couple years ago named Gemini.
(For what it's worth, the Winklevi were born under the sign of Leo, although the Gemini are famous twins in the Zodiac calendar, while Zuckerberg is a Taurus…and probably has never driven one.)
Anyway, you may recall that the Winklevi really did have the idea for Facebook first, but that Zuckerberg had the coding know-how that they lacked and he took their idea and ran with it. A few years later, using the funds they'd gotten from Zuckerberg in the settlement, the Winklevi were very early investors in Bitcoin, definitely the first high-profile investors, and made hundreds of millions as the cryptocurrency went from below $10 per when they bought it to where it is now, more than $9,000 per.
And now here comes Zuckerberg, who has even more money, trying to take over their new corner of the world. Wouldn't it be funny if somehow he puts them out of business but at the same time is found to have somehow infringed upon their space and has to pay them off bigly in order to rid himself of them yet again?
Worth noting, as reported in Mezrich's book: the Winklevi only turned to Bitcoin when every Silicon Valley start-up in need of cash turned down their offers of being investors. Reason: most start-ups end-game is to eventually be purchased by Facebook (see: Instagram) and if you're backed by Winklevi money, there's no way Zuckerberg is ever going to touch you. In fact, he'd likely actively try to hurt you.
Isn't irony the best?
Disappearing Act
This is Indian magician Chanchal Lahiri, who over the weekend was chained and bound and lowered into the Hooghly River in order to attempt to replicate Harry Houdini's famous escape trick.
It either did not go so well or it went even better than planned (as in, not only did Lahiri escape but he also made himself vanish). Alas, the authorities are going with the former and are presuming Lahiri drowned, although his body has yet to be recovered.
Onlookers, which included family and friends, waited a reported 30 minutes before launching a frantic search for Lahiri. Did they think he was a man or a sperm whale?
D-Day, Before We Forget
We forgot to post this incredibly well-done and meticulously reported story from The Atlantic, which first ran in 1960, when we saw it a couple weeks back. If you want to move past the heroic tales and the jingoistic fervor and simply appreciate what a miserable and deadly day D-Day was for countless GIs, read this account by S.L.A. Marshall titled "First Wave at Omaha Beach."
The story is promoted as an "epic human tragedy" and that about gets it right. It doesn't make their sacrifices any less significant, but it just goes to show you how cheaply human lives were squandered on that morning.
Paint Misbehavin'
The Birth of Venus
By Sandro Botticelli, mid-1480s.
She's got it. Yeah, baby, she's got it. Housed in the Uffizi Gallery in Florence, this is one of the earliest of the great Renaissance works and was likely commissioned by the Medici, since painters at the time needed patrons to survive (apparently there was an internet disruption in the 15th century, too?).
Remote Patrol
Taken
8 p.m. AMC
The 2008 movie that was supposed to scare your daughter from ever wanting to summer abroad in Paris (and yet failed spectacularly: look where they're holding the Women's World Cup!). I have a particular set of skills is one of the better film lines of this millennium, no?