https://mediumhappy.com/?p=8169
by John Walters
Tweet Me Right
Starting Five
End Of The Road
The longest day of the year. The last moment of their lives. Seven bikers, some of them Marine veterans who were part of the Jarheads Motorcycle Club, were killed in an instant when their caravan collided head-on with a pickup truck early Friday evening in New Hampshire.
The time was around 6:45 p.m. on Route 2 outside the small town of Randolph. You might think the sun was in the 23 year-old pickup driver's eyes, but look at the sky. He lived. But seven bikers perished, which means he must have plowed into at least four bikes. And you have to wonder: was he impaired or was he distracted by his phone? Either way, a horrific loss of life in an instant made doubly tragic by the fact that some, if not all, of these vets had already borne witness to carnage and fire in their military pasts.
Police have yet to arrest the driver or say much of anything about him other than to release his name. We read one well-intentioned but way off the mark piece this weekend that noted that there's no mandatory helmet law for bikers in New Hampshire. Hardly the point.
Skyscapers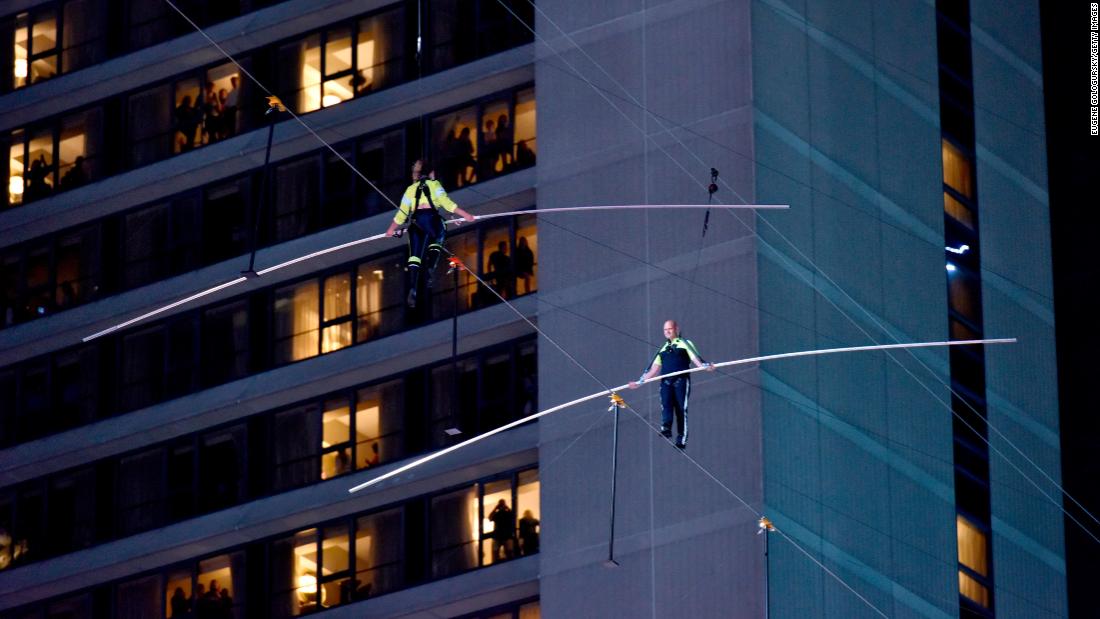 Their great-grandfather, the fearless and somewhat recklessKarl Wallenda, would never have agreed to perform a high-wire act wearing a safety harness, but that's what siblings Nik and Lijana Wallenda did while scaling a tightrope elevated 30 stories above Times Square Sunday evening. Millennials, sheesh.
If you're an Andretti, you race cars; if you're an Albert, you call sports contests; and if you're a Wallenda, you walk the tightrope. But the family trademark is that you never use a net (or give yourself an out). The "stunt" was nationally televised by ABC, but onlookers purchasing dirty water dogs from street vendors while watching were putting themselves at greater risk than the Wallendas.
Frenchman Philippe Petit, who with the help of friends put up a tightrope between the twin towers of the World Trade Center and scaled it without permission in 1974, will forever be New York City's greatest high-wire legend.
So Maybe They Have Met?
From left: the back of Donald Trump's head, E. Jean Carroll, her former husband, John Johnson, and Trump's first wife, Ivana. In a story that appeared in New York magazine this weekend from an excerpt of an upcoming book, Carroll alleges that Trump raped her in a Bergdorf Goodman dressing room in 1996.
Trump denied the allegation, of course, saying, "I don't know anything about her," which of course is not the same as saying, "I've never met her." Ted Bundy did not know anything about many of the women he murdered, but that was never enough to cop a not guilty plea.
Don't look at the 75 year-old woman making the accusation. Instead, know that Carroll was voted Miss Indiana University in college in the mid-Sixties and also Miss Cheerleader USA. She was PRECISELY Trump's type. Also, for the unawares, Bergdorf Goodman is the highest of high-end department stores that just happens to be located one block south of The Plaza hotel and one block north of Trump Tower, both of which are places Trump would have been living at in the 1990s. He would've been hunting in his own backyard.
If you read Carroll's piece—highly recommended, as she goes through a litany of Hideous Men she has known, including Les Moonves, Roger Ailes and Hunter S. Thompson (the last of whom doesn't officially make her list)—you'll want to stick around to her final revelation. We mean, after Donald.
Let's Rake
A few items from the weekend you may want to take note of:
–A Mets rookie name of Pete Alonso hit his 27th home run of the season on Saturday, thereby breaking Darryl Strawberry's team rookie record. Alonso still has more than three full months remaining in his rookie season.
—Yordan Alvarez, a 6'5″, 21 year-old rookie from Cuba, hit his 7th home run for the Houston Astros in just his 12th game since being called up. That's the fastest anyone in Major League history has ever gotten to 7 home runs. Ever.
–The New York Yankees homered in their loss Sunday, the 26th consecutive game in which they have hit at least one home run. That breaks a team record set by the legendary 1941 Yankees and is one shy of the Texas Rangers' MLB record, a mark the Yanks can tie tonight versus the Blue Jays.
But here's what's really interesting: those 1941 Yankees, playing a 154-game schedule (101-53, won World Series), hit a total of 151 home runs while striking out 564 times all season. The legendary Joe DiMaggio, one of the very, very best, struck out 13 times all season, in 622 plate appearances. Contrast those numbers with these Yankees, who after 77 games, literally one half of that 1941 season, have hit 126 home runs and struck out 677 times. Aaron Judge, who has just 83 plate appearances, has already more than doubled Mr. Coffee's 1941 whiff total with 30.
So what is it? The ball. The increase in pitching power plus hitting power translating to both more pitches being missed but those that are not missed being rocketed farther? A little of everything? Maybe Pete Alonso will turn out to be a great player. Or maybe, like former Oriole Brady Anderson, we'll one day wonder how a regular dude slugged 50 home runs in one season.
Bitcoin Blowing Up
In his book Bitcoin Billionaires, author Ben Mezrich quotes early Bitcoin adopter Charlie Schrem as saying this to doubters of Bitcoin and its creator, Satoshi Nakamoto: "You don't have to believe in Isaac Newton to believe in gravity."
Of course, it's a cute line, but the analogy does not work because gravity always existed regardless of the birth of Newton, who simply quantified it. Bitcoin did not; Nakamoto, whoever he is or they are, created it out of a white paper that was distributed on the internet.
Whether you believe Bitcoin is literally much ado about nothing or not, the cryptocurrency is blowing up. Mezrich's book was released on May 21st, when the price of a single Bitcoin was $7,889. This morning the price is $10,819. That's a 37% jump in about one month. In the past six months the price of Bitcoin is up more than 200%.
Can you understand how blockchain works? Probably not. Does it matter?
(UPDATE: Grayscale Bitcoin Trust [GBTC] up 14.76% today. Help me help you, Susie B.)
Music 101
The First Day Of Summer
It's actually the fourth day of summer, but give us a break. Summer's about breaks, after all. Tony Carey was born in northern California and played guitar in the band Rainbow before breaking out on his own. This song from the summer of 1984 gave him enough visibility to allow him to open for Night Ranger that summer when the latter band was at its "Sister Christian" peak.
Remote Patrol
Women's World Cup
USA vs Spain
Noon Fox
Despite an 18-0 goal differential in group stage play, the U.S. women drew a relatively tough round of 16 matchup versus the Spaniards. Lose and go home. Win and remain in France. Alex Morgan may be injured and suddenly I'm having Kevin Durant flashbacks.