https://mediumhappy.com/?p=8170
by John Walters
Tweet Me Right
Starting Five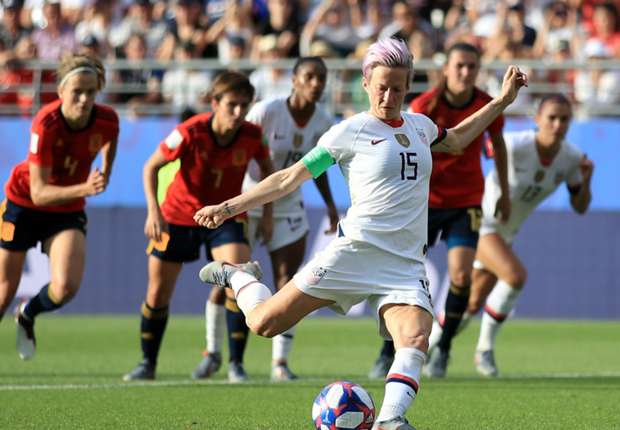 Spanish Fly By
Down goes Spain, bring on the Seine. It wasn't easy, and the Americans looked nothing like a World Cup-winning squad (where's Mia Hamm?!?!), but thanks to a pair of Megan Rapinoe penalty kicks, they edged Spain 2-1.
Next up, on Friday: France in Paris. Zhank heaven for little girls…
(Oh my God, what a creepy song; you should be ashamed of yourself, Maurice)
"I Just Wanna Fly"
I mean, who needs or even want a Maserati or McLaren when you can have this? Watch this…
Debt Be Not Proud
Is Bernie Sanders' plan to eliminate all college student debt ($1.56 TRILLION) just a presidential version of your high school student body prez nominee promising Friday ditch days and free pizza, or is it a sensible suggestion? The truth falls somewhere in between.
As our faithful reader Jacob/Jason Anstey points out, the government subsidizes public universities, many of whom have spiked their tuitions to inordinately high levels (compare with how little airfares have risen in the past two decades). So there's a double whammy when your tax dollars are subsidizing universities AND you're in deep, in the high five figures, to those same schools.
Expanding the problem to prestigious name-brand universities that are charging between $50,000 to $80,000 per year, well, that's on you, kid. You wanted the Lululemon educational shorts when you could've had the Target shorts that may fit just as well. Meanwhile, maybe your high school guidance counselor needs to inform you that an undergraduate degree is really just a starting point these days. Unless your degree is in computer science/coding, you're gonna need a graduate degree to get anywhere in this world, for the most part.
Finally, as Andrew Ross Sorkin sagely pointed out on CNBC this a.m., eliminating all student debt creates no incentive for universities to lower their tuition costs. At all.
In some ways it would be economically sound to eliminate student debt, or at least to say, offer a 50% reduction of all students' debt, as it would free up many to purchase their first home, or a car, or more avocado toast with those $5 lattes (!). On the other hand, is it really good policy to forgive people their poor financial decisions and put that burden on people who did not make them? We were never in favor with the TARP bailout, so why would we be in favor of this? I hate to agree with Joe Kernen on most anything, but I do agree with him here.
Greek God (and African Prince)
Remember when NBA commissioner Adam Silver said that he noticed how so many players were "unhappy." My guess is that the man who won MVP, Giannis Antetokounmpo of Greece, and Pascal Siakam of Cameroon, probably do not belong in that subset. I wonder why…
It's wonderful to listen to people who came here from outside nations and have true perspective on how fortunate and blessed they are. Does that mean life is perfect in the NBA? No, but guess what? It isn't perfect anywhere.
Delete your account.
New Hampshire Carnage (Update)
Yesterday police arrested Volodymyr Zhukovsky, 23, at his West Springfield, Mass., home and charged him with seven counts of negligent homicide. Zhukovsky had been questioned at the scene of the accident that claimed seven lives on Friday but had been allowed to leave (question: with no vehicle of his own to use, how exactly did he return home to Massachusetts?).
How is it possible that you can take seven lives and just because you do so with a truck and not a gun that police release you on your own recognizance and tell you to, you know, sit tight until we decide what to do? Zhukovsky, according to a brother-in-law, had not left his room nor eaten since returning home. And sure, he didn't MEAN to kill anyone. But seven people are dead. And his life is probably over, at least a good portion of it.
We'll wait to see exactly what caused the accident. But it was most likely human error (intoxication or distraction) and should be mandatory teaching at every drivers' ed course in America. This is what one poor decision can lead to.
James Doubles Down
2019 Jeopardy! phenom James Holzhauer finished 454th, or out of the money, at a WSOP No-Limit Hold 'Em event in Las Vegas yesterday. The buy-in was $1,500 and he finished outside the 281 places that either make money or at least get their buy-in returned. Some 1,800 card players entered.
We're wondering/hoping/assuming that Holzhauer will enter the Main Event, the one that makes ESPN, in which the buy-in is $10,000. Holzhauer and his wife had announced that he'd donate half his winnings to a Las Vegas nonprofit for the homeless. In case you forgot, Holzhauer won $2.4 million and won 32 consecutive games on Jeopardy! before his run was stopped, $58,000 short of Ken Jennings' record, by a female Chicago librarian.
So is it more difficult to consistently win at poker than Jeopardy! Yes, if you're a borderline genius. Why? Because the cards sometimes go against your pot odds. That is, occasionally stupid, or analytically unsound, maneuvers pay off. You can't fight a perfect game against blind luck.
Music 101
Dirty Work
Early, early Steely Dan. All about being a male side-piece. From 1972. Proof of its sustainability, even though Becker and Fagen didn't want it on their debut album, is that David Chase used it in Season 3 of The Sopranos.
Remote Patrol
Women's World Cup Round of 16
Italy-Gyna!
Noon FS1
Netherlands-Japan
3 p.m. FS1
Five of the six nations that have advanced to the quarterfinals hail from western Europe; the sixth is the U.S. Can Italy and the Netherlands keep it a mostly Western World Cup or will Asia get involved?