https://mediumhappy.com/?p=8187
by John Walters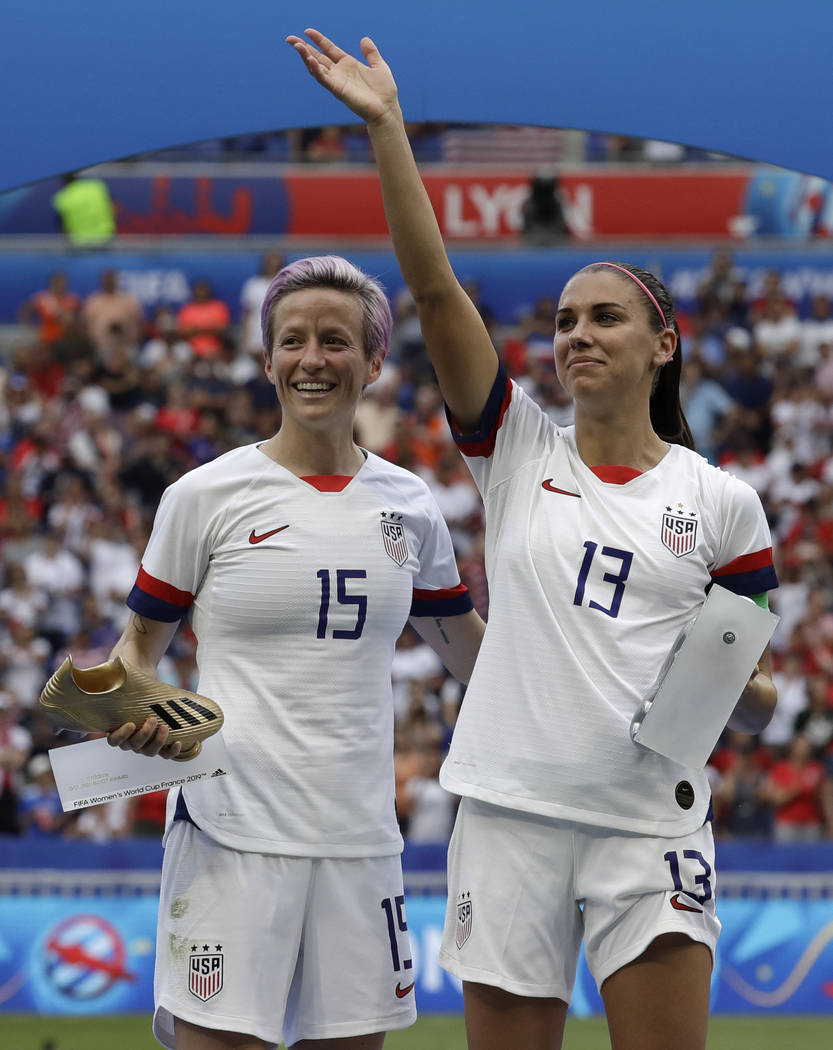 The Women
Yes, they won. In what seemed to us a foregone conclusion ever since they waxed the floor with Thailand, 13-0, the USWNT won the World Cup in Lyon yesterday with a 2-0 triumph over Holland.
In total, the USWNT outscored its foes 26-3. Players such as Julie Ertz, Tobin Heath, Alex Morgan and, of course, Megan Rapinoe, have crossed the threshold into icon status (Morgan was already there) and, if nothing else (and there is something else), will own and operate successful and highly lucrative soccer camps for as long as they want.
Equal pay? From U.S. Soccer, why not? From clubs, well, that's still a long way off. Then again, if you watched the Gold Cup last night, it's not as far off as the prospects of us seeing the U.S. men play in a World Cup finals. Not in this lifetime.
Wendell On Epstein
While we were serving the hungry and thirsty this weekend, Wendell Barnhouse pecked out an essay on the arrest of Jeffrey Epstein and its potential for greater collateral damage. We're more than happy to run his column and, as we have to sprint off to another shift—that Ferrari ain't gonna buy itself–we'll leave you with this today…
By Wendell Barnhouse
This summer of our discontent – which likely foreshadows the summer of 2020 when we're really pissed off – received an unscheduled and unexpected jolt of hope. Can we all agree we need to keep hope alive?
Most of us had July 17 circled. That's when Robert Mueller is scheduled for public hearings in Congress. That should rival any three-ring circus as Democrats will try to avoid sound-byte grandstanding and Republicans like Louie Gohmert and Jim Jordan will no doubt ask questions through frothing mouths.
But those who remember the "Saturday Night Massacre" in 1973 were offered another Saturday Night fever dream. As he stepped off a plane at Teterboro Airport in New Jersey, billionaire Jeffrey Epstein was arrested. It was not the end to a two-week Paris trip he expected. Epstein, a registered sex offender, was charged with sex trafficking of young women and girls.


This is a familiar feeling for Epstein, a hedge fund/financial planner who also might be a money launderer for all kinds of nefarious characters. In 2007, Epstein was given a sweetheart plea deal after being charged with statutory rape of numerous underage high school students. His 13-month work-release sentence allowed him to spend half of each day at his home. And never mind sex offenders are not legally allowed for such "freedom."


Two of Epstein's lawyers at the time were Alan Dershowitz and Kenneth Starr, a couple of high-dollar ambulance chasers. They've wallowed in the glory of legal and moral slop. Dershowitz helped acquit the most famous double murderer of the 20th century. Starr, the man who helped bring impeachment charges on President Bill Clinton, went on to become president at Baylor University. During his tenure the school was involved in a sickening series of sexual assault accusations, most levied against football players.
The federal prosecutor who signed off on Epstein's deal was Alexander Acosta. The plea bargain was illegal. It violated the Crime Victims' Rights Act because Epstein's victims were not informed of the deal and never had a chance to testify in court. Poof. No trial, no discovery, no evidence. Everybody but the victims live happily – and more than comfortably – ever after.
Karma, as we know, is a bitch. Karma also is undefeated. The news of Epstein's arrest probably caused some sleepless nights for some VIPs. Doctors on speed dial likely were asked for stronger Xanax scripts.
Julie K. Brown, the lead reporter for the Miami Herald's three-part investigative series (aptly titled "Perversion of Justice"), cracked open and exposed the illegal deal Epstein received. She said Sunday there are other shoes (names) that could drop.
"So, there are probably quite a few important people, powerful people, who are sweating it out right now," she said. "We'll have to wait and see whether Epstein is going to name names."

It is worth noting is that the Epstein case is being handled by the Public Corruption Unit of the Southern District of New York. That signals that the dragnet will be cast wide. Dum, da dum dum. (Also, last week a Trump Tweet ranted about New York Attorney General Letitia James being so unfair. Think he knew what was coming? … Yeah, he knew.)
Sex trafficking and human trafficking are scourges that have been overshadowed by many other important and troubling issues. The buying and selling of young women is a multi-billion dollar enterprise that involves the rich and the powerful, money laundering and Russian oligarchs (editor's note: and the owner of the reigning Super Bowl champions).
Epstein's "black book" allegedly has well-known names. In a related matter, last week 2,000 pages of previously sealed testimony was ordered unsealed. In the next few weeks, that testimony could be released. The 2nd Circuit Court of Appeals decision references allegations of sexual abuse involving "numerous prominent American politicians, powerful business executives, foreign presidents, a well-known Prime Minister, and other world leaders."


The previously named Bill Clinton, Prince Andrew, Les Wexner (77 years old and founder of Victoria's Secret – that is not a joke) and Dershowitz were among those who allegedly participated in what was called Epstein's "Lolita Express."
And, there's (pussy grabber) President Donald Trump. Epstein's Florida estate is just minutes from Mar-a-Lago, the "Southern White House." Trump and Epstein have palled around for the last 30 years. "Terrific guy," The Donald said of Epstein, in a 2002 article. "He's a lot of fun to be with. It's even said that he likes beautiful women as much as I do, and many of them are on the younger side."
You may now pause and take a shower.
This is a 30-minute video of a woman who claims when she was 13 that Trump had three sexual encounters with her, including a rape role play. She says Trump knew that she was 13. His daughter Ivanka was also 13. The woman says that Trump asked her to wear a blonde wig and commented about how much she looked like her daughter.


You should now pause and take another shower. If you take the time to watch the video, you might need disinfectant.
Before you start Googling my name and "conspiracy theories," perhaps it's fair to say all this is just more thick, black smoke but no fire. However, anyone who has been following Trump News since the day he descended his gold escalator in 2015 understands that he appears to be involved in a lot of illegal shit. Other than bankruptcies, during his adult life he's cleverly skated away, no matter how thin the ice.
Epstein is 66. After he was arrested, the FBI raided his New York City townhouse. If there's enough evidence to convict, he could spend the rest of his life in jail. If he doesn't get a lenient placement at a nice Gray Bar Hotel, his reputation as a pedophile will make for some interesting nights. (Trump, of course, would face no criticism for pardoning a pedophile sex trafficker.)


If found guilty and given the opportunity to reduce his sentence, would Epstein flip and give up the goods on his high-rolling, sex-crazed acquaintances? If he comes clean, how many others get dirty? The juicy possibilities are endless. Will this Epstein case provide the smoking gun? Two interesting notes to consider. And trust me, there are dozens upon dozens of similar interesting notes.
Bear Stearns employed Epstein in the 2000s. During the financial collapse of 2008, Bear Stearns went out of business. Epstein reportedly lost $57 million and allegedly provided testimony against the financial giant; that testimony might have helped him gain the sweet deal he received. Trump just happened to be a major client of Bear Stearns at a time when he was toxic to most reputable firms. Also, Epstein's status as a "billionaire" has been questioned.


Acosta, who broke the law with his plea deal for Epstein, is the current Secretary of Labor in the Trump Administration. His appointment to that post was curious unless one believes in quid pro quo. And unless one knows that the Labor Department oversees the nation's human trafficking laws. And unless one knows that two weeks ago the Labor Department declared a moratorium on visas for victims of human trafficking. 
Watergate, as we know, went all the way to the top. We're as beyond Watergate as Apollo 11 was beyond the Wright Brothers. There's something about those tangled webs of deception. Once you pull on the correct thread, the untangling can begin.