https://mediumhappy.com/?p=8206
by John Walters
Tweet Me Right
The best Shark Week promo we've seen…
Starting Five
CNN's The Movies
It was my good friend at Sports Illustrated, Mark Beech, who first got me interested in old films. Back in the late 1990s and early 00s, when we were both single, Beech loved to talk about the movie on TCM he'd stayed home to watch the night before. I'm like, Here you are living in the epicenter of Bachelor Heaven and you're living the lifestyle of Aunt Bee?
But he gradually pulled me in. It was due to Beech that I first saw Casablanca. I was in my mid-thirties. Then he'd find hidden old gems such as the original Wicker Man (way creepier than the Nic Cage version). Before long I was hooked and the next stage was that we created an annual one-day film festival, to be held in my apartment on the bleakest day of winter. We named it the Johndance Film Festival and in our greatest year probably had about 10 people attend. Everyone chose one film and we did our best to see all of them. A few that made the bill over the years: The Maltese Falcon, The Third Man, Nobody's Fool, An Affair To Remember, Night of the Hunter, etc.
Anyway, needless to say that I was looking forward to CNN's six-part series, The Movies, that launched three Sundays ago. Tom Hanks' production company was to be behind it. I got a bad feeling right off when the first installment was "The Eighties." I thought, Uh-oh, they don't trust contemporary audiences to appreciate films made before they were born (and they may be correct, but still, for hardcore film buffs, disappointing).
The next two installments have been "The Nineties" and "The 2000s" and now, CNN must feel, if you're still hooked, maybe they can serve you your vegetables and you won't feign a tummy ache: "The Seventies," "The Sixties" and, "The Golden Age" (all films before 1960).
If that's not disappointing enough, the series feels like a cursory survey course. The tweet above pretty much describes the format and, oh yeah, every comment by every person interviewed is glowing and positive. For me the last straw was them showing a scene from Bridesmaids in which Maya Rudolph and Kristen Witt discuss men waving their d***s in their faces during sex and afterward Rudolph says, "I was really proud of that scene."
It's not that CNN's "The Movies" is bad. It's just that, like movie popcorn, you ingest it easily but there's no feeling of sustenance. There's no depth. No theme. Nothing edifying. And it feels as if just about every famous person sat down for the interviews either out of affection for Hanks or because he or she knew their film was going to be given a lovefest.
It's not bad at all. It's just that maybe it has attempted to cover too much material and when there is a not critical counterpunch (you're going to tell us how this century has become the century of the movie franchise, why not explain why: unadventurous studio heads who are part of publicly owned media conglomerates and the safe $$$$), it feels empty.
The Ten Commandments
Watching the Yankee game yesterday and pinstriped pitcher James Paxton walks the Rockies' leadoff hitter. Worse, it was their No. 8 batter. The Rockies go on to score four runs that inning. I'm thinking, You never, ever, ever do that. Ever! Never walk the leadoff batter.
Then it occurred to me that that should be a baseball commandment. And that maybe every sport needs its own Ten Commandments. So I'm starting a list now and soliciting suggestions.
Baseball Commandment No. 5: Thou Shalt Not Walk The Leadoff Hitter.
Back in the day Rick Reilly would think of a nugget like this and turn it into his "Point After" column, spend a few hours writing it, and that would be his work for the week. He'd pocket a handsome paycheck for the effort, too. What a time to have been alive.
Garbage Time
Remember, I dunno, how long ago was it—2009 to 2016—when Barry Obama was president and a certain segment of the population was perennially unhappy and critical? One of them even used the word "garbage" to describe it.
Fox's Chris Wallace does, and yesterday morning he hung White House Goebbels Stephen Miller with his boss' own words. Maybe Miller figured that since he'd be appearing on Fox News that this would be a lay-up. No such luck.
Addiction
Northwestern's Pat Fitzgerald was asked about declining attendance in college football last week and as his response, he held up his smart phone. And while our phones are not the sole reason for sparser stadium crowds, and while his answer may have launched a thousand "Get Off My Lawn!" jeers from millennials, everything Fitz says here is dead-on.
We're all guilty. I am. Smart phones are the great 21st-century addiction, and the irony is that devices that have exponentially increased our capacity for communicating with those not in our immediate vicinity have, in only a decade or so, conditioned us not to communicate with those IN our immediate vicinity. No one is present any more. Smart phones, more than lap tops, are the devices that may ultimately foretell the end of community, and that's the first step to the end of society. The Matrix is real, Neo.
Shane Asylum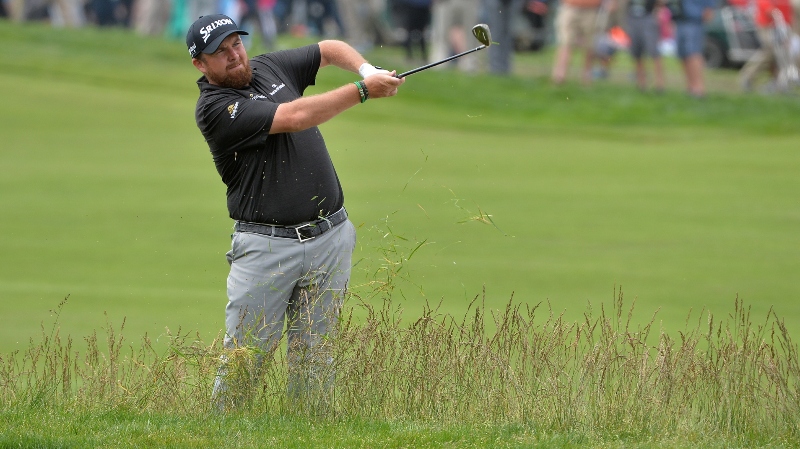 What would you prefer as your big takeaway from the 2019 British Open in Portrush, Northern Ireland? That Gaelic favorite son Rory McIlroy shot a quadruple bogey on the very first hole and failed to make the cut? That not-as-favorite and not-as-slim countryman Shane Lowry won going away? Or that Brooks Koepka, who finished in a tie for fourth place, ended up in the top four in all four majors in 2019 without winning any of them?
Music 101
Heatwave
Hardly an inspired choice after this simmering summer weekend—outdoor bars in NYC were closed because who wanted to sit outside? Martha and the Vandellas were the original Motown girl group, and this 1963 song, fittingly released in July, soared up to No. 4 on the Billboard charts. Linda Ronstadt's 1975 remake hit No. 5.
Remote Patrol
Comedians In Cars Getting Coffee
It couldn't have been easy for Jerry Seinfeld to persuade the notoriously reclusive Eddie Murphy to leave his mansion, but considering that the two of them appeared on the same bill at a Chinese restaurant in north Jersey in 1976, Eddie must have felt he could trust him. Stick around for a film insight by Eddie and also, near the end, Jerry sort of explains why he does this series.