https://mediumhappy.com/?p=8273
by John Walters
Tweet Me Right
Starting Five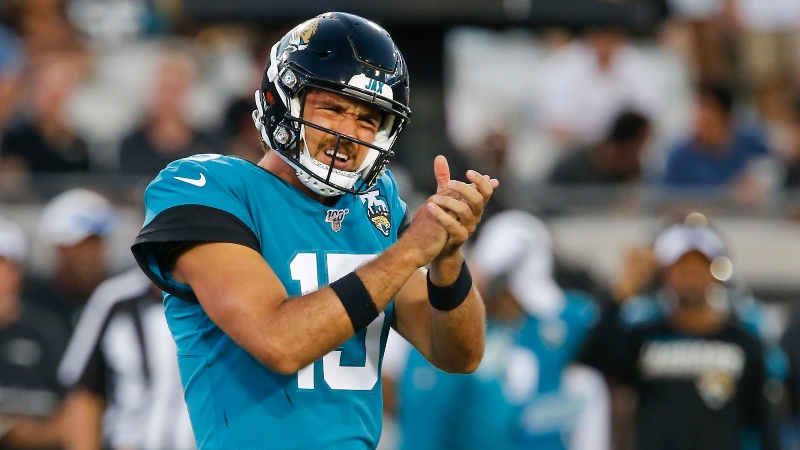 Jag Off(ense)
The NFL at last has a quarterback folk hero who may save the league from itself (and the Jaguars from Jalen Ramsey). Gardner Minshew, the East Carolina transfer who almost wound up as Alabama's third-string QB last season as a grad transfer but instead trekked to Pullman, Wash., where he led the FBS in passing before becoming a 6th-round pick, led the Jags to their first win of the season last night in his first NFL start.
If you loved the 1970s, you'd love Minshew, who's a bit North Dallas Forty meets Smokey and the Bandit. America and ESPN won't be able to get enough of him but thankfully he's in Jacksonville, where the media rarely ventures. Let's hope the mustachioed Minshew buys himself a muscle car real soon and that everyone hopping over each other to do the next in-depth profile of him catches mono.
We will take a personal pat on the back and remind you we warned you about Minshew making an NFL roster a month ago. Meanwhile, last night's Jags' win provided a moment for Tom Brady, the face of the league to commit his most subversive act of his entire career (that he will admit to):
…and
Tom's right, you know. The NFL, and CFB, are over-obsessed with penalties thus far in September, particularly with QB hits. Flags on rough but not illegal (at least up until this season) hits on QBs cost Denver its game on Sunday and nearly cost Tulane its win against Houston last night. And it cost Jets DB Jamal Adams $21,000 for a clean hit on Monday night.
Speaking of the J-E-T-S, they also have a dude making his first NFL start this week who played under Mike Leach at Washington State: Luke Falk (above). The problem is he's playing in Foxboro against Brady and the Pats. If for any reason he miraculously leads the Jets to victory, he'll deserve to become a folk hero, at least locally.
"Yankees Clinch! Thuuuuuuuuh Yankees Clinch! (The A.L. East)
The New York Yankees, once George Constanza's employer but never Jerry's favored NYC franchise, clinch the A.L. East in typical 2019 fashion: the Yanks beat the Angels 9-1 thanks to four home runs, three of which were hit by players who were not in the Opening Day lineup: D.J. LeMahieu, Cameron Maybin and Clint Frazier.
(28 being the next number in terms of World Series the Yankees would win)
Aaron Boone becomes the first manager in MLB history to win at least 100 games in each of his first two seasons (Wowwww). And the Yanks win the A.L. East for the first time since 2012.
New York is currently 1/2 game behind Houston for the best record in the American League. It's a mixed-bag outcome. The loser of that race gets an easier first-round opponent (Minnesota, most likely, as opposed to a surging Cleveland or Oakland, again most likely) but then cedes home-field advantage in the ALCS.
19th Nervous Meltdown
Okay, this encounter between the former mayor of New York City and the son of a former governor of New York (and brother of the current governor of New York) was rambling and unfocused the first half, as Chris Cuomo allowed Rudy Giuliani to fulminate at length. But near the end, you get to the "You're damn right I ordered the 'Code Red'!" moment.
Cuomo asks Rudy if he asked the Ukrainians to investigate Joe Biden. Rudy says no. Less than a minute later Rudy admits that he did, as the president's lawyer, ask Ukraine to investigate Biden. Then when Cuomo pounces on the inconsistency, which there is obviously video evidence of now, Rudy returns to flatly denying it. The things you are hearing, and the things you are seeing, do not believe them. That is the Trump mantra.
Follow The Bouncing Bianna*
*The judges will also accept "Amanpour One Out For Bianna"
This morning CNN announced the hiring of Bianna Golodryga, who it felt as if just five minutes ago was co-anchoring CBS This Morning (not a terrible gig) and who not too long before that was a weekend co-anchor at Good Morning America where she looked way too much like fellow GMAer Paula Faris' kid sister. It was like Single White Female meets Network.
We've long thought that Bianna and CNBC's Julia Boorstein are two of the more underutilized talents in the news biz: they both have star potential. Golodryga was born in Moldova and her parents emigrated to the U.S. when she was an infant, settling in Houston. She graduated from the University of Texas ("Hook 'em") and is fluent in Russian and, just for good measure, Romanian. It appears as if CNN is grooming her to be the next Christianne Amanpour, but then CNN doesn't really send correspondents anywhere anymore, do they? Unless they're named Anderson Cooper?
Tulane, TuPlays, TuMuch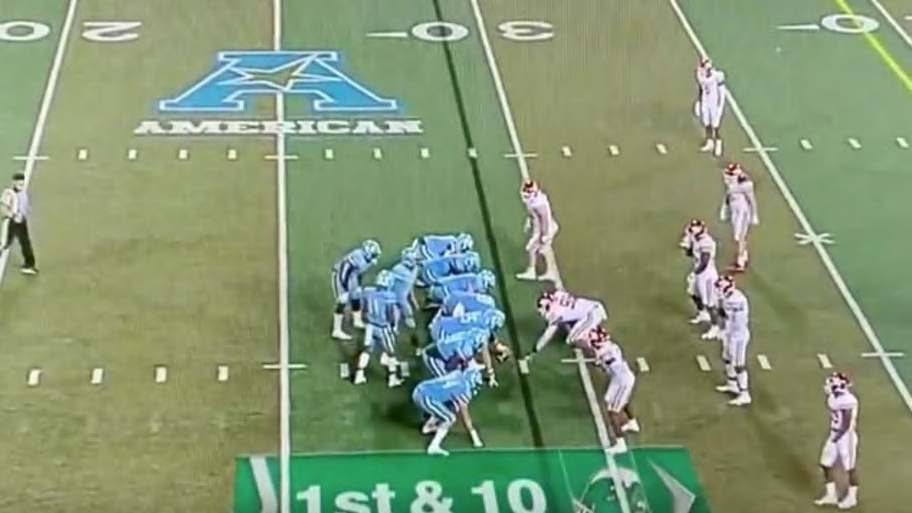 You're Tulane. You've been irrelevant at least since the days of Shaun King (the quarterback, not the confused SJW) or maybe even 1931, when you went to the Rose Bowl and lost to USC.
So now you get a Thursday night matchup versus Houston on your own field and more importantly, on ESPN. And you're quickly down 28-7. But you battle back to score 24 unanswered. Then Houston kicks a tying field goal in the final minute.
Are you playing for overtime? NOOOOOOOO! This is YOUR moment on the national stage, playa. Shoot your shot. And that's exactly what Green Wave coach Willie Fritz did. With two plays:
A fake victory formation play in the final :18 that allows an 18-yard gain up to midfield and gets the crowd stoked that something bigger is about to come:
2. Next up, a pass that was probably intended to set up the Green Wave (never mind the blue unis) for a game-winning field goal but instead went to the hizzy. And that's an assistant coach's son who just transferred in from Oklahoma State scoring it.
Tom Brady, THIS is what you should be watching on Thursday evenings (unless you're watching your wife, which most males would be happy to do).
Meanwhile, Hello boys and girls, can you spell "harbinger?" I knew that you could.
Music 101
Touch And Go
Panorama was The Cars' third album and their first relative dud, but we still like this song. Let's end the week as it began, with a tribute to Ric Ocasek.
Remote Patrol
Utah at USC
9 p.m. FS1
Tune in at 8 p.m. as Reggie Bush returns to the Coliseum with the Fox studio crew (and the Trojan loyalists chant "We want Urban!" to his partner). This is Clay Helton's last stand. If the Utes dispose of USC–would be their second loss to a Beehive State school in six days—then someone will drive Helton to LAX and fire him on the tarmac.