https://mediumhappy.com/?p=8302
by John Walters
Tweet Me Right
Starting Five
Bring On The Nastros
Our guy D.J. LeMahieu ended an heroic 10-pitch at-bat in the top of the 9th inning with an opposite field two-run game-tying homer. Then in the bottom of the 9th with two-outs Yankee closer Aroldis Chapman gave up a home run to Jose Altuve to end the season.
Aaron Judge called the season a "complete failure" and he's correct. And hopefully the Yankees will learn and move on from Edwin Encarnacion and Giancarlo Stanton (impossible, I know) and maybe even Gary Sanchez. Also, they need an ace on the mound.
Nats-Astros will at least give us outstanding pitching match-ups with Gerrit Cole vs. Max Scherzer followed by Justin Verlander vs. Stephen Strasburg.
Champaign Nirvana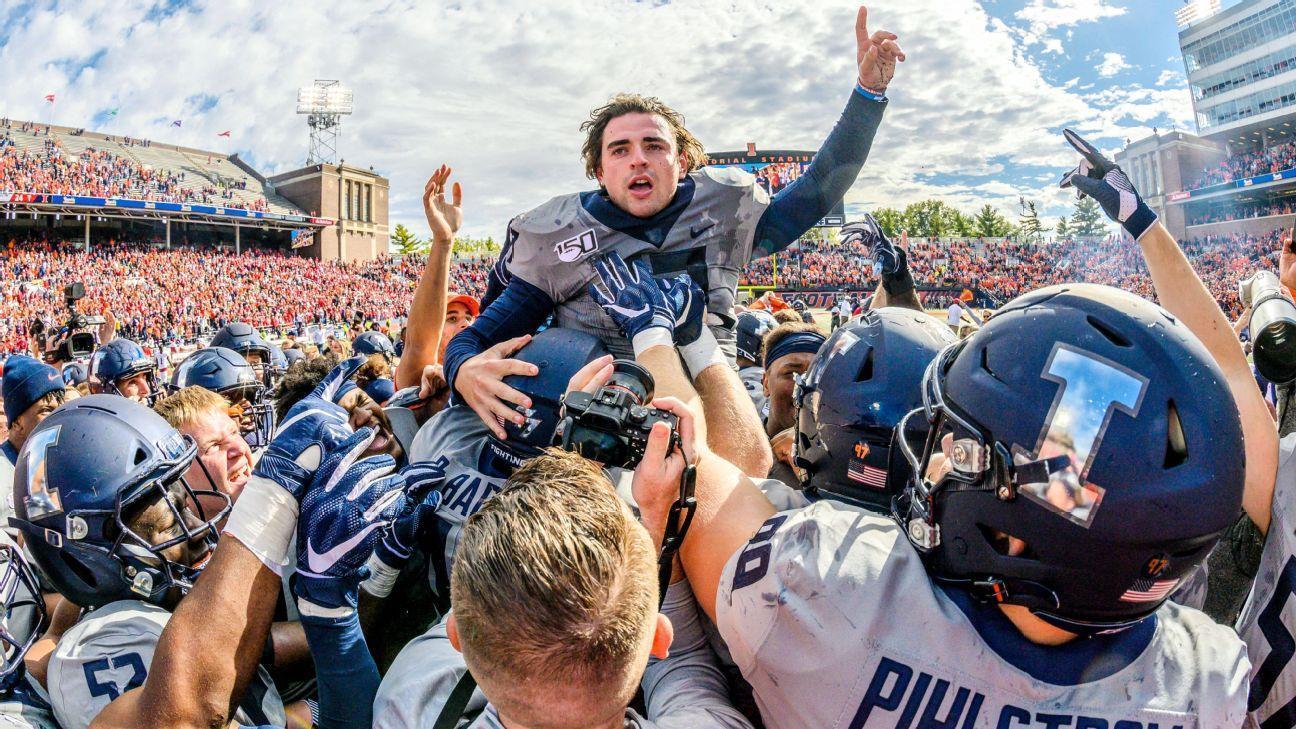 This is what NFL types will never understand about college football: Illinois has no shot at "the playoffs" but who cares? On Saturday a bunch of 18-22 year-olds overcame being 30.5-point underdogs and beat No. 6 Wisconsin thanks to a last-second game-winning 39-yard field goal by the dude above (James McCourt). Illinois trailed by 9 points with under 6 minutes to play but then a TD followed by an interception at midfield gave them the chance they needed.
Illini coach Lovie Smith is an easy dude to love and no one on the Illinois team will ever forget what they did and overcame Saturday. And that's why Saturday rules.
Pompous Pompeo
With so many blustering and deceitful egos to choose from (Mick Mulvaney, the president, Stephen Miller, etc.), no one in the Trump administration comes off as more imperious and pompous and if-these-cameras-were-off-I'd-choke-you-out than Secretary of State Mike Pompeo. I truly wonder why he ever sits for a single interview.
Above, Pompeo sits with News4 pro Nancy Amons out of Nashville. Go to the end of the interview. You can just see the rage seething just below the surface.
Meanwhile, as many have said since Mick Mulvaney's presser last Thursday, no three words better describe the Trump administration's cavalier attitude toward democracy, toward the rule of law, toward ethics and toward the Constitution than "GET OVER IT." It should be Trump's 2020 campaign slogan if he is still in office. "GET OVER IT." We're going to do whatever it takes to remain in power, to make sure America wins, to keep rich men in white power. Get over it.
Was It The ROY Bus, Though?
Clemson coach Dabo Swinney likes to joke that for years Alabama rode in one vehicle and the rest of college football rode in the "Rest Of Y'all" or ROY Bus. On Saturday Tiger defensive back Andrew Booth had to ride a bus home after the team's 45-10 win at Louisville, a 450-mile journey.
Booth was kept off the team plane as punishment for throwing this punch, above. He news ejected from the game and Swinney opted to give him some good ol' fashioned discipline by making him ride the team bus home.
Where The Buffalo Roam
I mean, it's a start. Good to see.
Music 101
Now You See It
We were watching the 1942 film This Gun's For Hire (TCM's "Noir Alley" pick) late Saturday/early Sunday and came across this little Veronica Lake number in the midst of the movie. Lake was only 4'11" and like her co-star in this film, Alan Ladd, would die at the age of 50. Lake battled alcoholism and in her later years worked as a waitress in a cocktail lounge in midtown Manhattan (note: we are not alcoholics and are over 50) under an assumed name.