https://mediumhappy.com/?p=8305
by John Walters
Tweet Me Right
Starting Five
Taylor-Made For Impeachment
I'm just a Bill,
Yes, I'm only a Bill,
Testifying up on Capitol Hill,
But I'm a 50-year public servant
And I kept meticulous notes
And when the Senate reads my statement
Then we'll get the impeachment votes
And they'll put it in a public box,
Yes, I hope and pray that they will,
But today I am still just a Bill…
Forget the nine-plus hours of answering questions from the impeachment inquiry. Ukraine ambassador Bill Taylor, a Vietnam veteran (apparently it was not inconvenient for him to serve) who has a half-century in public service, laid down a 15-page opening statement that nails Donald Trump, Mike Pompeo, Mike Pence and Bill Sondland dead to rights.
It's all over but the shouting now. Seriously.
Nats Ding Cole*
*Don't credit us for that headline; credit The Houston Chronicle, which is running it this morning.
The Nationals, who've now won like, what, seven consecutive games or something, were unintimidated by Astro starter Gerrit Cole, who had won 16 consecutive starts and had last lost a game on May 22nd.
Speaking of May 22nd, on that day the Nats were 19-30 and would lose again the following day before mounting the long uphill charge that would lead them to a 5-4 Game 1 win in Houston.
Notes: 1. Ryan Zimmerman connected on a two-out solo home runs for the Nats in the second. It was the first home run in World Series history by a Nationals player and it was hit by the first player the Nats selected in the draft, 15 years ago (give the dude who made that call a raise). Also, it was the first home run in World Series history struck by a player whose surname begins with a Z. 2) Juan Soto, who turns 21 on Friday, had a home run, double and single after striking out in his first at-bat. "I'm not gonna lie, my legs were shaking my first time up," Soto told Ken Rosenthal afterward 3) Late in the game Fox's Joe Buck noted that the Astros pitching staff is comprised entirely of righties and then informed the audience that the last time a World Series staff had not a single southpaw was 1903. What Buck did not add, yet should have, is that 1903 was also the very first World Series.
The 1903 World Series, by the way, featured pitcher Cy Young of the victorious Boston Americans and outfielder Honus Wagner for the Pittsburgh Pirates. The Americans won 5 games to 3. Also of note is that Pittsburgh's Exposition Park used a rope to hold back outfield spectators and it was ruled that if a ball rolled under the rope and into the crowd it would be a ground-rule triple. There were 17 ground-rule triples hit in the four games at Exposition Park.
Miami Heat
Four flight attendants for American Airlines were arrested at Miami International Airport yesterday primarily because one of them is a terrible crook. When a customs agent asked Carlos Aberto Munoz-Moyano how much cash he had on him, he initially replied, "$100," then got nervous and told the truth: $9,000.
Customs agents quickly rounded up other flight attendants on the same flight from Chile and found more than $22,000 of spending money on them. If you've spent any time around flight attendants, you know this isn't casual walking-around-money for them. So they're most likely drug mules, no? Carrying not the supply but the payment?
The next time you fly American international, ask your flight attendant if he or she has change for $10,000.
The Battle Of L.A. Begins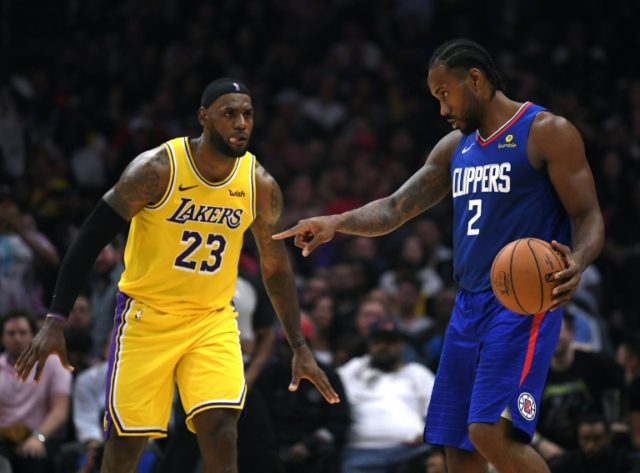 On the NBA's opening night, the Clippers outlasted the Lakers 112-102. Never mind that two of the top five players on the squads—the Clippers' Paul George and the Lakers' Kyle Kuzma—were injured and unavailable. And even with that LeBron James, age 36, may have been the third-best player on the court after teammate Anthony Davis and Clipper Kawhi Leonard.
Also, new Laker acquisition Danny Green had 28 points. Keep an eye on the seasoned pro who, as you may recall, was Kawhi's teammate in Toronto last season.
Horror In The U.K.
A trailer was found in Grays, England (about 25 or so miles east of London along the Thames) with 39 dead bodies in it. The truck is from Bulgaria and it entered the U.K. through Wales on October 19th. The driver is a 25 year-old from Northern Ireland. Seems what we have here is human smuggling gone awry.
Between this, Bill Taylor and the American Airlines item, it's incredible what takes place every day that most people will never find out about. Only occasionally when something goes wrong or someone says something they're not supposed to does the skulduggery get exposed. Conclusion: I'm living an extremely boring life.