https://mediumhappy.com/?p=8308
by John Walters
Tweet Me Right
No shake for Moscow Mitch. Meanwhile, Trey Gowdy and the fine art of a political party impaling itself:
Starting Five
Blown Save*
*The judges will also accept "Fall From Grace Classic"
A brief timeline of how the Houston Astros completely mishandled the Brandon Taubman, up to and including after they terminated him yesterday afternoon:
–After the Astros dispatch of the Yankees thanks to Jose Altuve's walk-off bomb, assistant general manager (not assistant to the general manager) Brandon Taubman turns to three female reporters in the Astro clubhouse and yells, " "Thank God we got Osuna! I'm so [expletive] glad we got Osuna!"
(Roberto Osuna is the Astros closer who was suspended 75 games a year ago for domestic violence. Only an hour or so before Taubman had allowed a 9th-inning home run to D.J. LeMahieu and technically been given a blown save).
–SI reporter Stephanie Apstein writes about the incident two days later, and only after the Astros refused to give her access to Taubman for him to expand on what he meant. The story dropped on the eve of Game 1 of the World Series.
–Tuesday morning, the Astros release a statement, the gist of which is contained in this tweet, verbatim:
–In other words, the Astros' OFFICIAL response to Apstein's story was to call it Fake News, a tactic that may play well locally in Texas but won't work in a "national" league.
–Next, at least three other reporters, all eyewitnesses, confirm Apstein's account. Further, they point out that no one had asked Taubman a question, that he had just lashed out on his own.
–Just before Game 1, Astro manager A.J. Hinch calls the issue "very disappointing." Taubman issues an apology of the "I'm sorry if you were offended" route, which as we all know is the world's lamest apology.
"I used inappropriate language for which I am deeply sorry and embarrassed. In retrospect, I realize that my comments were unprofessional and inappropriate. My overexuberance in support of a player has been misinterpreted as a demonstration of a regressive attitude about an important social issue.
–The Astros lose both Games 1 and 2 of the World Series, at home.
–The Astros fire Taubman. General manager Jeff Luhnow admits that the organization was wrong to put out the release that it did, but refuses to specify who was behind it. He does say that only Taubman and one other Astro employee were interviewed before the release was put out. In other words, the Astros had at first thought this would be just small potatoes and figured it would be easier to snuff out Apstein's credibility than to tackle the issue head on.
–At a presser on Thursday evening, Luhnow is asked if he or the Astros have personally apologized to Apstein. He says no, that it's been a hectic and chaotic time and he has not had a chance. Perhaps Luhnow does not realize that Apstein is seated in the room at the time.
What is it with the city of Houston this fall? First, the college football team tells two of its top players to take the rest of the season off. Then the Daryl Morey tweet goes sideways. Then this. I don't want to repeat the obvious and fitting mantra here, but you know, "Houston,…."
And Then There's Rob Drake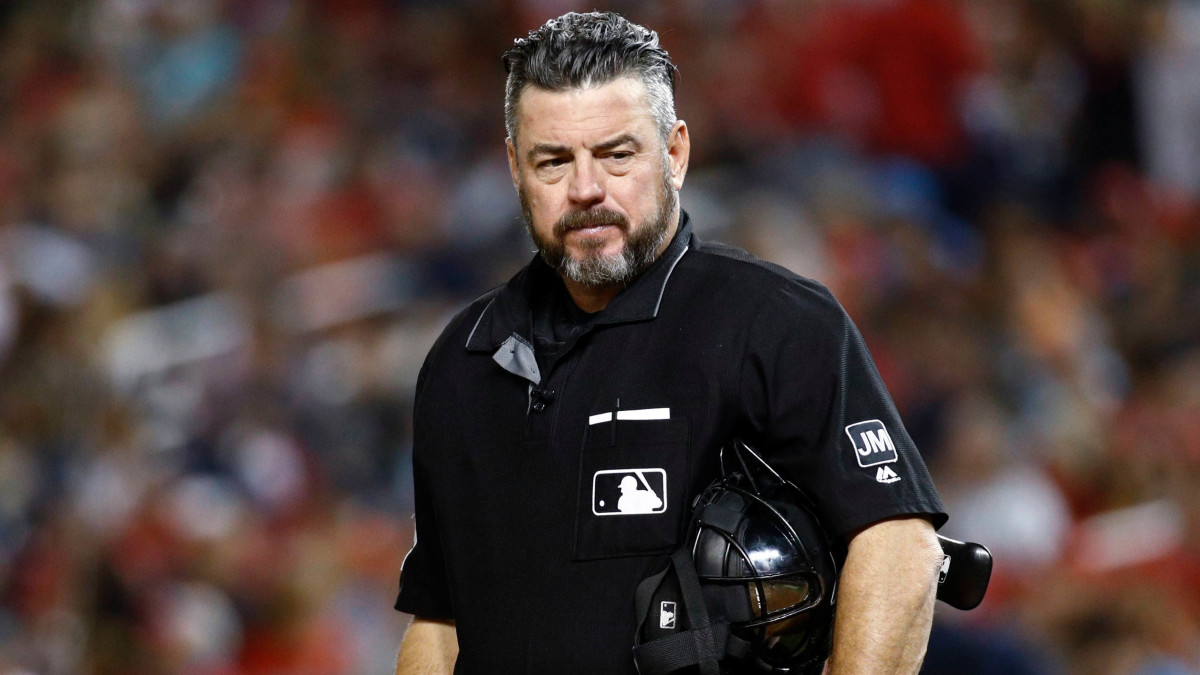 Brandon Taubman is out (and he's going to have to wait about 50 weeks to atone…bad timing) but umpire Rob Drake is still employed even after a tweet from Tuesday night, since deleted (as too his entire account has been), in which he promised to buy an AR-15 "because if you impeach MY PRESIDENT this way, YOU WILL HAVE ANOTHER CIVAL WAR!!! #MAGA2020."
Drake also issued a bullshit apology by putting the conditional on it: "I want to personally apologize to everyone that my words made feel less safe." Which is really saying, Hey, MAGA, I know I don't have to apologize to you because you get it. I'm just apologizing to these cucks because if I don't I may lose my job. Bear with me.
Then Drake adds, "I never intended to diminish the threat of violence from assault weapons, or violence of any kind." Oh, we know, Rob. You actually were promoting it as a threat.
Freedom of speech, sure. No one is imprisoning him. But he also just threatened an armed rebellion due to a legal process. I wonder what MLB will do about this. Answer: probably nothing.
Cliptober
It's not even Halloween and the Los Angeles Clippers are already NBA champions. Okay, not really, after beating the Lakers by 10 on Tuesday the Clips rolled up to San Francisco and put up 141 on the Warriors on the night the Chase Center was christened.
The Warriors, under Steve Kerr, had never surrendered that many points in a game before.
Keep in mind: the Clips haven't even had Paul George in either of these two games.
Note well: this is the season Patrick Beverley will become a national cult figure beyond just the know of NBA insiders.
Also note: It's going to be a long season for the Warriors and I hope Klay Thompson just sits the whole thing out.
Funny moment: Before the first bucket was even scored (history will record that L.A. led 14-0 before Golden State scored a point in its new home), play had to be stopped when a fan seated courtside spilled his beer on the floor. TNT announcer Kevin Harlan noted that that was a very expensive beer he'd just spilled, but then realized and said that if he could afford to sit there he could probably afford to absorb that loss without any care.
There's a part of me that's glad to see basketball back in The City itself, and there's another part that's sad that the Warriors leveraged their success of the past half decade via the Splash Brothers into a venue that their real East Bay fans will never be able to afford and that will just become a vanity play for Silicon Valley's plethora of billionaires and millionaires. The irony being, of course, that the product will never achieve the greatness or glory of the past five seasons. It's over, kids. Sorry.
—
And Now A Word From Katie McCollow…
And if you're one of those 'gram types, you can follow her on the 'gram at @katie.mccollow. All she wants are life's simple pleasures: fame, wealth and an US Weekly cover.
At The Movies: 1941
Citizen Kane Even if, like us, you feel that one viewing is enough, you have to appreciate that Orson Welles did this all (write/direct/star) as a 25 year-old, that he took on one of the most powerful men in media (William Randolph Hearst, on whose life it is loosely based) and that he did things that had never even been thought of before in film. On a shoestring budget. The Quentin Tarantino of his time 2. Sullivan's Travels From Preston Sturges. Joel McRea (who joked that he got the roles that Gary Cooper wasn't available for) as a big-shot producer who goes undercover as a hobo to better understand the plight of the poor so he can make a film that better depicts them only to realize that what they really want is what he already does so well: comedies. With Veronica Lake as The Girl. McRea later turned down a chance to make another film with Lake, saying, "One Veronica Lake film is enough for a lifetime" 3. The Maltese Falcon Humphrey Bogart and Peter Lorre in a classic film noir set in one of the three best cities for the genre, San Francisco 4. The Lady Eve Another Preston Sturges comedy classic, starring two all-time Hollywood heavyweights, Barbara Stanwyck and Henry Fonda 5. The Wolfman Is that a full moon I see? A must-see of the horror genre.