https://mediumhappy.com/?p=8328
by John Walters
Tweet Me Right
This is the best thing to appear on ESPN before 7 p.m. on a weekday, perhaps ever.
Starting Five
Impeach Tree City
The impeachment hearings go public today and I really don't know what that means. I do know that one of Trump's three junior bulldogs in the House, Jim Jordan (the other two being Matt Gaetz and Devin Nunes), has been added to the impeachment inquiry in order to sow seeds of chaos and disruption. Don't be surprised if Jordan breaks out a chant of "Attica! Attica! Attica!"
Anyway, it's the first impeachment hearings of this century and today's witnesses on live TV will be Bill Taylor and George Kent. On Friday we get Marie Yovanovitch.
Bars in the nation's capitol are opening early today so that patrons can watch the hearings on live TV. You gotta imagine one or more establishments will be serving Supboena Coladas.
On Full Blastros
1919: Black Sox Scandal
2019: Houston Astros
Some things never change.
Former Houston Astros pitcher Mike Fiers is one of four people who tells The Athletic that in 2017, when he was with the club, the Astros used a sophisticated process to steal signs. A camera positioned in the outfield, coupled with a banging noise to tell hitters if a changeup or fastball was coming, tipped pitches for Astro hitters.
You may recall that the Astros won the World Series in 2017. They also had MLB's best home record last season, 60-21.
"That's not playing the game the right way," says Fiers, 35, who warned subsequent pitching staffs on which he played, Oakland and Detroit, that the Astros were doing the game dirty.
This isn't the NCAA, of course. Major League Baseball won't force Houston to vacate its World Series victory. What I'd do if I were Rob Manfred is this: 1. a major fine, in the area of $5 million 2. forfeited draft picks and 3. start the Astros 8 games back in the A.L. West next season. No matter how many games they win, they must finish 9 games ahead of the second-place A.L. West team in order to win the division.
If I'm the Astros, I blame it all on Brandon Taubman.
Aces High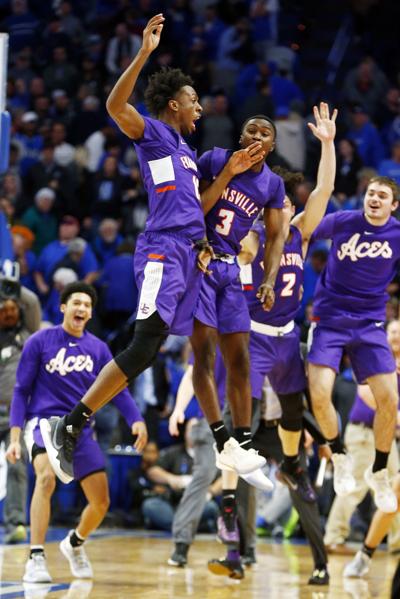 It's almost impossible to get hyped about college hoops before even Thanksgiving week, but let's note that the unranked Evansville Purple Aces walked into Rupp Arena last night and took down No. 1 Kentucky, 67-64. Better, Evansville is coached by Walter McCarty, a former star player for the Wildcats in their mid-Nineties Rick Pitino glory years.
McCarty, a starter on the 1996 national championship team for Kentucky, is in his second season in Evansville (southern Indiana). Last year the Aces went 11-21 and they were picked to finish eighth in the Missouri Valley Conference this season.
What the Aces' win really means is that now every coach of a decided underdog can point to them as his team prepares to play a prohibitive favorite and say that 1. it's possible and 2. look how much fun it is if you are able to pull it off.
Extra points for doing it on the favorite's home floor.
Ohio Player
The Bobcats lost to Western Michigan on ESPN (or ESPN2, don't quote me) on TV last night, but did they? Really? That's Hagen Meservy, a 6'3″, 300-pound offensive lineman doing a distractionary cartwheel on a pass play. That got completed.
Five Films: 1954
Another episode of "It was a very good year."
Rear Window Once you get past the part about 25 year-old Grace Kelly pining for 46 year-old Jimmy Stewart to settle down, this is Hitchcock's first (but not last) great film about voyeurism. 2. On The Waterfront "I coulda been somebody. I coulda been a contender. Instead of a bum. Which is what I am." Future Hitchcock favorite Eva Marie-Saint in a breakout role, for which she won a Best Supporting Actress Oscar; Marlon Brando at his finest. Lots of modern-day parallels in the struggle. Best Picture winner. The irony here is that this is a film about doing what's right made in the midst of the McCarthy era and yet directed by Elia Kazan, who named names and put people on blacklists (and he won Best Director) 3. Sabrina So light, so airy, but so much fun. Audrey Hepburn is the chauffeur's daughter on a north shore of Long Island estate where two adult brothers, played by Humphrey Bogart and William Holden, vie for her hand. Bogey is 54 and she's 25 (in real life, making Rear Window positively modest by comparison) 4. Dial M For Murder Suspenseful, classic Hitchcock, once again with Grace Kelly aboard. Both of these Hitchcock films take place almost entirely in one room. And yet still extremely compelling. 5. A Star Is Born This is the best version in our eyes, as Judy Garland is even better than she was in The Wizard Of Oz. She was robbed of the Oscar by Grace Kelly (in Grace's third-best film of the year, The Country Girl, that no one ever talks about now) and she may have never gotten over it. Can't blame her.
We came very close to adding Godzilla, the original. It spawned not just the Godzilla franchise but one can argue the mega-blockbuster film franchise. Also worth noting this year: The Creature From the Black Lagoon, a classic B-movie horror film as well as The Seven Samurai, another Akira Kurosawa classic. We've never seen it, but its American remake is basically The Magnificent Seven.
Reserves
Don Cherry, fired yesterday or Monday by SportsNet, appears on the most racist white nationalist network he can find to mansplain his actions. Bold move, Cotton.
At least he got what I'd tried to advise, post hoc. Don't begin a rant with "You people." But of course his logic was flawed. Cherry says he should have said "Everybody" instead of "You people." You know why he didn't? Because he doesn't see it as an "everybody" problem. He sees it as a "you people" problem. And that's sort of why he's out of a job today.
****
A couple things on the latest CFB Playoff rankings: 1. First time all 25 schools appeared in a different slot than previous week's rankings ("Row the boat Ski-U-Mah Go Gophers!"), 2. First time a No. 1 won and still dropped (and that No. 1 won 73-14, by the way). 3. Georgia is No. 4 and Alabama is No. 5; if Georgia loses in the SEC title game and Bama wins out, are we looking at an LSU-Alabama rematch, shades of 2011? Or would a 12-1 Oregon or a 13-0 Baylor (just play along, please) have enough juice to unseat them?