https://mediumhappy.com/?p=8329
by John Walters
Tweet Me Right
Forget that David Bowie may be the coolest person who's ever lived. That he simply looks like the coolest person who ever lived. Here's more evidence of what an absolute genius he was. How insightful and progressive. And yet, even he smoked cigarettes.
Starting Five
Unprecedented To Unpresidented
There have been three impeachment proceedings in my life. Let's begin with the second first. A sitting president turned Oval Office into his own libertine Oral Office and he got caught. That was the crux of it. A bad husband, sure, and not at all professional in no matter the office, but as a citizen, I'd rather not have a sexually repressed president. So, yeah, shame shame shame, however…
Richard Nixon oversaw a break-in of the Democratic headquarters before the 1972 election. Before the 1968 election, he persuaded the Vietnamese not to make peace so that he'd have a better chance of winning. That latter maneuver probably cost 1,000s of young American men their lives. And even in 1972, with Watergate, it was a failed attempt at dirty dealings and there was a whistleblower, of sorts (Deep Throat), who was never identified. At least not for another quarter century.
Which brings us to Wednesday's live impeachment hearings. The Republicans tried their damnedest to kill the messenger, first demanding to know who that messenger is. Then they tried to describe all the testimony as hearsay, never mind that if the top officials in the White House would actually testify on the record that problem would be eliminated.
We thought it was illuminating to hear Bill Taylor and George Kent speak. Taylor graduated fifth in his class at West Point (of 800) and of all the postings he might've been able to take, he chose infantry. And saw combat in Vietnam. Kent is a second-generation foreign service whose father graduated from the Naval Academy.
These are, sorry Mr. President, "the best people." And with the revelation of the overheard phone call between Trump and Gordon Sondland, who was at a restaurant in Ukraine at the time, it becomes more and more evident that the Trumps are simply the Bluths from Arrested Development.
For weeks Trump and his cronies demanded transparency from the impeachment inquiry. Yesterday they got it and then claimed they didn't even watch. Richard Nixon resigned under pressure because a few Republican leaders in the Senate, such as Barry Goldwater, told him that the evidence regarding his failed crime was unimpeachable. And thus he was. And so it was time to give up the gig.
The Trump strategy has been to say, We're not covering it up. Here's exactly what we did and though you say it fits the textbook definition of a crime, we're going to sit here and say it isn't. And our cronies are going to back us. Black is white and up is down. Try and stop us.
That's where we are.
Kap Space
So this is weird. Out of nowhere, after two-plus years of pretending that Colin Kaepernick does not exist while signing carpet salesman such as Matt McGloin, Wes Lunt and Cooper Rush (here's a nearly complete list), the NFL called Kaep (or "Kap") on Monday and told him to be at a workout in Atlanta this Saturday.
Not a team. The NFL. What teams will be there to watch Kap work out? The NFL will not say.
If this were a crime film, you'd see this as the set-up where the good guy is lured to the bad guys' hideout knowing it's an ambush, but what choice does he have if he wants to rescue Virginia Mayo?
It's hard to imagine anything more disingenuous, but maybe someone at the league offices decided they wanted to clear the deck of the lingering "blackball" tag, so here's your tryout, kid. Now don't say we never gave you a second chance.
I used to work out at Chelsea Piers, where Kap works out (or was working out a year ago). I'd see him in the locker room in the morning. Never spoke to him, kept a respectful distance. And he kept to himself, but was always respectful to any of us geezers who did want to say hi or wish him luck.
For us, the most hypocritical aspect of all of this is how the NFL (and other pro sports leagues, and even major college institutions) drape themselves in the flag and have a boner for the military. For us, at least, patriotism is religion. Practice it with modesty. Most of us like someone who lives to Christian ideals but who wants a Bible-thumper on their doorstep.
Same, with me, for patriotism. Fourth of July? Great. Veterans Day and Memorial Day? Great. A flag the size of a football field? Why? A military flyover that literally crosses right above a 13-story mosaic of Jesus Christ, the "Prince of Peace?" That's garbage.
There's one, only one person, in the NFL who is qualified to pass judgment on the Colin Kaepernick issue. It's a fellow northern California native named Pat Tillman. But he no longer can. My guess, from what I've read and seen of Tillman's life, is that no one would be more in his camp than PT 42.
Defenseless Player

This is targeting with intent to execute. Wow. This defensive player from Toledo may not only have to sit out the next game but also submit to an interview from the duo from Mindhunter. Wow.
Ol' Man Rivers, Young Man Rivers
Context doesn't really matter here. All that matters is that Austin Rivers is prompting the referees to T up his father, Doc, and that eventually the zebras do. And then Austin claps in salute of their decision.
It's still only mid-November.
Five Films: 1955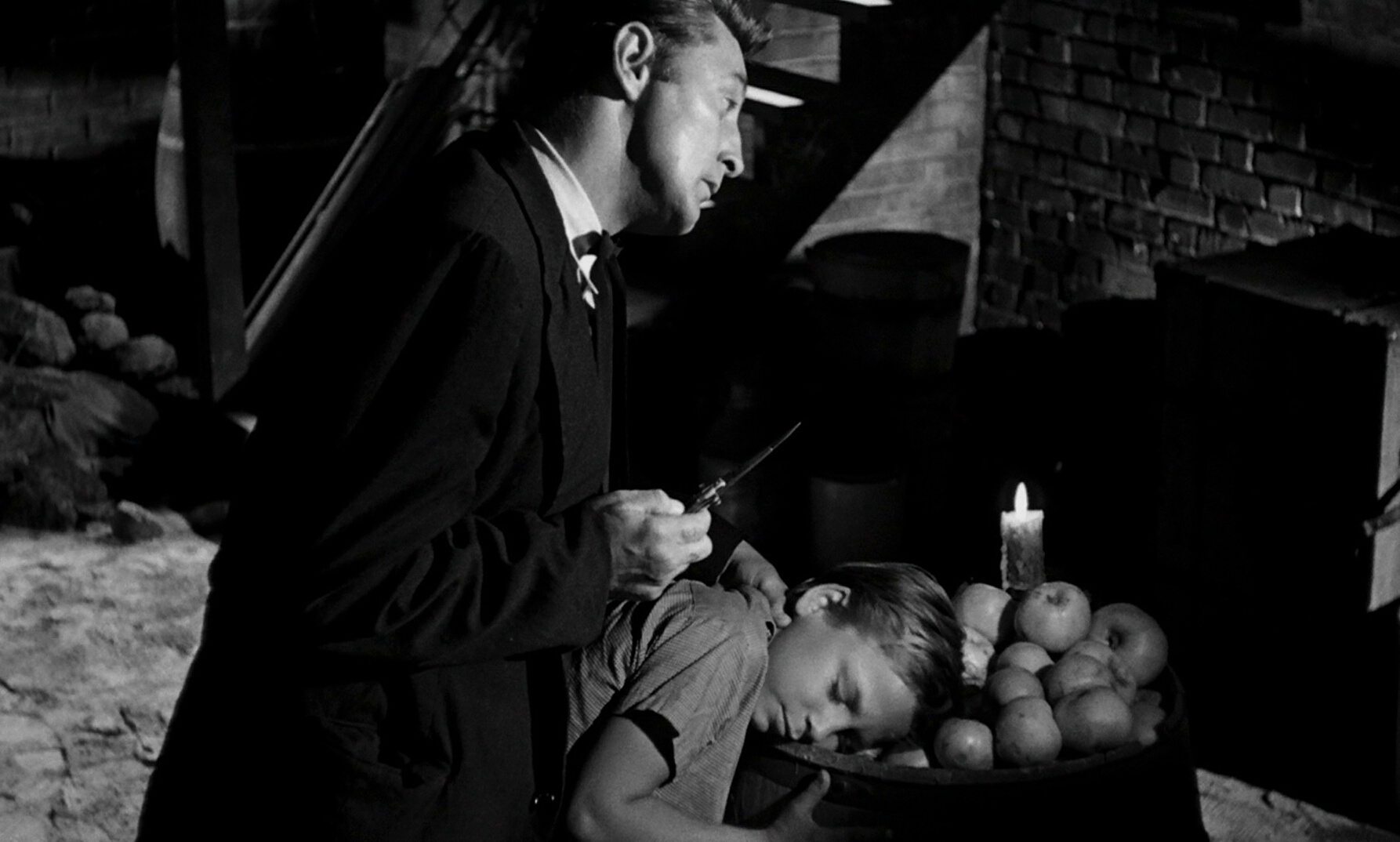 Before we delve into what a ridiculously and gloriously deep year this is, a few words about my old friend Mark Beech. When almost all of us at SI were single and in our thirties, Mark and I were close friends. We used to worry that Mark would never get married because, although he's 6'2″ and bears a striking resemblance to Christian Bale, he happily spent many free hours in his apartment watching TCM (a fastidiously clean apartment, I might add; Mark's a West Point grad whose home still could pass a surprise inspection 15 years after leaving the post).
It was Beech, more than any other person, who stoked my interest in classic films in general and TCM in particular. We soon launched an annual winter film festival, called "Johndance," that Mark put more time and effort into (as in deciding which films to bring) than possibly any story he was working on at the time.
In Year 1 or 2 of Johndance, Beech brought one of the films on today's list (it stars Robert Mitchum). The good news is that Beech was too solid a guy to remain single forever, and he married a lovely woman who worked in SI's PR department and they now have two children. We want to thank him for being the spiritual inspiration behind this daily list.
To Catch A Thief: Cary Grant, Grace Kelly and Monte Carlo in a wonderful suspense drama with a little romance thrown in. Two people this beautiful sharing the same scenes should almost be illegal. Night Of The Hunter: A movie well before its time, almost too dark for the "Happy Days" era. Mitchum is chilling and fantastic, and it plays out like a grim fairy tale in black-and-white ("Children…child-reeeen") 3. Marty The top film on this list is romantic fantasy, sublimely gorgeous people cavorting in a surreal paradise. This Best Picture winner is at the other end of the spectrum, as a burly Bronx bachelor named Ernest Borgnine and a homely lass from another outer borough find each other with not a touch of glamour. 4. Mister Roberts Henry Fonda, Jimmy Cagney and Jack Lemmon in a war film that's part comedy and part not at all. With no combat scenes. "Captain, it is I, Ensign Pulver, and I just threw your stinkin' palm tree overboard. Now what's all this about no movie tonight?" Lemmon would win a Best Supporting Actor Oscar. 5. Oklahoma! (Susie B. gonna put me on BLAST for not picking Guys and Dolls. If I'd picked Guys and Dolls she'd have me on BLAST for not picking this one) A young Shirley Jones with Rod Steiger and Eddie Albert and arguably the greatest title song in musical history.
This year is TOO deep. We've never seen the two iconic James Dean films from this year, Rebel Without A Cause and East of Eden, so we did not include them. We've seen and LOVE The Seven Year Itch (Marilyn Monroe at her most comedic and curvy) but wouldn't supplant any other film on this list. Films we want to see: The Man From Laramie, Bad Day At Black Rock and Rififi. We also almost put Lady And The Tramp in our top five. The spaghetti scene alone makes it worthy.