https://mediumhappy.com/?p=8348
by John Walters
Starting Five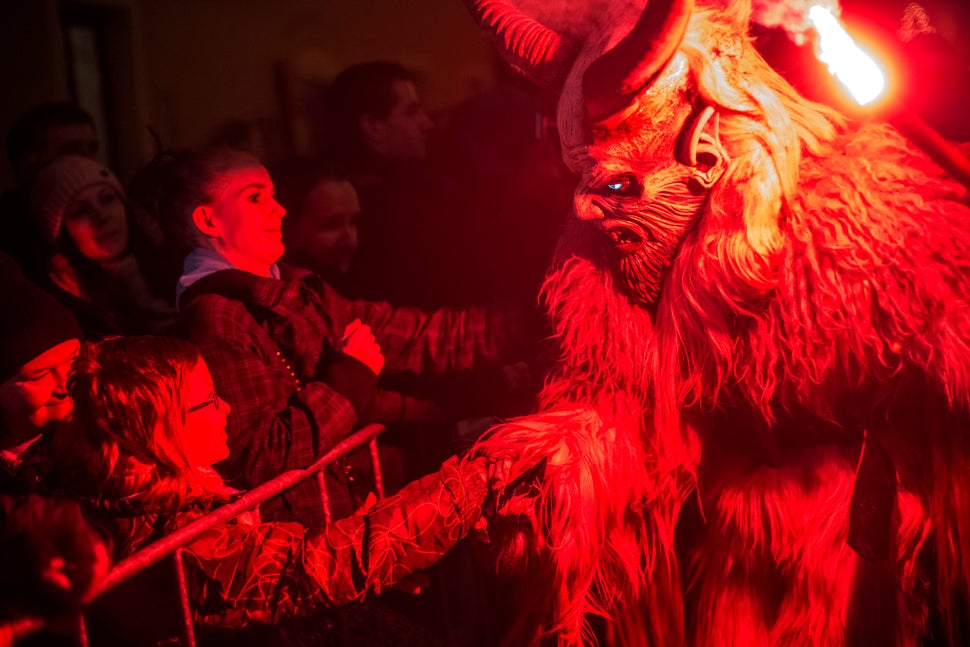 Bad Santa
Today marks the start of the two-day Krampus Festival in Austria. In central European folklore, Krampus is a half-man, half-goat creature who punishes bad children and man do we need one on this side of the Atlantic.
A Millennial Christmas Carol
This came to us yesterday. You know this scene from Dickens' "The Christmas Carol," where mean old Ebenezer Scrooge wakes up on Christmas morning and realizes that he is still alive. We decided to put a 21st-century spin on it:
"Oh, boy, (blah blah blah), fetch the prize turkey from the poulterer and bring it to Bob Cratchett…"
(the turkey arrives at the Cratchett home where Bob's wife and his kids have some questions):
"Is this a free range turkey?"
"Was it cooked in peanut oil because I'm allergic?"
"Dad, I thought this was going to be a vegan Christmas."
"Listen, pops, tell 'Okay, Boomer' over there to stop disrespecting my juice cleanse. Just return the bird and tell Mr. Scrooge to Venmo us the money."
Duke Or Earl
First, you have to get past the idea of GOP Congressman Matt Gaetz being offended by someone being mean and crass. But, yeah, Professor Karlan, while making a valid point, needlessly scored a hit on the one member of the Trump family who, for all intents and purposes, is innocent. And it undermined her testimony.
Friend of the blog Moose, who is Canadian and thus is able, like prime minister Trudeau, to laugh at America from afar, suggested that if only Professor Karlan had invoked a hypothetical son, "Earl," or even suggested president Trump could name his dog "Duke" but not name him one, things would have gone much smoother for all involved.
Deer In The Highlights
The Milwaukee Bucks won again last night, a 127-103 blowout at Detroit. That's 13 in a row for Milwaukee, who are now tied with the Lakers for the lead's best record at 19-3. Anyone ready for a Giannis versus LeBron NBA Finals?
Giannis, the reigning MVP, is your early 2020 MVP leader: 2nd in the NBA in scoring and fourth in rebounding. The Bucks are gonna roll over the Eastern Conference this season if everyone remains healthy.
By the way, the Bucks have Kyle Korver on their roster, who like LeBron entered the NBA in 2003. I believe only Vince Carter, who is an alien, and perhaps Jamal Crawford, have been in the league longer.
The Lakers also won last night but LeBron's blatant uncalled palming violation is all that I will remember.
Batman And A Joker
This, from comic Hasan Minhaj, is both funny and educational. I mean, think about it, should a super hero really have a butler?
Five Films: 1968
Another classic year in films and five is not enough. We're still talking about these films more than half a century later. Imaginative, exploratory and existential, set against the backdrop of perhaps the most turbulent year of the American century.
Planet Of The Apes: The first time I saw this, I was probably six or seven years old and was quite sure it was the coolest film I'd ever seen. It would be decades before I appreciated the allegory being laid before me. And General Irko haunted my dreams for most of the Seventies. 2. 2001: A Space Odyssey: A masterpiece, from Stanley Kubrick. I believe it was Charlton Heston, or maybe Orson Welles, who walked out of the Hollywood screening and barked to no one in particular, "I don't know what the hell is going on in this movie!" Not an easy ride, this, but the special effects were decades ahead of their time and the overriding message well, many of us may still not be ready for it. 3. Bullitt: Steve McQueen and the first blow-your-doors-off car chase scene in film history, shot on the streets of San Francisco and Marin County. McQueen plays a San Francisco detective assigned to protect a witness whom the mob is after. 4. Night Of The Living Dead: A horror classic that feels like a documentary, shot in black-and-white and with grainy footage to make it even more creepy. Countless films, and one jumped-the-shark-a-while-ago TV series, owe everything to this movie. Oh, and spoiler alert: the black dude is the one person who escapes being trapped all night in the house surrounded by zombies only to take a bullet as he emerges from the local Ohio posse. How you like that ending, Colin Kaepernick? 5. The Thomas Crown Affair: What a hot streak Faye Dunaway was on from 1967 to 1975: Bonnie and Clyde, this, Chinatown, Three Days of the Condor, and Network. With Steve McQueen and an Oscar-winning theme song ("Windmills Of Your Mind").
Not on the list but worth noting: Rosemary's Baby, The Producers, Where Eagles Dare, The Lion In Winter, Oliver! Also, another movie that may have inspired a Seinfeld gag. There was a film from 1969 titled Rachel, Rachel. Remember how Dark Victory gave us Prognosis Negative?