https://mediumhappy.com/?p=8374
by John Walters
We don't have a tweet here, we just wanted to ask, "White Settlement?" Really?
Wait, we do have a tweet here.
Starting Five
East Mode
Christmas is over, so it's time for the staff at MH to begin paying attention to the NFL. Seems as if the league saved its most interesting regular season game for the final one of the year.
San Francisco at Seattle. At stake was first place in the NFC West, a radical re-juggling of the NFC playoff bracket, and the winner earning a bye week and staying home throughout the playoffs or traveling three time zones to play in Philadelphia next Sunday. Seems rather unfair to finish 12-4 and have to travel 2,500 miles to visit a team that went 9-7, but welcome to the NFL.
Let's skip right ahead to the final minute in Seattle, shall we? Seattle, with the ball, trails the 49ers 26-21 and faces 4th-and-10 from the Niner 12. Russell Wilson completes an 11-yard pass and now it's 1st-and-goal, with Marshawn Lynch in your backfield, with 0:23 left and no timeouts.
Seattle can't possibly blow this, can they? I mean, what team has ever blown a sure victory with the ball at the opponents' 1-yard line, with Beast Mode in its backfield, and with so much on the line?
1st-and-goal from the 1: Spike it.
2nd-and-goal from the 1: Inexplicably, a delay of game penalty. Again, at home. With a veteran QB and Pete Carroll as your HC.
2nd-and-goal from the 6: INC
3rd-and-goal: INC
4th-and-goal: Complete to Hollister, tackled at the one inch line.
And now the Seahawks must travel to Philly. Should they win, they'd next have to travel to San Francisco. All because they could not convert first-and-goal from the 1 at home. And yes, Lynch never got a touch and Wilson never ran on a QB draw.
Oh, and yes, Seattle could've avoided all of this by beating the wretched Arizona Cardinals at home last week.
They All Knew
In news that should not floor you, The New York Times is reporting that in late August President Trump's national security team—Secretary of State Mike Pompeo, Secretary of Defense Mark Esper and National Security Advisor—presented themselves as a united front in the Oval Office to urge our 45th president (and first dictator) to release the military aid to Ukraine.
Bolton even went so far as to remind the president that most of the $400 million in aid is spent on U.S. weapons, anyway. Trump would not budge.
In case you're wondering why the White House didn't allow any of these people to testify or appear in front of the impeachment inquiry. The entire story has about 30 smoking guns, but it's long and has plenty of words and MAGA-land won't read it. Which is what Trump is counting on.
Day Trippers
One could discuss the targeting penalty against Ohio State's Shaun Wade that changed the Fiesta Bowl from Clemson punting down 16-0 late in the first half to Clemson getting a first down, scoring a touchdown, and then adding a second before halftime to close to within 16-14.
Or the strip-and score being turned into an incomplete pass that nullified a third quarter Buckeye TD that would have put them up 23-14. Both were officials' replay calls that definitely altered the game.
Those decisions were out of first-year Ohio State coach Ryan Day's hands. What was not out of his control was Ohio State up 23-21 late (it might've been 24-21 but Day opted to kick the PAT early in the 4th) and facing 2nd and 4 at the Tiger 39. One more first down and the Buckeyes are possibly in field goal range and they've also either compelled the Sanctimonious Swinneys to burn their remaining timeouts or they've got the clock down to 2 minutes.
What happens? A running play to J.K. Dobbins loses a yard. A short pass to Austin Mack gains a yard. Now it's 4th-and-4 with 3:07 left, still from the Tiger 39.
Go for it. It's four yards and while that's not easy, it probably ices the Tigers. Day punts. It's a good punt, downed at the 6, but Clemson will go 94 yards in four plays and score the game-winning TD.
Here's the thing about football coaches, particularly those at establishment programs. They're conservative politically, and they're conservative emotionally. They're conservative. They're atop the heap because the game/system works in their favor and so why change? The risk takers are always the fringe guys, the Hal Mummes or Mouse Davises or Mike Leaches. They cannot afford to be establishment types.
Day made the conservative call on fourth down. What announcers would say is the prudent call. And while the Buckeyes still had a chance to come back and win after Clemson's TD, Day had four yards to get that almost certainly would've propelled the Buckeyes to the national championship.
He punted.
Stone Cold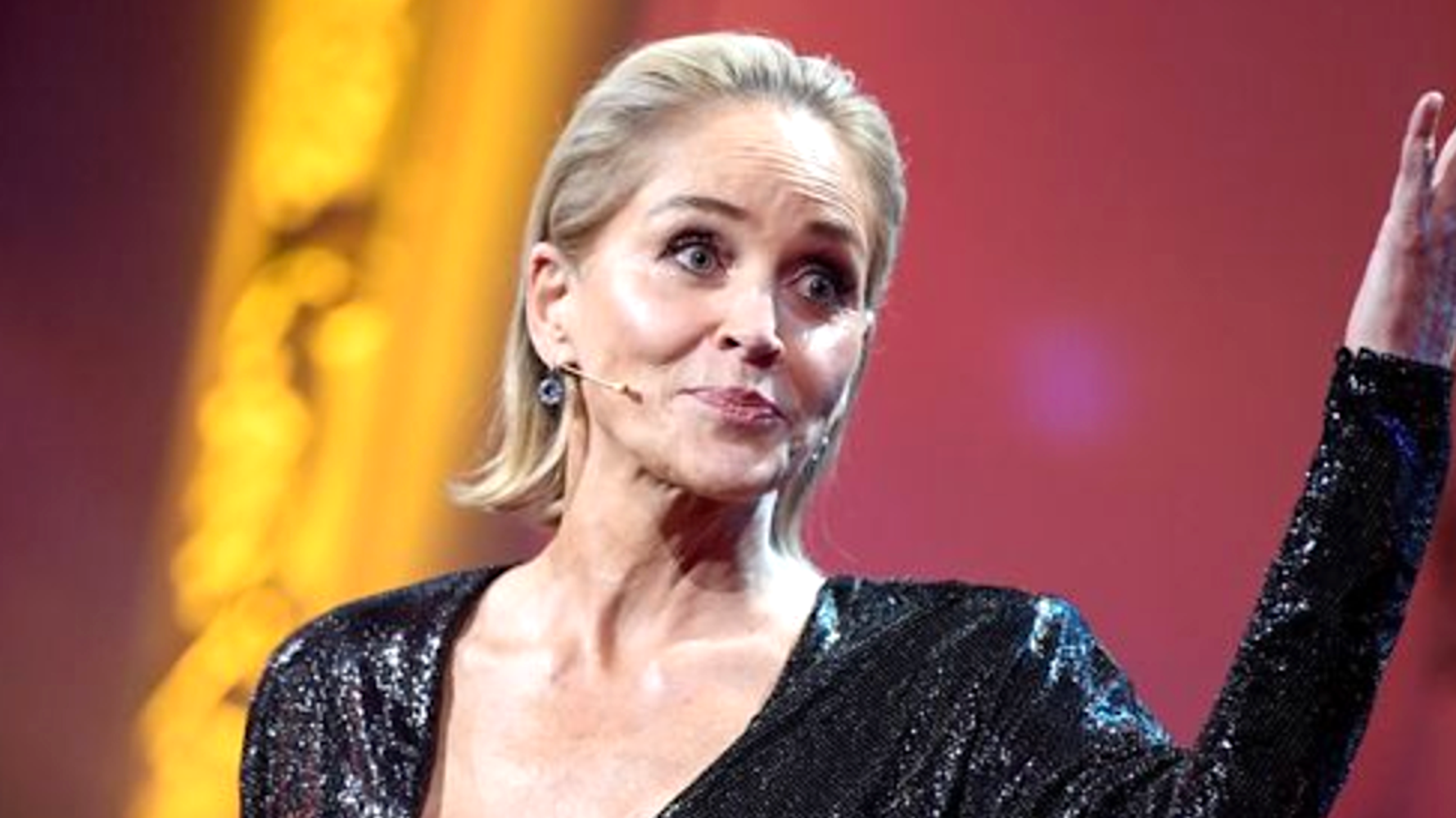 Yes, but are those photos recent?
Actress Sharon Stone, 61, who was the hottest thing on the planet in the early 1990s, was reportedly kicked off the dating site Bumble because the good folks who work there assumed it was a fake account.
It's not.
Only after Stone went on her verified Twitter account and reported this travesty did Bumble re-activate her account. So yes, this is an item about the birds and the bees.
This should become a documentary. Titles? "Sharin' Stone?" "
Five Films: 1983
Risky Business: This was always more than a teen comedy, and it was even always more than Tom Cruise's coming-out (no pun intended) party. This was a stylish film with a smart script. It's fantastic. I wasn't going to post it this high, but sometimes you gotta say, "What the f**k?" Can't tell you how many times I've read a tweet and thought, "Joel, go to school. Go learn something." 2. A Christmas Story: There's a reason it's on every December. It's funny and insightful and charming and so, so true. And we love that Darren McGavin, whom we loved from the Seventies "The Night Stalker" series, gets some much-deserved love as "the old man." Reminded us of our dad a little. 3. Local Hero: Wonderful little film starring Peter Riegert and Burt Lancaster (ol' Burt had quite a nice little comeback in the early Eighties between this and Atlantic City). Riegert plays an oil exec who's been sent to a small Scottish town to purchase most of it but the locals are a cannier, craftier lot than he'd bargained for. 4. The Right Stuff: It's almost impossible to improve upon Tom Wolfe's book, and I don't think they did, but between Ed Harris and Sam Shepard, they darn nearly did. 5. Trading Places: We'll say it: This is the most instructive finance/capitalism/class divide film of the Eighties, way more so than Wall Street. Also, Eddie Murphy is hilarious. This is back when he was making terrific films by mostly being himself and not hiding behind the makeup and wardrobe department.
—Left on the cutting room floor: Terms Of Endearment (Best Picture Oscar winner), The Big Chill, Vacation and Tender Mercies.
–Fun Fact: There are at least two actors in our above-mentioned films who would later show up on The Sopranos. Can you name them?