https://mediumhappy.com/?p=8388
by John Walters
Tweet Me Right
Starting Five
*Australia. Iran. Washington. Most of the news is just too depressing so don't hate us for just wanting to skip it. Particularly Australia. Honestly, how great would Earth be if our species had died out a couple million years ago? Rust Cohle was right. I think about this scene often.
"I think human consciousness is a tragic misstep in evolution. We became too self-aware…we are creatures that should not exist by natural law…I think the honorable thing for our species to do is deny our programming, stop reproducing"
Yes! But let's wait until after the Clemson-LSU game.
Seriously. If it weren't for thumbs and that gray matter between our ears, we'd all be dead right now. And the planet would be so much better off.
Harry and Meghan's Brexit*
*The judges acknowledge they whiffed by not titling this "Megxit"
Okay, now this is funny:
You wonder if Prince Harry and Meghan were home watching Season 3 of The Crown and thought, maybe Edward VIII had the right idea. Harry's great great-uncle was in line for the throne (or briefly sat upon it?) before abdicating by choosing to marry American divorcee Wallis Simpson. That was more than 80 years ago.
You'll recall that Edward was a favorite (and confidante) of Harry's father (or is he???), a young Prince Charles.
So what does Harry and Meghan's announcement—on Instagram—that they will be "stepping down" as senior members of the royal family mean? Are you even allowed to do that?
Basically, it means that they're now off the dole and will be able to earn their own outside income professionally. If only Don, Jr., and Eric had the nerve to do this.
Phil Out
Backup Notre Dame quarterback Phil Jurkovec, a sophomore, has entered the transfer portal. A 6'5″ quarterback from western Pennsylvania, Jurkovec was considered the jewel of Notre Dame's 2018 signing class. But he could never beat out Ian Book and wasn't about to do so next season.
Judging from the coded wording Notre Dame's coaches have used, they're not going to miss him terribly. Although if you watch Jurkovec in his limited time, he obviously has some superior athletic talent. Expect Brandon Clark to be the No. 2 next season and freshman Drew Pyne No. 3, and then when Tyler Buchner arrives in 2021, all bets are off.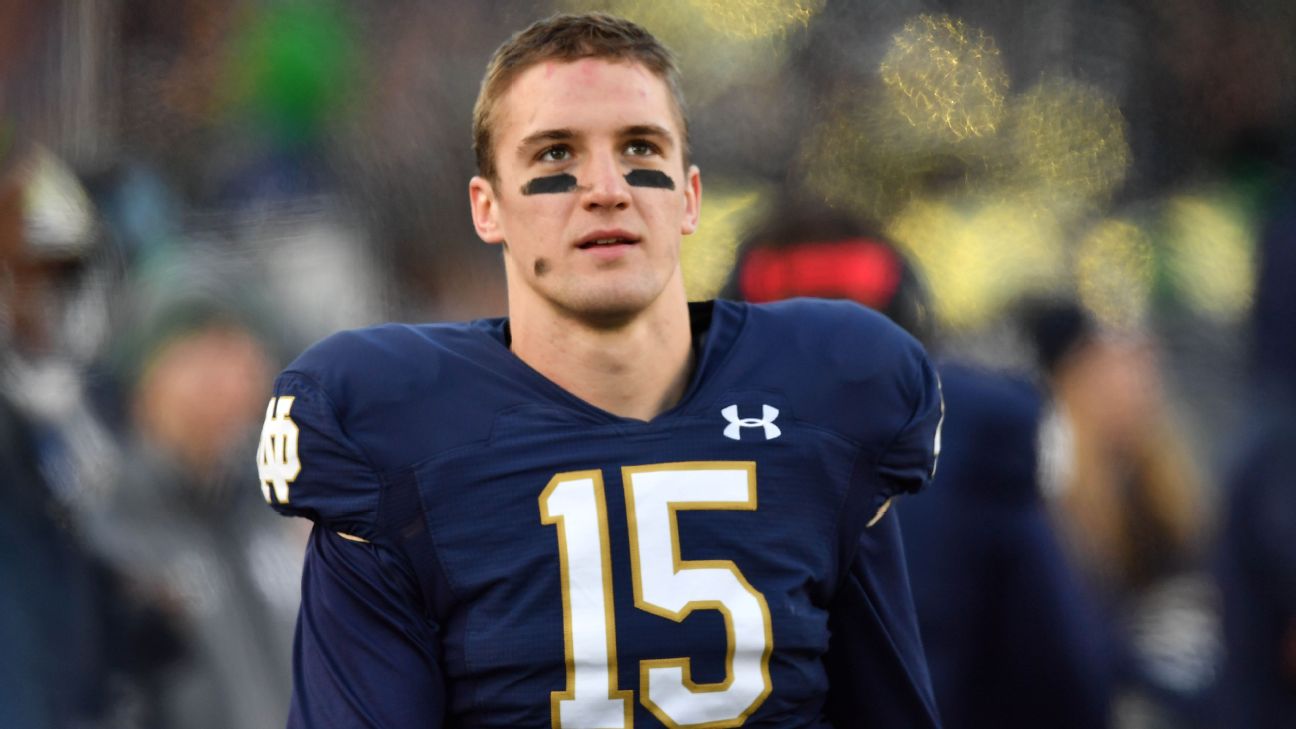 You can feel for Jurkovec: he'd likely have been the starter last season and definitely next at 80-90% of the schools in the FBS. Just not in South Bend. What doesn't make sense, though, is that if he transfers now he must sit out a year and doesn't get a degree from Notre Dame. The first time he could play in a game would be 2021. Whereas if he remains at Notre Dame next season, he could graduate from there, back up Ian Book (and perhaps even play if Book gets hurt), and then immediately transfer without having to sit out a year after next season. In other words, he'd land the Notre Dame degree and still be able to play for someone else no later, in 2021, than he will if he leaves now.
Perhaps his behind-the-scenes relationship with the coaching staff had simply devolved that badly. Or else these are the kind of scratch-your-head decisions he's known for that frustrated the staff in the first place. Maybe he's pissed about not getting his chance and just wants to be away from these people. One can understand. But strategically, taking personal feelings out of it, it's a dubious move.
Five Films: 1990
Goodfellas: I can only relate as a writer—and, okay, as a waiter—but every day you approach your job hoping to hit a home run and are often lucky to hit a single. Then, occasionally, giving the same effort, you hit a grand slam. And you wonder how to replicate that magic. But there's no formula. This is Martin Scorcese's best film, and often his movies since have seemed to self-consciously (too self -consciously) attempted to match that effort. It's a crime that this did not win Best Picture (but this tells you just how much juice Kevin Costner had generated in Hollywood the previous four years). Joe Pesci DID win Best Supporting Actor, an encomium he deserved. Last week on the Golden Globes Tom Hanks imparted a great piece of wisdom—"A film is built scene by scene." This film has a number of magical scenes and they all are strung together to tell a brutal, and often very funny, tale. 2. Home Alone: Comic John Mulaney grew up in Chicago and had a chance to audition for this but his parents didn't allow it. By the way, he and Macaulay Culkin share a birthday. 3. Pretty Woman: A whore falls in love with a soulless venture capitalist and Garry Marshall's genius is that he made us root for them. And here's George Costanza as an evil little worm, pre-Seinfeld. 4. The Grifters: John Cusack in his first adult role with a very sexy and seductive Annette Bening, in her first big film. 5. Dances With Wolves: Best Picture winner. Ta-tonkah.
I've never in full seen Miller's Crossing, or else it would likely make this list. Never seen Total Recall, either, though the only Arnold Schwarzenegger film I liked was Pumping Iron (a documentary).
Ghost? Blech.
This is also to serve notice of how many egregiously bad films came out in this year: Godfather III and Rocky V, to name a few. Whenever I'm feeling nauseous in the tummy, I refer to it as my feeling Quigley Down Under.