https://mediumhappy.com/?p=8633
Starting Five
We're No. 1!
Yesterday the USA took the lead among all nations for most coronavirus cases reported (and we ain't lookin' back!). If you're scoring, or gasping, at home, the tally at the top now reads:
USA………….. 85,000-plus cases
China………. 81,000-plus cases
Italy………… 80,000-plus cases
We've come a long way in just a week, and let's give credit where it's due: Donald J. Trump. Oh, and remember what he said one month and one day ago, on February 26?
"You have 15 people, and the 15 within a couple of days is going to be close to zero."
Not so much.
Shutting off flights from China? Smart. Not testing anyone entering JFK or Newark from Europe, specifically Italy? Catastrophic.
I recall CNBC's Jim Cramer around the second to third week of February opining that if he were a young reporter, he'd head out to JFK and interview passengers getting off flights from Milan to see if they had been screened in any way. Prescient.
Meanwhile, I remember walking through the Times Square subway station transfer area at rush hour three weeks ago today. Thinking of all the humanity rushing past me, commuters on their way to Westchester, Long Island and New Jersey, travelers from other continents making their way to JFK or Newark. And I remember thinking then, If it's already here, there's no stopping it now.
New York, with 39,000 reported cases, would rank as the fifth-most contaminated country behind only the USA, China, Italy and Spain right now.
The Death Calculus
I wanted to address a comment—by the way, I truly "appreciate" (Curb reference) the comments from everyone, particularly since I'm no longer on Twitter—from Kurt yesterday regarding the data on ways Americans find to die each year that don't receive the hype that the coronavirus has.
The more I thought about it, the more these two thoughts reigned: 1) While Kurt has a point, let's wait until the coronavirus goes through a full one-year cycle here (March 1, 2020 – February 28, 2021) to consider it alongside these other mortality figures and 2) I don't recall anyone doing this sort of comparative calculus after 9/11, an event that claimed 2,996 lives.
You wanna talk about "the cure being worse than the disease," let's talk 9/11. We lost 3,000 people that day (the coronavirus should top that figure some time in the first week of April), we all knew that it was a one-time event, or not viral, we knew that it was highly preventable (if FBI higher-ups had simply listened to their field officers), and we even knew that no sovereign nation had perpetrated it. In other words, it was a crime and not an act of war.
In Iraq alone, we've lost 1 1/2 times the soldiers that were lost on 9/11 and oh, by the way, Iraq played no role in the attack. The Iraqi people have lost an estimated 150,000 people due indirectly to 9/11. I'm not even figuring the Afghanistan conflict into this.
But more than debating, yet again, the righteousness or malicious intent with our invading Iraq, let's return to the original point. Did anyone say, in early October of 2001, Yo, we lose 10 times more Americans to the flu, what's the big deal? No, instead we got a full dosage of Alan Jackson songs and a second helping of patriotism.
Curious, eh? Part of this is due to the fact that in 2001 we weren't all up in each other's social media grills minute by minute. Yes, the internet existed, but it wasn't quite directly pumped into our veins the way it is now. I wake up, I check The New York Times coronavirus updates and see how many new dead there are in the USA. I can check back once or twice again before I hit the pillow and they will have updated the figures. We're all living inside a Black Mirror episode these days.
Nineteen years ago, this same newspaper provided obituaries/profiles of every 9/11 victim, but they rolled those out over a matter of months. We are simply more triggered more often now (another reason I jumped off Twitter).
But my fundamental question remains: If America was willing to spend nearly $2 trillion to avenge an attack that was entirely perpetrated on one sublime September morning in the northeast, an attack that left nearly 3,000 dead, why wasn't anyone then comparing the damage to other means of death in the USA annually? Oh, and yes, I get the irony of the "stimulus" package (it's a relief package, people) that passed yesterday costing about the same.
Unprotected Sects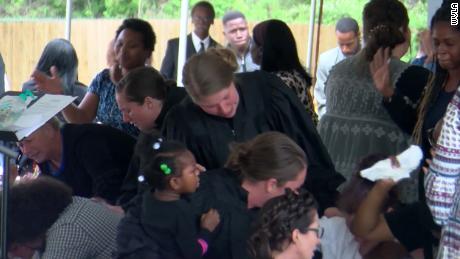 In Louisiana, a state climbing up the coronavirus rankings so fast that it would make Casey Casem howl with delight (currently 9th), the right reverend (Far Right reverend?) Tony Spell welcomed 1,000 congregants to his Life Tabernacle Church in Baton Rouge on Sunday.
Against the governor's orders. Pelican Staters have been ordered not to congregate in groups above 50.
In the faith versus fate debate, there's a part of me that is all for this. There's really no faster way to eradicate stupid, without resorting to violence, than to allow the evangelicals to congregate all they want in the midst of a pandemic. Am I against religion? Let's think of it more as me being in favor of freedom of religion.
I'm reminded of this scene from True Detective, early in the series, when Rust and Marty visit a tentpole religious service. And Rust observes, "All these people speeding to a red light" and "I think it's safe to say none of these people are gonna be splitting the atom."
Is it right to make fun of the ignorant? Of course not. You know what's worse? Taking advantage of them. Which is what Tony Spell and, yes, Donald Trump are doing.
By the way, my "landlord" observed this morning that this virus, particularly in densely populated cities, is probably far more difficult on poor people. And then, after a few moments, "Isn't that always the way?"
A light comes on. Maybe this is why President Trump doesn't care half as much about the virus as he does the economy. A plague that eradicates both the old AND the poor? He'd call that heaven-sent.
And if we have to lose a few doctors, nurses, physician's assistants and lab techs along the way? Well, that's just the price of progress.
Buying Boeing? Boing!
On Monday shares of Boeing, which had been up above $300 all of last year and through January and most of February of this year, were available for $91. Think about this: as recently as February 25th, Boeing (BA) shares were selling for $320.
The good folks at MH Capital decided to dip their beak in the waters and purchase some. Like, a lot. Either Boeing was going to go the way of Lehman Brothers (a stalwart American company that just vanished into thin air during a financial crisis) or it would experience a (government-abetted) recovery.
So, again, on Monday, shares of Boeing? $91.
Yesterday? Shares of Boeing were selling for $182.
Now, I'm no New York Times editorial board member, but if you can add 1 + 1 and also 9 + 9, I think the math comes out to… yes, that's DOUBLE. A two-bagger, Susie B.? In just four days.
We'd love to say that we held onto Boeing for the entire ride, but we didn't want to be hogs ("Hogs get slaughtered") and got out, mostly, after a 33% gain. Who knew it would keep soaring upward… like a plane that actually works?
Anyway, it's a volatile market. There are great opportunities here. Buy low. Sell high. Everything else is window dressing.
Stars 80
Two famously feisty folks turn 80 years old today: House Majority leader Nancy Pelosi and actor James Caan.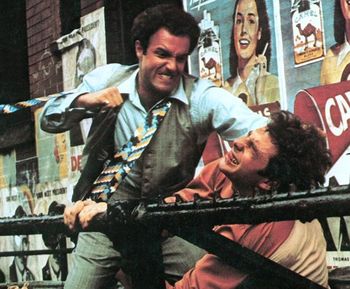 We'll always admire Nancy for standing up to the Tangerine Tantrum and we'll always appreciate Caan's Sonny Corleone for standing up for his sister. Of course, one of them was/is a little better about controlling their rage.