https://mediumhappy.com/?p=8654
by John Walters
Starting Five
We Need A Leader, Not A Cheerleader
It happened again on Tuesday when our nation's President as well as his own acting Press Secretary (John Miller never really dies, does he?) invoked his Pom Pom Powers: "I'm not going to go out and start screaming, this could happen (on why he did not inform the nation of the pandemic potential clearly outlined in Peter Navarro's memo more than two months ago). I'm a cheerleader for this country. I don't want to create havoc and shock."
I'm a cheerleader for this country.
This cynical and insidious ad campaign sounds as if it was cooked up in Stephen Miller's dark, soulless mind. Here's the concept: When the news is bad, and it's mostly your fault, play the rah rah, sis-boom-bah! card. Dismiss truth and transparency (because it will hold you accountable), using as your excuse that you're here to root for the red, white and blue.
Now look at New York governor Andrew Cuomo: transparent, knowledgeable, informed, concerned, realistic, credible.
It's quite incredible how much better of a national leader Gov. Cuomo shows himself to be every single day of this crisis than Donald Trump. Our thoughts are with Randy Rainbow exactly (minus the sexual overtones).
Coronering The Market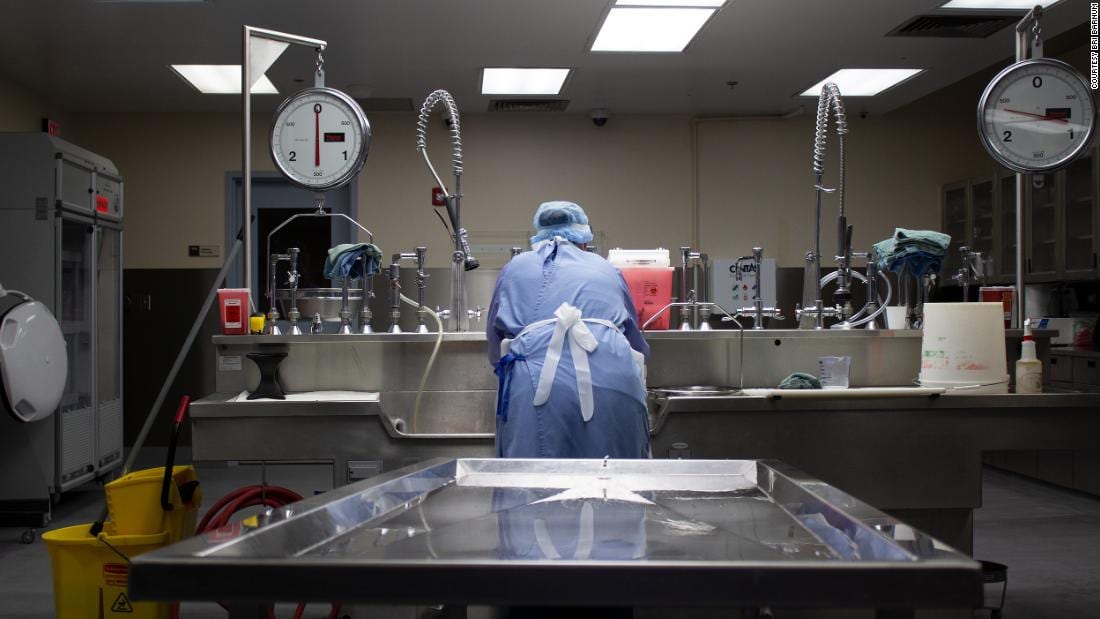 A couple thoughts on the coronavirus reported death tolls… 1) They're not accurate. They can't be. For numerous reasons, the first of which is that coroners are receiving bodies faster than they can test them, often because they don't have testing kits. A death is a death, of course, but rest (or cardiac arrest) assured that the actual number of people dying from the coronavirus, both domestically and abroad, is higher than what has been reported. 2) I'm all for transparency, too, but I tuned in to a channel yesterday morning where on the right side of the screen was a running tally of cases and deaths, both in the U.S. and worldwide. I began to wonder, if the U.S. were involved in a Vietnam-type conflict in 2020, would a cable news channel keep a running body count tally onscreen? Is everything sports these days? Do we eventually get numb to the actual human toll of all these deaths when all we see is data?
Beyond The Pail
Came across this Carol Burnett Show sketch this morning and it's worth it. One thought: How come the players at SNL, at least many of them, need to read from cue cards while doing their sketches while here, in a sketch that went nearly 10 minutes, Carol Burnett and Harvey Korman had their lines memorized? Granted, they weren't doing it live, but I don't think they shot many re-takes on CBS, did they?
Prine Time

Didn't really know a lot about John Prine, the New Orleans-based songwriter who passed away yesterday from COVID-19 complications at age 73. When I think of under-appreciated songwriters named John who have collaborated with Bonnie Raitt (she collaborates with everyone…such a hussey), my first thought is of John Hiatt.
But I got to appreciate Hiatt from that Stephen Colbert clip we ran last week and you could tell that more than a songwriter, he was simply a gifted writer. Here's what he told Paul Zollo in an interview for Bluerailroad about songwriting, which is essential again in any good writing:
"I think the more the listener can contribute to the song, the better; the more they become part of the song, and they fill in the blanks. Rather than tell them everything, you save your details for things that exist. Like what color the ashtray is. How far away the doorway was. So when you're talking about intangible things, like emotions, the listener can fill in the blanks and you just draw the foundation. 
And here, from Rolling Stone, is a list of 25 essential songs from a man who served in Vietnam and also worked for the U.S. Postal Service. Rest in Peace.

SportsYear 1870
The Cincinnati Red Stockings lose for the first time in nearly two years, 8-7 in 11 innings, to Atlantic of Brooklyn (the National League is still six years away from formally organizing)…The first America's Cup challenge race hosted in the U.S.A. is staged in Newport, R.I., with the New York Yacht Club's entry, Magic, emerging victorious… Also on the Thames, but not on the same day, Cambridge defeats Oxford in the Boat Race, their first win in nine races… Columbia joins the world of college football (increasing its membership by 50%) and loses its only game, to Rutgers… Both Young Tom Morris and The Colonel repeat as winners in the British Open and the Grand National, respectively… The top American boxer, Jimmy Elliott, is arrested for highway robbery and assault. Elliott is sentenced to 16 years in prison and will serve eight. Hashtag It's All Been Done… An anonymous surgeon writes to The Times (of London) complaining that rugby football is dangerous. Hashtag ItsAllBeenDone (#IABD).