https://mediumhappy.com/?p=8677
by John Walters
Did You Feel A Draft?
Thoughts, rants, observations from last night's "virtual" NFL draft:
–New Orleans only had one pick, but ABC/ESPN/Disney and Tom Rinaldi sure turned a plethora of first-rounders into saints. If your pops died or you knew someone who died or you were related to someone who nearly died, YOU garnered your own tinkling ivory feature. If you happened to be the superior player at your position… meh.
Rinaldi almost always goes "Bart's People" on College GameDay, but for three hours of prime time? Wow. Exhausting. He almost seemed disappointed that none of the players drafted had the coronavirus. On to the picks…
— Joe Burrow at No. 1 and Chase Young at No. 2. Both players grew up within about 50 miles of the stadiums in which they'll play, in Cincy and Washington. Burrow is straight outta 1954. Just he and his parents hanging on the couch. They might as well have been watching Uncle Milty or Sid Caesar's "Your Show of Shows."
–Quarterbacks Tua and Justin at 5 and 6, to Miami and San Diego. It was something to hear Nick Saban say that Tua was just about the most popular player ever to go through his program in Tuscaloosa. That's saying something. Hoping the best for him, but he's not tall and he has suffered two major injuries already. It's not that he's soft, it's that he plays in such a way where he takes more hits than you'd like and he's about to play against even bigger, faster, nastier boys. Herbert is laid back, even for SoCal. That'll be interesting to see.
–By the way, the SEC set a record with 15 first-round picks. Herbie had some fun at the end of the broadcast noting that ESPN's "SEC bias" has apparently infected NFL scouts and GMs as well.
–The two picks following the two QBs are my favorites: Auburn DT Derrick Brown to Carolina and Clemson LB Isaiah Simmons to Arizona. These are a pair of Quenton Nelson-level locks for this draft. I love what Arizona did, particularly, because they didn't worry about upgrading offense, they simply took the best player available. Two special non-QB talents here.
–My first giddy moment of the night was the scene at 6'7″, 365-pound LT Mekhi Becton's pad when the Jets picked him at No. 11. The Louisville lineman was almost crushed by his pops, who looks as if he's pushing 400. Loved how Rece noted Mrs. Becton is a caterer specializing in soul food. You don't say…
–As soon as the Jets passed on a wideout at No. 11, after the GameDay gang had speculated on which receiver they'd pick, my eyes went directly to Jerry Jones and the Cowboys at 17. We know Jerry Jones. He loves sizzle. He loves OU. He loves wideouts. You could feel America's Team and CeeDee Lamb coming together right then even though it was still six picks away, no?
–Maria Taylor informed us, in her lovely canary-yellow dress, that Iowa OL Tristan Wirfs is so athletic that he can walk on his hands, then they cut to a Wirfs feature in which he did not walk on his hands. The first WTF moment of the night for me.
–How did that Javon Kinlaw-grew-up-homeless story go un-Rinaldi'ed last season? That's incredible. Riding the metro in D.C. just to stay warm? And what about the 100s (1,000s?) of kids who grow up this way who don't have the advantage of growing up to be 6'5″ and malevolent? This is where football needs to never be eradicated. It allows for legal assault and for young men to become rich doing so.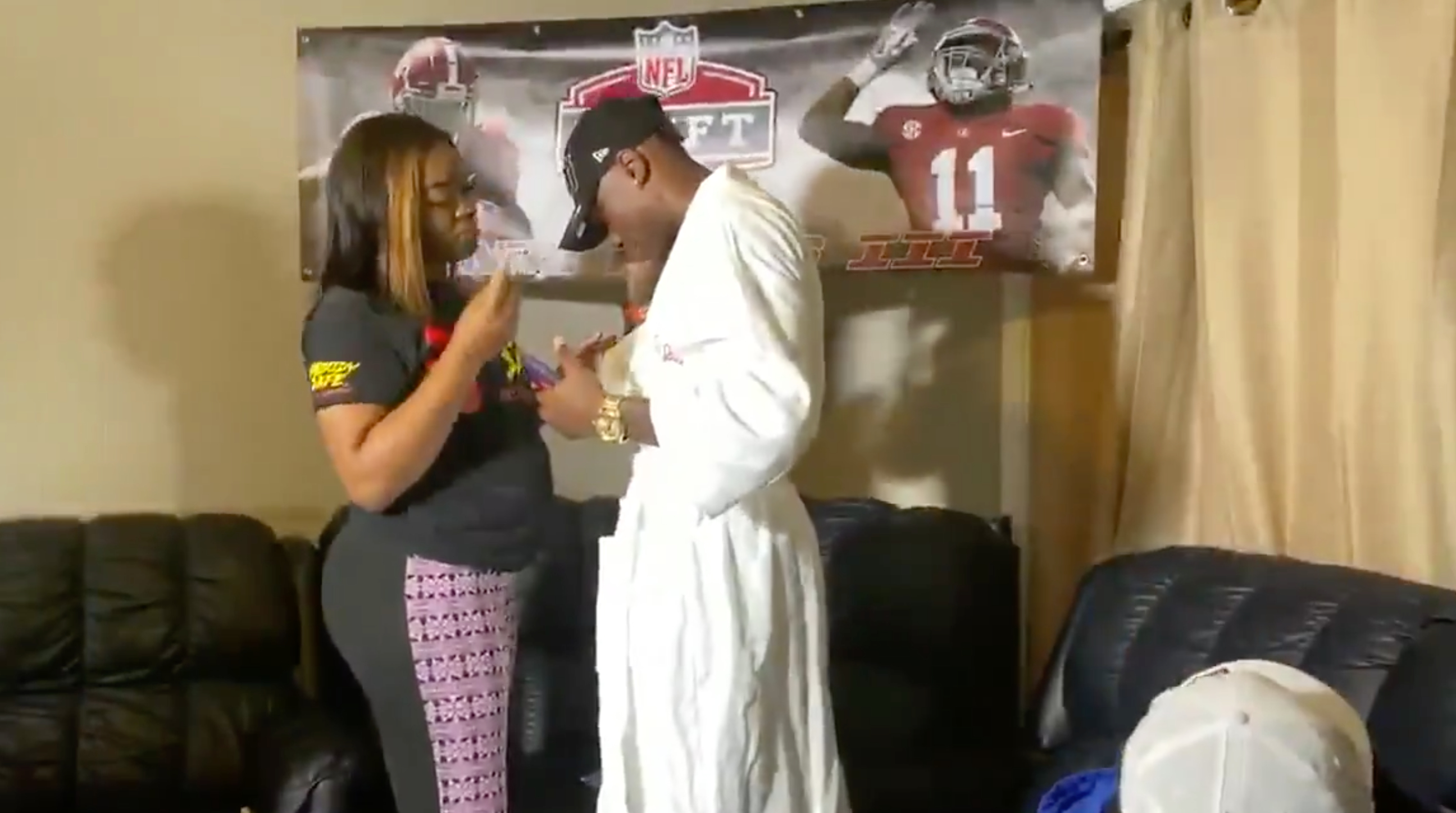 –The Raiders took Alabama WR Henry Ruggs at 12 and the Broncos took teammate and fellow wideout Jerry Jeudy at 15. Both AFC West teams, they play twice a year. Honestly, I don't know which one I'd rather have. But I don't have a problem with them being the first two wideouts taken. One is mercury-fast and the other is the country's top route-runner. Both are poison to defenses. If I had to choose one it would be Ruggs simply because he wore a bathrobe to the draft. That must be a first.
–Didn't know much about Clemson CB A.J. Terrell but seeing him on camera, I liked the cut of his jib. He's a hometown ATL kid whose intials are AT and name ends in an "L." Some things you just don't question. Also liked that Rece noted how the Falcons new unis conjure up The Mean Machine from The Longest Yard.
–And there it is! The Cowboys take CeeDee Lamb. The GameDay crew notes that this will make QB Dak Prescott happy while they try to figure out exactly where Jerry Jones is watching from: his yacht? His Dr. Evil underground lair? A cathouse outside Reno? Who knows? I'm looking at Lamb on the split-screen, but all I see is his girlfriend's legs which are about a mile long and not covered by any type of garment. By the way, Dak's older brother died last night. Only 31. Cause of death not announced.
—Kenneth Murray to the Chargers. Always liked the OU middle linebacker, and this was the one Rinaldi feature that touched me. Murray's parents have adopted, ADOPTED, not one, not two, but THREE special needs children. These people are saints. My only guess as to why this never got the Rinaldi Treatment is that the parents put the kibosh on it, which only makes me admire them more. This was the most tremendous epiphany of the night, easily. Murray's gonna walk into that LA locker room with the maturity of a six-year veteran. Rooting for him.
–San Fran takes ASU's Brandon Aiyuk at No. 25. I like Aiyuk, but man, you still had fellow receivers Tee Higgins and Michael Pittman and Devin Duvernay on the board. Wow. Aiyuk is 6'0″ but has the wingspan of a dude whose 6'6″. Crazy.
–The most What The WTF move of the night comes next. With all those DUDES at wideout still on the board, not to mention every single RB and TE (not one has been selected yet), and with QB Aaron Rodgers, an all-timer, about to enter his 16th season, the Packers choose…. quarterback Jordan Love?!?
I get it. This is how the Packers replaced the seemingly irreplaceable Brett Favre 16 or so years ago. But Rodgers is a young 36, he's got no plans to go anywhere. Meanwhile, didn't the Pack advance to the NFC Championship game just a few months earlier? Man, they just stuck a middle finger in Rodgers' face. One can only imagine what his State Farm agent (and his other agent) thinks about this.
Props to Herbie, who knows how safe his job is and thus doesn't mind dipping into controversy when the occasion calls for it, for calling this out and noting that he foresees "Drama." Green Bay should have either taken Tee Higgins (our best WR available), or J.K Dobbins or Jonathan Taylor (a pair of Big Ten RBs who are used to the weather and run hard and tough) or even Cole Kmet, a Chicago kid tight end who would've become a fan fave. Instead, they took a QB from California, and while that worked out well the last time, this, I feel, was a stupid move.
–Loved the share-the-earbuds interview with LSU DE Patrick Queen and his pops. Seems obvious that Queen, who only earned a starting spot last season, doesn't get to where he did without pops pushing him. Loved when they asked Queen what it took to get here and he spoke candidly, "A lot of fights." Dads, you're not there to be your kids' friends. You're there to help them grow into the men (and women) they can be. What a great lesson.
–Both of Auburn CB Noah Igbinoghene's parents were Olympic track athletes? Take that man! Also, this was the most exuberant in-home celebration we saw. They might have been flagged for excessive celebration.
–Love that the first round book-ended with the LSU backfield, as Burrow was selected first and RB Clyde Edwards-Helaire was selected 32nd (by the Super Bowl champion Chiefs). Andy Reid must obviously love what a great pass catcher the 5'7″ Helaire is out of the backfield, as well as a good blocker. But man, it's tough to pass up talents such as J.K. Dobbins (no one runs angrier), Jonathan Taylor or De'Ande Swift.
Just before the Chiefs took Edwards-Helaire, the GameDay crew mused on the fact that K.C. might take an RB and mentioned a few names, but not his. So it goes…
— I usually like David Pollack, but someone needs to tell him and like yesterday that he should eliminate "bro" from his vocabulary. He's a grown-ass man on TV. Not a Sigma Nu pledge (Is there a Sigma Nu? I have no idea).
–Forgot to keep track of Desmond Howard's featured albums and I didn't join the telecast until the 10th pick, so I may have missed an early one. All I saw was a Bob Marley album and I believe a Miles Davis? Were there others?
–Last note. In the bottom half of the draft, NFL commish Roger Goodell announced that Las Vegas certainly deserves to host the NFL Draft it was robbed of this April, so that he was happy to announce that Las Vegas "will host the 2020 NFL Draft." Listen, I don't expect you to get everything right, but at $43 million a year, Rog, I have less patience for these types of errors.