https://mediumhappy.com/?p=8681
by John Walters
Starting Five
Test-Case Scenario
The thought here is that whoever is around to record human history 100 years from now will remember the coronavirus pandemic as the harbinger for civilization's true cataclysmic event that not enough world leaders (and their red-cap wearing sycophants) took seriously. While you watch all the corporate-funded PSA's about how we're going to get back to normal and better than ever, ask yourself this…
If a disease that only winds up claiming less than 1% (far less, more like 1/10th of 1%) of the world's population creates this much panic and hysteria and hoarding of goods, what happens if, say, WATER becomes scarce. Or… LAND?
It's not going to be pretty, and those are the two commodities that will be in short supply when CLIMATE CHANGE comes calling. Do you remember the scene in The Jungle Book when there's a drought and all of the animals, predators and prey alike, agree to cease operations so that all of the creatures may drink from the same watering hole, since water is so scarce? I do. And here's the takeaway worth remembering about that: animals, even those genetically predisposed to be antagonistic to one another, are more HUMANE than humans are (Lesson: we need a human analogue of the elephant; a non-predator who can kick ass of anyone he wants; that used to be the United States).
And, yes, that's just a story. But that actually does happen in real life with wildlife. Mankind, I think, won't be so diplomatic. Civilization is as fragile as the available water supply. Don't you forget it.
The King Of Queens
Do you know where the President of the United States was born and raised? The borough of Queens, New York.
Do you know what county of all the counties in the United States has the most coronavirus deaths (3,511, a number that is conservatively low since New York has more than 5,000 deaths that have not been attributed to the disease since the dead were never tested)? Queens, New York.
We're just running this photo of Donald Trump with wife No. 2 Marla Maples to show that even a quarter-century ago that sh*t-eating grin was fully formed.
Missing Jordan
We haven't caught either of the first two installments of ESPN's "The Last Dance" yet —we figure they'll have plenty of opportunities to re-air it in the coming months—but this little magazine cover from 39 years ago caught my eye. This is how much times have changed.
Sports Illustrated, THE sports publication/media outlet of record for decades until ESPN took the crown in the later '90s, puts the Tar Heels on its college hoops preview issue and proclaims them the best team in the land. And SI will turn out to be right, as UNC will cut down the nets in four-plus months. But here's what's funny. The one member of the starting five who does not make SI's cover?
Freshman Michael Jordan.
The four who did? Sam Perkins, Matt Doherty, Jimmy Black and James Worthy, along with coach Dean Smith.
Sister Act
Going down a rabbit hole of YouTube music videos this weekend, I discovered the Davies daughters (they're someone's daughters), who are incredibly gifted. Meghan plays the guitar and may also be the world's fastest switcher of capo placements (at the :16 mark) while Jaclyn has the voice of an angel. This cover of Katie Perry's "Dark Horse" is from 2013.
Ped-O-Philes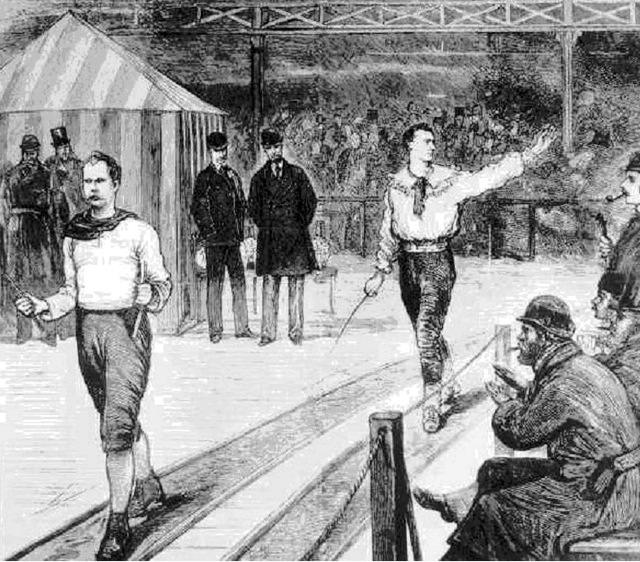 Put this in the Sports Year 1875 annex (we miss some events, we'll come back and ask you to consider moments like this for inclusion). Although baseball and college football were taking their first tentative steps in the 1870s, competitive walking—the sport formally known as pedestrianism—was in full stride. Sports historians say it was the most popular spectator sport in America that decade.
This account of a famous six-day race in Chicago between Yankee blue blood Edward Payson Weston and Irish immigrant Dan O'Leary in 1875 is well worth your time.