https://mediumhappy.com/?p=8682
Starting Five
Dead Zona
I'm listening to supposedly intelligent people on ESPN talk about Major League Baseball playing a condensed summer schedule entirely in Arizona and my only thought is, None of these people have ever spent a summer in Arizona.
Okay, Chase Field is an enclosed ball park and maybe you can play as many as three games daily there because if you don't have fans in the seats, you need not worry about between games clean-up and re-stocking concessions stands or parking. You start with a 10 a.m. game (1 p.m. in the East), then a 2 p.m. game (5 p.m.) and then a 6 p.m. game (9 p.m.). My guess is that the games will also proceed at a brisker pace minus fans so perhaps you can even squeeze in four games daily.
However, as someone who has spent numerous summers in Phoenix (none fondly, really), I'm here to assure you that you do not want to be outside, exerting energy, for a prolonged period of time, any time after 10 a.m. or before 6 p.m. You just don't. And for those not conditioned to this weather, which would be most Major League Baseball players, this would be awful. And, with no fans in the seats, pretty depressing.
Imagine baking out there in left field at Talking Stick Fields at 3 p.m. local time when it's 114 degrees outside. Or being a catcher and wearing the tools of ignorance for a prolonged inning. It would be like taking part in the Spanish Inquisition. No. Thanks.
Now, if you want to begin games at 6 p.m. and have games take place through the night until 9 a.m. the next day, as if we're listening to The Who at Woodstock, that could work. Then baseball would have to figure if it wants to turn its entire fan base into night owls or simply air the games after the fact. But, trust me, given the option, players (once they experience the heat) would much rather play at 3 a.m. in July/August in Phoenix than in sunlight (I would lobby our high school football coaches for two–a-day practices that were held after midnight but they said no… something about circadian rhythms and/or parental consent).
But here's what will not happen. Games beginning in the late afternoon, outdoors, in Arizona, to accommodate the Eastern Time Zone prime-time schedule. You can't put dudes outside at 4 p.m. here in July and August. It won't happen.
So here's a few alternative ideas: 1) Play the games in minor league ballparks (since the size of the fields, and not the size of the crowds, are all that matters). Here's a suggestion: Use Pioneer League Northwest League ballparks in the following towns/cities that are heavenly in summer time: Billings, Great Falls and Missoula, Montana; Boise and Idaho Falls, Idaho; Ogden, Orem and Salt Lake City, Utah; Spokane, Wash.
These cities/towns all have the advantage of having far better summer weather and being somewhat remote and not heavily populated. Plus, the out-of-the-ordinariness aspect of it might just be appealing to fans and players alike.
Two Guys, A Hot Toto Cover, And A Pizza Place
It's an August Saturday night in 2010 and you find yourself in a suburb of Salt Lake City (such things exist) called South Jordan. You're hungry, so you and a friend stumble into the Pie Pizzeria. You see two nondescript dudes in cargo shorts who don't look as if they had to cancel dates tonight on the bandstand. The balding, red-headed chunky guy holds an acoustic. The other dude wears a Yankee cap and holds a bass.
You don't expect much.
Then you listen.
That's Mike Masse on vocals and Jeff Hall on the bass and backing vocals. As one of the 14 million viewers of this video commented, "Flawless."
Red States, Blue Angels
In the past few years, the U.S.A. has devolved into becoming part Joseph Heller satire, part Orwellian nightmare (which reminds me, we need to make "Hellerian" its own adjective the way Orwellian is). Today CNN reports that the elite Navy flight squadron, the Blue Angels, will fly over New York City to "salute first responders."
I'm imagining doctors, nurses and EMTs looking up at the skies and thinking, Yeah, thanks a lot. How about some masks and ventilators instead? The Trump administration never wants America to forget that we are first and foremost a military state (well, a capitalist military state). Meanwhile, you've got Mitch McConnell telling states to go bankrupt because the federal govt. shouldn't have to subsidize blue states when it is New York, Connecticut and Massachusetts that actually subsidize his state, Kentucky. Those three states pay out the most in relation to what they receive from the federal government (from a tax perspective, those blue states are in the red) while Mitch's home red state has its hands out, taking more than it gives.
A MAGA type never misses the opportunity to gaslight his fellow countrymen.
Forever Live And Die
Let's take a moment to salute, for no particular reason, the '80s Liverpool band Orchestral Manoeuvres in the Dark. In the early Eighties there was New Wave and there was electronica/synth pop, and while they were all bunched together by classic rock DJs who couldn't, or didn't care to, tell the difference, they were not the same.
New Wave were Duran Duran, Blondie, The Police, U2 (not really, but lumped in there), Eurythmics, Culture Club, Haircut 100, ABC, etc. Synth pop were Tears For Fears, New Order, Yaz and these dudes.
Classic tunes here for those of us who were lucky enough to be teenagers in this era. Favorite tunes include "Tesla Girls," "Secret," "So In Love," "If You Leave" and this one, which may be the greatest ear worm of all of them. Released in 1986, it was their last Top 20 hit in the States.
Sports Year 1880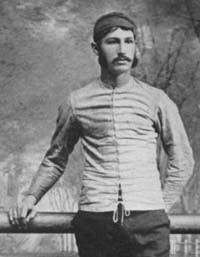 Walter Camp, recent Yale grad, proposes three rules changes that forever change the game of football: 1) Decreasing the number of players on the field for one side from 15 to 11, 2) establishing a line of scrimmage and 3) having the ball snapped back to the quarterback.
***
John L. Sullivan announces that he will fight anyone in America, with or without gloves, for $500.
****
The Chicago White Stockings, who at one point during the season win 21 consecutive games, win the National League pennant.
On June 17 John Montgomery Ward of the Providence Grays pitches a perfect game, the second-such pitching feat in MLB history. The first one had taken place five days earlier, by Lee Richmond of the Worcester Ruby Legs (I don't know why baseball had such a fetish with colored knickers and and stockings back then, but they did. They just did). Five days between the first two perfect games in the National League—the third and next such outing in the National League will take place in… 1964.