https://mediumhappy.com/?p=8685
by John Walters
Who came in to our new place of business yesterday? Dustin Pedroia. No, we did not ask for a selfie.
Starting Five
What's At Steak*
*The judges will also accept "Dead Meat"
Fascinating A-block on The Rachel Maddow Show last night about how the fastest-growing coronavirus contamination areas (outside New York) are A) prison populations and B) meat processing plants. And, as for the latter, President Trump has ORDERED them to remain open while the manufacturers themselves are not particularly interested in safe-guarding their employees, that the CDC is not mandating measures (only recommening the plants follow them, "if feasible," or "if possible"), and how the Republican governors in states such as Nebraska, Iowa and South Dakota are not lifting a finger to acknowledge the danger.
Will this play out the way most Trump crises do?
A) Deny problem exists.
B) Take the opposite of the action necessary to fix the problem, thereby exacerbating it.
C) Deny any culpability in the proliferation of the problem.
D) Finally, after the last horse is out of the barn, and with the barn engorged in flames, close the barn door. And take a victory lap for having done so.
What does that translate to? A month or so from now, hundreds (thousands?) of dead meat plant employees and an eventual shut down of all meat plants. Hope you like salad (oh, yeah, and there's no chance that migrant workers are contaminated… sure, no chance), which is just a gateway drug to listening to soft rock and wearing fringed vests as a fashion statement.
Good Mourning, Vietnam
Yesterday the U.S.A. breached 58,000 deaths from the coronavirus, or more Americans dead from this illness in less than three months than all of the Americans who were killed in Vietnam over a 10-plus years period.
According to Johns Hopkins University, 58,355 Americans have died due to the coronavirus. The Vietnam war officially claimed 58,220 American lives. The underlying tragedy here is that the coronavirus has yet to spawn any transcendent music or even a notable trend in hair styles or facial hair.
Just Another Reason To Not Be On Twitter
Do you ever get emails that have notable tweets from the past day in them? I do. I don't want them, but I do. So yesterday I observe a tweet from noted MAGA rabble-rouser Clay Travis wherein he noted, and I'm paraphrasing, that "There have been multiple corroborating witnesses in the Joe Biden sexual assault allegation from 1992. There were no corroborating witnesses in the Brett Kavanaugh case. I cannot believe the hypocrisy!"
Of the Democrats, I presume.
Okay, Clay, I'm with you: Under no circumstances should Joe Biden be confirmed by the Senate to join the Supreme Court.
But we're talking about the presidency here. Where the man in the White House has been accused by no fewer than 20 women of sexual assault. So if a sexual assault allegation is your bar to the presidency, then Biden is trailing by oh, about, 20 to 1. Never mind that between the two of them, Trump and Biden, only one has ever publicly bragged about sexually assaulting women.
Glad to be off Twitter.
Not excusing sexual assault, obviously. Just noting that Clay moved the sticks.
Covers Week Continues
As I mangle my guitar, I find myself increasingly fancying the music of Crosby, Stills, Nash & Young, which is one reason I bow down to Foxes & Fossils for this classic of the 1969 classic "Suite: Judy Blue Eyes." If you're going to cover a tune, this is a bear. It's like three different songs blended into one (hence the "Suite" in the title). And it goes on for about six minutes. Watch the lead guitarist as the song ends. He looks the way someone does when they cross the finish line of a marathon and they're waiting for someone to drape a medal around their neck.
Sports Year 1881
What happened in the 19th century's only palindromic year?
In a five-day span—Halloween to November 4—Michigan becomes the first "Western" college football team to travel east and plays three games: at Harvard, at Yale and at Princeton. The Wolverines lose all three, failing to score in two of them, prompting MGoBlue fans to call for the firing of Jim Harbaugh.
***
Andrew Watson makes his debut for Scotland, becoming the world's first black international football player.
****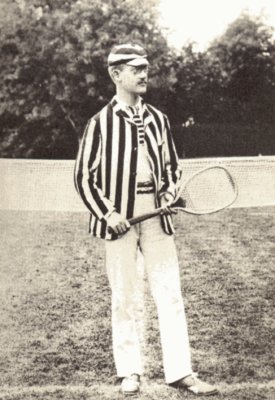 The first U.S. Men's Singles Championship, precursor to the U.S. Open, is staged in Newport, Rhode Island. Richard Sears wins, the first of his seven U.S. Open titles.
****
In boxing, heavyweight champ Paddy Ryan wins a series of non-title bouts while up-and-comer John L. Sullivan wins a number of bouts, also, none of which extend past the eighth round. We see a matchup looming.
****
Baseball: January: In what will become an annual event for a time, in Chicago, players play a a series of exhibition games on ice… Fleet Walker, a black man, attempts to play for the Chicago White Stockings but the opponents refuse to take the field against him. Three years later Walker will play for the Toledo Blue Stockings of the American Association… George Gore breaks a record by stealing 7 bases in one game… on September 10 with his team down 7-4 in the bottom of the ninth, Roger Connor of the Troy Trojans hits a walk-off grand slam for an 8-7 win, the first grand slam of any kind in National League history… The championship game between the Troy Trojans and Chicago White Stockings on Sept. 27 is played in a heavy rainstorm in front of 12 fans. Twelve. Chicago wins 10-8…. White Stocking Cap Anson hits .399. So close… His teammate is baseball's first "superstar," handsome Mike "King" Kelly, sort of the Charles Barkley of 19th century baseball. A prolific hitter, Kelly is also a first baseman who pulls the hidden ball trick and is known for not touching bases if the umpire is not looking. He's also a late-night carouser. He tells his fellow players, "I am the 'only' player. Why don't some of you dubs (he said, 'Dubs') break a window and get talked about?"… Popular player Chub Sullivan of Boston dies of consumption at age 25. His teammates pay tribute by wearing black crepes as armbands. #IABD