https://mediumhappy.com/?p=8695
by John Walters
Starting Five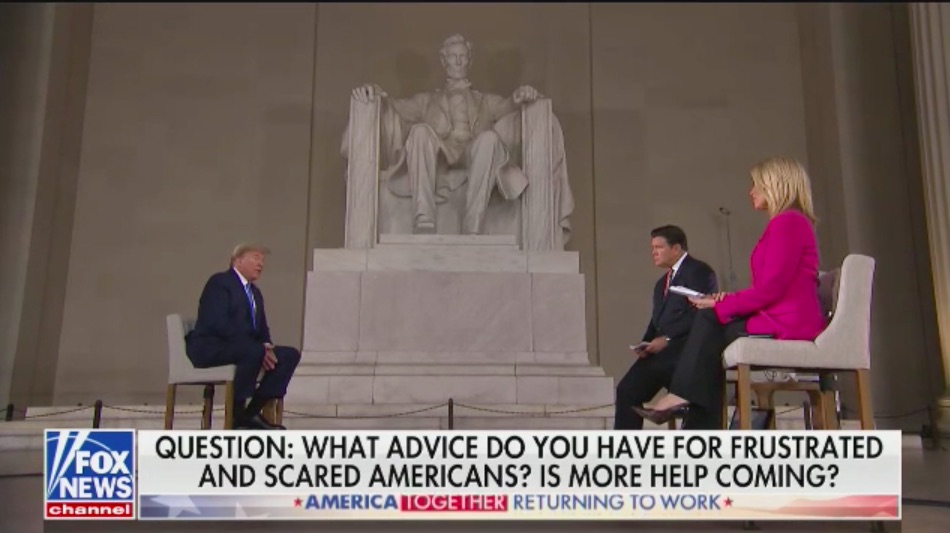 Lies and Lives
Once upon a time there was a TV show on NBC, a reality show. And it wasn't a bad show before all of the contestants were celebrities. One of the hallmarks of the show each week is that contestants would make, if not promises, then at least projections of what their team would be able to accomplish versus the other team. And you know what happened every week? The leader of the team who failed to meet projections, almost always, was called into the board room where the man above to the left would announce, "YOU'RE FIRED."
February 26: ""You have 15 people, and the 15 within a couple of days is going to be down to close to zero."
YOU'RE FIRED.
April: Trump predicts the death toll could reach 60,000 Americans. Then, this past Saturday night he adjusts his number to Fox News' Brett Bair that it could eclipse 100,000 Americans (which means gird yourselves for at least 150,000… at least).
YOU'RE FIRED.
We didn't realize it until CNN's Don Lemon reminded us, but the U.S. Senate formally acquitted President Trump on February 5th. The next day the first recorded U.S. coronavirus death occurred.* If there is a God, he has a sense of vengeance.
*We think many Americans were dying of it at least two months earlier and we'd honestly be curious if this isn't what was behind the curiously quick demise of ESPN reporter Ed Aschoff, who was only 34 when he passed in late December.
Finally, something very Trumpian to keep in mind. In the past two months Trump has publicly laid claim to "zero accountability" and "total authority." Nothing better defines his perverted sense of values.
When The Levee Breaks
In Austin, a park ranger was politely and affably reminding park goers to remain a respectful distance from one another (i.e., doing his job) and a d-bag pushed him in the water. In Flint, a security guard turned away a woman from a Dollar Store for not wearing his mask (working security at a Dollar Store is in the "You-couldn't-pay-me-enough" Hall of Fame of undesirable jobs) and her husband returned 20 minutes later, said something about "disrespecting my wife" and fatally shot the guard.
In Florida and Washington, D.C., they're hailing the "reopening" of America and looking the other way at data that this will mean the loss of tens of thousands more lives. Who cares, the stock market's up 400 points for a second day in a row!
If it keeps on rainin', levee's goin' to break
If it keeps on rainin', levee's goin' to break
At what point do the doctors and nurses and park rangers and security guards say, "F*** it" and walk off the job? And who could blame them? We're risking our lives out here for you and you don't even have our backs? In fact, you're exacerbating the situation (and then someone explains to Donald Trump that the word does not mean self-pleasuring)?!?
All bills eventually come due (unless you can get yourself elected president). And while this bill may not personally affect Trump, the death toll's about to rise precipitously and doctors, nurses and others, already overworked literally to the point of death for some, may begin to wonder why they're being put in the front of the firing line day after day after day. Oh, and the Treasury Dept. plans to borrow a record $3 trillion in the second quarter for coronavirus relief. From whom, you may rightly ask?
Cryin' won't help you prayin' won't do you no good
Now cryin' won't help you prayin' won't do you no good
From a market perspective, and you should have learned by now not to heed our advice, we see this irrational (and somewhat vulgar, considering how many more people are needlessly about to die) exuberance extending for awhile as businesses reopen and Americans, being Americans, recklessly and rapaciously storm back into malls, restaurants and bars.
And then the bodies will pile up. And someone will go, "Oh yeah, maybe we jumped the gun a little bit" (but only after one of their own family members die). And then there'll be a massive reckoning and the market will once again go off a cliff. Be ready for that day. Have a lot of your funds in $$$. It's not coming immediately. But it's coming.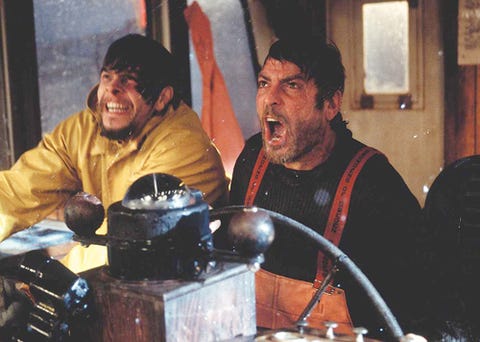 We were trying to think of a movie scene this reminded us of. Not sure if this is the best metaphor, but it reminds us of The Perfect Storm. Here's the Andrea Gail with a hull full of fish and two choices: head farther out into the Atlantic and squander the catch but save the crew or sail into the hurricane with a chance to save the prize haul while putting every crewman's life in mortal danger. And you know how that turned out.
Hot Dame, Judi!
If Dame Judi Dench can earn acclaim as an octogenarian cover model for British Vogue, then we've got to step up our efforts to promote Phyllis. We're thinking an Arizona Highways cover could be in the offing.
Speaking of New York beauties of Italian descent born before Pearl Harbor was attacked, this is Carmen Del'Orefice, 88, who is arguably the world's most successful model-T (!). She's been runway'ing it and cat walking it and photo shooting it since age 15. A highly successful career despite a problematic surname. Carmen's daily motto is "Enjoy oneself, at no one else's expense." We can get behind that.
The Last Don
Legendary coach Don Shula, still the only NFL coach to lead a team (Miami Dolphins) to an undefeated Super Bowl championship season, in 1972, passes away at the age of 90. Shula coached the Baltimore Colts in the Sixties and the Dolphins in the Seventies, Eighties and up through 1995. In 33 years of coaching, Shula had two losing seasons. Two.
Shula retired with 328 victories (regular season), which is the standard. George Halas had 318. Bill Belichick has 273 and is currently three years older than Shula was when he retired.
Shula, who grew up outside of Cleveland, played at John Carroll and then for an outstanding Cleveland Browns (don't laugh) team in 1951 that finished 11-1 and lost the championship game. Shula then played a few more seasons with the Baltimore Colts as a defensive back. There may be a lost photo somewhere of Shula defending wide receiver Bud Grant, who is still alive an whose Vikings tangled with Shula's Dolphins in Super Bowl VIII.
Sports Year 1885
Richard Sears wins his fifth consecutive U.S. National (precursor to the U.S. Open) Singles Championship in Newport, R.I. The event is in its fifth year. William Renshaw wins his fifth consecutive Wimbledon singles title. Why do these two keep ducking one another?
***
Princeton, which had defeated its first seven opponents by a cumulative score of 457-10, trails Yale 5-0 late on November 21st in New Haven. Then Henry "Tillie" Lamar fields a punt on his own 10-yard line and races 90 yards for the go-ahead touchdown. Old Nassau wins 6-5, its first defeat of rival Yale since 1878. Princeton beats Penn 76-10 five days later (their third defeat of the Quakers of the season) to finish 9-0 and win the national championship.
***
Using Queensbury Rules (i.e., gloves), John L. Sullivan defeats Dominick McCaffrey in six rounds in Cincinnati to win the World Heavyweight boxing championship.'
****
Two extraordinary association football scores on Sept. 12: In the top division, Dundee Harp defeat Aberdeen Rovers 35-0. In a lower division match, Arbroath FC defeat Bon Accord FC 36-0. The two outcomes remain the most lopsided final scores at the top level and at any level of English pro soccer, respectively.
***
John "Phenomenal" Smith loses his first start as a Brooklyn Gray by a score of 18–5 after his teammates commit 14 errors behind him, seven alone by shortstop Germany Smith. "Phenomenal"'s boast of being so good that he could win by himself doesn't sit well with the other Brooklyn players, who are fined $500 for their intentional poor play. In the interests of team chemistry, Smith is immediately released. #IABD
The World Series between the Chicago White Stockings ends in a deadlock, 3-3-1, after the first game was called due to darkness and the next six were evenly split. It apparently occurs to no one to finish Game 1. At least the Rays and Phillies figured this out in 2008.
On October 17 owners agree to set players' salaries between $1,000 and $2,000. Five days later a small coterie of players clandestinely form the Brotherhood of Professional Baseball Players, the first players' union. #IABD