https://mediumhappy.com/?p=8709
by John Walters
Groundhog Day
Yesterday I phoned an old friend, a mom who has four school-aged children. It was school hours, so I asked, "What class are you teaching right now?"
"P.E.," she said.
Lovely. If you are a parent, particularly with multiple youngsters, you have our empathy (but no, we're not interested in being your relief pitcher… this is the price you pay for not wanting to die alone when you're old). But if you are single, and not dying, we want once again to implore you: TAKE ADVANTAGE OF THIS OPPORTUNITY.
The classic 1993 film Groundhog Day is a philosophical existential exercise cleverly disguised as a comedy. The question it asks: "How would you live your life if you had to repeat the exact same day over and over and over again?"
The correct answer is not, "Watching Netflix."
Carpe diem. Because it's all the same diem right now. And even in the future when it won't be, it still is. That's the lesson.
Dying To Be Free
In Wisconsin, the conservative state Supreme Court overruled the Democratic governor's "Stay-at-home" order. Shocker!
In Texas, an armed man with "We The People" tattooed on his forearm plans to exercise his 2nd Amendment rights to protect businesses that defy stay-at-home orders and open. Because his bullets will say what the law is, sumbitch.
Meanwhile, there's no vaccine in sight. Not in 2020. And in the last two days coronavirus-related deaths have ramped up above 1,500 each day in the U.S.A. We're at 85,000-plus officially (probably closer to 90 to 100,000) and it's somewhat funny, at least to us, that they're predicting 147,000 deaths by August.
That's only August. It's going to come back with a vengeance in autumn (unless it "magically disappears' as our mental giant commander-in-chief believes) and if we reopen now, without a vaccine, let's just go to 500,000 domestic deaths between now and next May 14.
Still not enough deaths to dissuade the GOP and Wall Street.
You can empathize with the financial suffering. You can also understand that sometimes the short-term pain is worth the long-term gain. Even one million dead is less than one-third of 1% of the population. And you may be of the mind that that's not a large enough percentage to close down the country economically. And I'm not here to tell you that you're right or wrong. Only to remind you that arguing to reopen the nation now is likely to translate to half a million or maybe even a million deaths.
Not a very large dent in the overall population. But totally unnecessary except that it will result in more fiscal distress, particularly to the rich and powerful.
You want the country to reopen? Fine. Just don't attempt to dismiss the scientific experts' speculations as to the death toll. I know you're a Republican, but you don't get to have both your way and the truth, too. Choose one or the other.
Exclamation Point Break*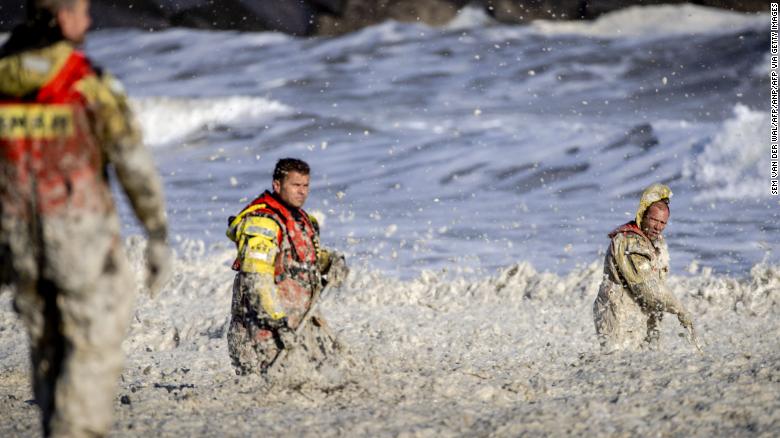 *The judges will also accept "Friend Or Foam"'
Difficult week for surfers. In northern California a 26 year-old died over the weekend due to a shark attack (or perhaps it was a Wicked Tuna?). Then on Monday night, in the Netherlands, five surfers died in a bizarre situation that involved a wall of sea foam and rescuers unable to reach them.
What exactly happened?
The group of surfers, all experienced, some lifeguards and/or surf instructors, went out to take advantage of waves created by heavy storms. Again, this is the North Sea, off The Hague. Not Hawaii or southern California. Wetsuits, obviously.
The storms created sea foam, the surfers got into trouble, and the first-responders were unable to reach them. Five of the six surfers, aged 22 to 38, perished.
Piano Manifest
Why did the retired London piano tuner deliver a product to a remote Himalayan region situated nearly 15,000 feet above sea level? Because it was there. The independent film Piano To Zanskar pretty much sums up the odyssey in its title. A 65 year-old Londoner, Desmond O'Keeffe, hears that a school in a distant and rugged place on the planet desires a piano and so he decides to deliver the goods. On such quixotic quests are unforgettable documentaries made.
We have not seen the 2018 film, which won the grand prize at the 2019 Banff Mountain Film Festival (and that must count for something, no?), but we're hoping to. And soon. Maybe it's on Netflix? Wait, what were we saying earlier?
Sports Year 1892
Yale's Pudge Heffelfinger is paid $500 by the Allegheny Athletic Association to play in a game. Not only is he considered the first professional football player, but he is immediately declared ineligible for the Belk Bowl.
***
James Corbett defeats John L. Sullivan in 21 rounds to win the heavyweight championship of the world. He will hold the title for five years.
***
Two months after James Naismith publishes the rules of basketball, the first public game takes place between the students and faculty of the Springfield YMCA. The kids win 5-1, with the lone faculty goal being scored by one Amos Alonzo Stagg.
****
The National League absorbs four teams from the American Association and buys out the remaining four. For one year and one year only it plays a split schedule, with first- and second-half winners meeting in a championship series. The Boston Beaneaters defeat the Cleveland Spiders, winning five games of five. Another game ends in 0-0 tie after 11 innings.
***
In Canada, Lord Stanley announces his new trophy to be given to the winner of the ice hockey championship in Canada. The Tampa Bay Lightning announce they'll win it someday.
***
Oliver Campbell, just 21, wins his third consecutive U.S. Open.
***
Jockey Alonzo "Lonnie" Clayton, who is African-American and only 15, wins the Kentucky Derby aboard Azra. He remains the youngest jockey to win the Run for the Roses.