https://mediumhappy.com/?p=8713
by John Walters
Starting Five
Bye, George
The world's second-loveliest Phyllis has passed away. Phyllis George, the progenitor of all that was to follow of women in sports broadcasting, passed away at the age of 70.
George, who began as a co-host on CBS' NFL Today a few years after winning Miss America, was the first and remains the most charismatic of women in sports broadcasting. It was the mid-1970s. The networks ruled television and CBS ruled the networks: All In The Family, The Mary Tyler Moore Show, The Carol Burnett Show, M*A*S*H, 60 Minutes and The Waltons. A murderer's row (Dallas would come couple years later).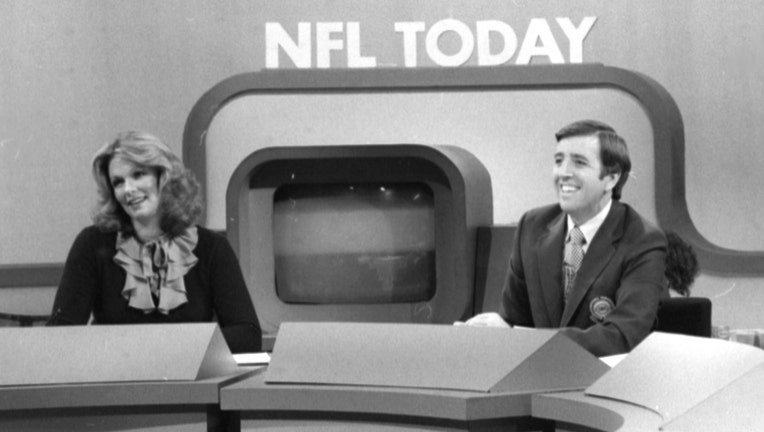 Then on Sunday, at 12:30 p.m., Brent Musburger and Irv Cross were joined by George, who was not only stunningly beautiful ("George-ous") but charming and savvy. A true Texan gal. She was the first, and she's still the best.
It's Not Nice To Fool (With) Mother Nature
Yesterday, in The New York Times, Thomas Friedman said everything I wanted to say (and plenty that I already have, I believe).
Hold The Mayo!
We caught the 1952 film She's Working Her Way Through College on the TCM the other night, which was utterly charming and cornball. But, and we know it would be better to tell you about movies before we'd watched them so that you could see them, too, think of this as a reminder to watch it the next time it comes around. Items:
–The title is a misnomer. The "She" in the title, Angela Gardner, played by Virginia Mayo, has already worked and earned enough money, on her own, to attend college. Now she's simply attending college.
–Mayo was 31 when this film was released. Known better as the selfish wife in The Best Years Of Our Lives (1946), Mayo is dazzling here as a dancer (it's a musical) while playing a smart, independent woman. She reminds us of someone we know and she's terrific.
–Near the end of the film, Ronald Reagan, as the professor who is defending Mayo's honor, delivers a speech that helps you to understand why he would later be such a natural in the White House. It's also a cleverly disguised speech against McCarthyism.
–The school is named Midwestern State, the football uniforms are blue and gold, and there's a sign held aloft at a football rally that reads, "Beat Michigan." No wonder I loved this film.
–A word here for Mayo's co-star, Gene Nelson. Man, this dude was talented. He's an incredible dancer but there's also a scene that allows him to show off in a 50's style gymnasium (and I don't think they used a double) where he proves himself to be a top-flight gymnast, boxer and even basketball player—all while singing. I know they dubbed Mayo's voice, but I'm not sure if they dubbed his. Either way, I don't know why he wasn't a more major star.
–Mayo's nemesis, Ivy, is played by Patrice Waymore. In real life Waymore was married to Errol Flynn at the time, which was its own special brand of connubial hell. The two were wed from 1950 until Flynn's death in 1959. At the time Flynn died, of a sudden illness while flying to Canada, he was traveling with a 17 year-old girl as his companion.
–If, like us, you grew up watching Happy Days but had not lived through the Fifties, you'll see where Garry Marshall "borrowed" an Easter Egg or two from this film. For instance, the place where young couples go to "neck" is named Inspiration Point.
So, yeah, we liked this film plenty. And Ronald Reagan does a wonderful job. Put him in a film on a college campus and he always delivered.
Olive and Mabel
"913 squirrels chased, none caught…" That's Scottish sports broadcaster Andrew Cotter, who has touched a nerve (or a funny bone) with these videos starring his two pooches, one who is a "very good dog" and the other who displays a "lack of focus."
Animals are the best. We're lucky we have them to save us from one another.
Sports Year 1894
On July 22nd the world's first competitive motor race is staged in France, from Paris to Rouen. The winner of the 78-mile race, driving a Peugeot, is Albert LeMaitre.
***
Injuries, due mainly to the flying wedge formation, lead to four players being crippled during the annual Harvard-Yale game (now known as the Hampden Park Blood Bath). The Big game will be suspended until 1897 and the Army-Navy game will be suspended until 1898 for similar reasons.
****
The Baltimore Orioles win the first of three National League championships. A postseason championship series, the Temple Cup, is introduced, pitting the N.L.'s top two clubs against one another. Seems fine, right?
No. After four years and with the regular season runner-up winning three times, it is disbanded. Fans think of it as unfair that the regular season champ is not rewarded appropriately. What a novel concept.
***