https://mediumhappy.com/?p=8781
by John Walters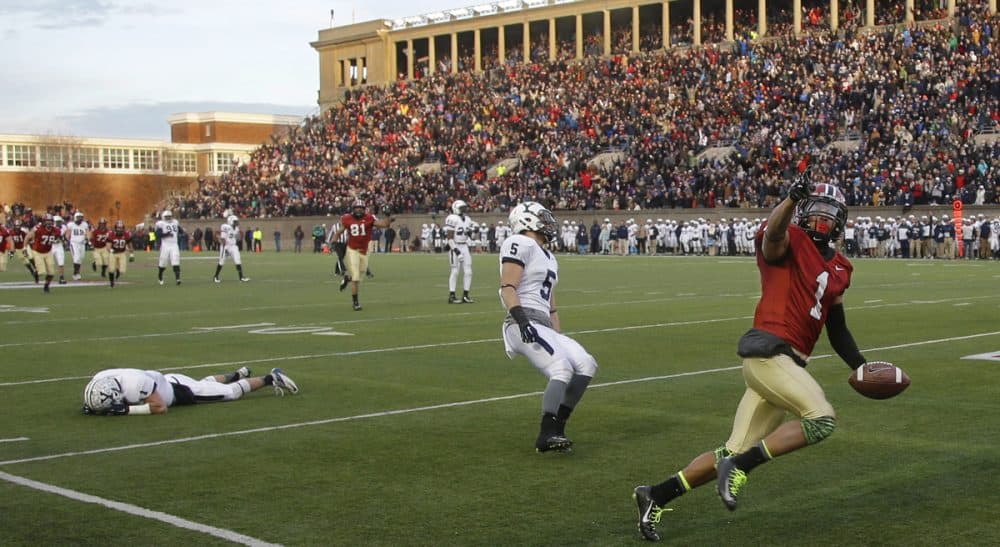 Ivy'll Be Seeing You
The first shoe just dropped for the 2020 college football season. The Ivy League, the octet of academic excellence (Brown, Columbia, Cornell, Dartmouth, Harvard, Penn, Princeton and Yale) just announced all sports will be canceled until at least the beginning of 2021.
We said it back on March 12 or so, we've been saying it ever since, and we'll say it again now: it is beyond stupid for sports to start up again until a vaccine or herd immunity comes. It is not only stupid from a public health perspective; it's stupid from a sports public relations perspective.
Earlier this week Nick Cordero died. Cordero was not a pro athlete, but he was a 41 year-old former Tony Award nominated dancer. To look at Cordero was to see an extremely fit and athletic man. Only six years ago, when he was in his mid-thirties, Cordero was dancing 7 to 8 times a week on the Broadway stage in Bullets Over Broadway.
Then Cordero was infected with the coronavirus. First he had a leg amputated and then he spent the final 90 days of his life in ICU before dying.
Nick Cordero may as well have been an athlete. To think that one or more famous professional or college athletes could die from this virus in the next year simply because their league forged ahead, knowing that there is no cure for the virus, well, that's just Trump-level dumb.
There. Is. No. Cure.
An athlete probably won't get as seriously ill as Cordero did. But then again, he might. And there'd be nothing doctors could do to save him. It's a crap shoot.
The smart move is to wait. It always has been. It will remain so. Right now MLB and the NFL and the NBA and even college football are playing a game of chicken with reality. And what's steering them toward the head-on collision is TV money. It's beyond stupid.
At least the Ivies, who are not beholden to television money, have some sense.
School's Out For Summer/School's Out Forever!
Students will return to classrooms some day—but not as soon as Don "I'll Huff and I'll Puff and I'll Have Someone Take The SAT For Me" Trump wants them to. Yesterday Trump threatened to pull funding from public schools (he cannot actually do that) if they did not reopen on time later this summer.
Never mind that he said this on the same day that the U.S. set a new record for coronavirus positive tests (more than 60,000), or that the Tulsa area set a new record with more than 266… might have a little something to do with a certain public event held inside the BOK Center a couple Saturdays ago.
Also yesterday Mike Pence stood at a podium and tried to pretend that there is encouraging news with "flattening the curve." This is like someone saying they can see positive signs with the Knicks. Pence has been practicing his George W. Bush "I'm concerned" drawl overtime of late. He really has the Bush impersonation down. And that's too bad… because while Bush was often clueless and in way over his head, I truly believe he is a decent man. Mike Pence is not.
Anyway, if you send your kid back to school next month this supposedly "flattened curve" (it isn't) is going to go full Matterhorn on us. And maybe your 3rd-grader won't die. But maybe her grandma will because of it.
Once again, less than stupid. It's sinister.
Don't be surprised— I won't be—if teachers simply refuse to show up to school. What's Trump going to do: fire all of them? Teachers are already overworked and underpaid. Now you're going to put their health and lives at risk. What are you gonna do, Donald, place an armed off-duty cop at every school to ward off the virus?
Jost Do It
Colin Jost, the Staten Island parents' wet dream antithesis to the worst nightmare that is Pete Davidson, is out with a memoir titled A Very Punchable Face. You're thinking what I'm thinking: I like Jost, he's funny, but where's the down-and-out in Bushwick portion of this book?
Jost grew up in a stable, upper middle-class family, attended Regis High on the Upper East Side (where all students are on full scholarship), then Harvard, then he was at SNL by age 23 as a writer. He and Michael Che have carved out their own special spot in "Weekend Update" lore as well. And he's about to marry ScarJo?
Is there a meth habit we don't know about it? A bad hair day? What? You can read more about it here.
Blow By Blow
We should expand our horizons beyond just The New York Times Op-Ed page, but when someone pens an essay as direct and truthful as Charles Blow's "Call A Thing A Thing," well, why go anywhere else? Blow's premise? There are plenty of euphemisms for what's going on ("racial tensions," "racial divide," "race relationship") but what it all boils down to is this: You're either for White Supremacy or you are not (put us in the "are not" camp).
Blow: "Satisfaction with race relations is somewhat correlated with the silence of the oppressed. When they stop being silent, it affects the outcome."
and
"…whenever people object to their oppression, it is framed as problematic to peaceful coexistence. Furthermore, this tension between the oppressed and the oppressors has always existed and always will." 
I'm forever amused (disturbed) how white Americans are so easily able to celebrate the Fourth of July and then the next minute turn around and scold anyone who follows the Founders' lead of fomenting rebellion for the oppressed.
–Sen. Kelly Loeffler (those three words alone are a joke), a co-owner of the WNBA franchise, objected to the league placing a "Black Lives Matter" logo on its courts this season (if there's a season). Loeffler used the "we need less politics in sports" argument and then suggested the WNBA put American flags on all jerseys. Loafer doesn't get it: if she wants less politics in sports then no flag, either. Because, like it or not, the American flag now means the status quo. And there's a whole helluva lotta people not happy with the status quo. It's a White Supremacy issue disguised as a patriotism issue.
–Tucker Carlson, who never served in the military, had the audacity to criticize a U.S. senator who lost both her legs in the Iraq War. He called her a "moron" and "un-American" because in an interview that aired Sunday night Duckworth (who is a person of color but not African-American) told CNN that it was worth discussing taking down monuments of George Washington, our slave-owning first president.
I don't happen to agree with Duckworth, but I'd never be the ass Carlson always has been and continues to be this week. Patriotism, to people like Loeffler and Carlson means loving this country on the basis of it remaining a two-tiered system: white people of means and everyone else.
Blow's essay hit the nail on the head.