https://mediumhappy.com/?p=8797
by John Walters
"Once A Langmore, Always A Langmore"
Turns out the suspects in last Friday night's slayings near a lake in rural Florida were both kin and trailer-park trash. And the entire mass slaying may have been over a suspected truck theft.
The older brother in the middle above, who apparently shot all three victims, is Tony "T.J." Wiggins. He's 26 and apparently has 230 prior felony charges on his record. So of course he now risks having to deal with Florida's dreaded "231 Strikes—If You're A Redneck—And You're Out" law.
I guess Ozark is closer to reality that we might've realized.
This Sh

ow

Is For The Byrdes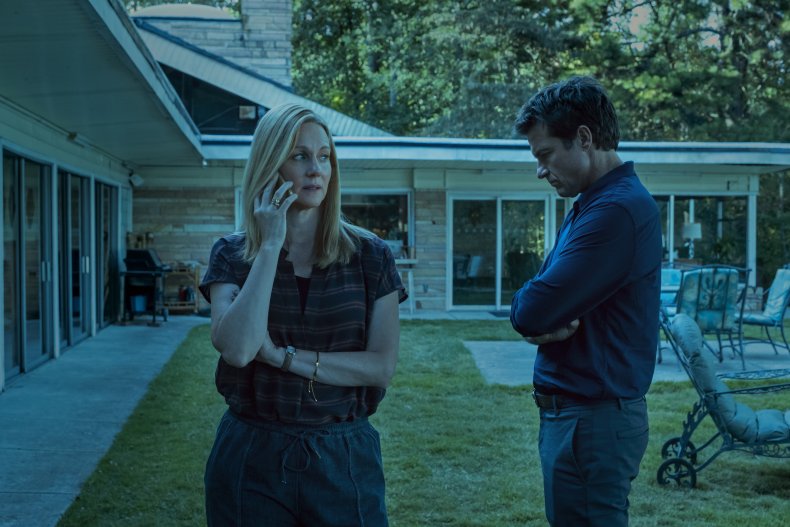 Speaking of Ozark, I finally began watching it and I have to ask, Is anyone rooting for Marty and Wendy Byrde? I'm midway through season 2 and here are the only characters I'm rooting for, in order: 1) The bobcats 2) Buddy 3) Tuck 4) Jonah 5) Charlotte 6) Wyatt 7) Ruth.
Of course, the show just finished Season 3 so they're probably all dead by now (I know Buddy, played by the late Rip Torn, must be). This show is doing the Redneck Gothic thing True Blood did but with less magic and the khaki-dad-drug-lord thing that Breaking Bad did but with no real sense of humor.
And it's just so dumb: Marty's partner vanishes (along with three people he was known to consort with), Marty scuttles their financial advisory firm the very next day, leaves with the cash, and the Chicago PD never even calls him in for an interrogation??? WUT!
The dumb just keeps going. There have probably been about a dozen or so people connected to Marty who've been brutally killed since the show began and yet the next day there's Wendy and he figuring out who will pick up Charlotte from swim practice.
Bryan Cranston somehow managed to make Walter White a compelling and often sympathetic figure no matter what he did. Jason Bateman's Marty Bird has no such charm, and he's the series' key figure.
The best scene perhaps, in the entire series, is when the pastor (whose wife has just been murdered and disappeared, her unborn baby cut out of her womb) tells Marty that he still believes in God because he knows there's a devil. "And I believe the devil is you," he says.
He's right. Marty's the worst kind of evil. The one who believes that the ends justify all of the means and who always works to ingratiate himself with people. Del should've killed him in the series premiere and saved us all a lot of trouble.
Play Ball?
Major League Baseball's 60-game season begins today, which means that's 102 fewer games to plunk Astros batters. Too bad. Let the swabbing begin!
$50,000 For Online Courses?
So CNN picked up on our convo last week about having to pay a massive college tuition check when your child is only taking his or her courses online.
Harvard University announced earlier this month that the school plans to resume classes in the fall entirely online. While the school expects to cycle undergraduate students on and off campus in smaller numbers, with freshman invited in the fall and seniors in the spring, many students won't be on campus at all. Those who are on campus could be attending classes from their dorm rooms.
And yet, the school's tuition($49,653 before room and board), will remain the same. Which only goes to show that you may not be as smart as you think you are if you attend Harvard.
Pennington's Peregrinations
Los Angeles-based freelance writer Emily Pennington has set a goal of traveling to all 62 U.S. national parks this year (before Donald Trump awards fracking contracts on all of them). Her work is appearing in Outside magazine.
I'm always a little suspicious when some journalist's "job" sounds more like a means of having someone else pay for their "adventures." Everyone wants to be Bill Bryson, but almost nobody else is. Also, that I could come up with "Pennington's Peregrinations" in 30 seconds (self-back pat) while no one at Outside did, well…
Or maybe I'm just jealous.