https://mediumhappy.com/?p=8798
by John Walters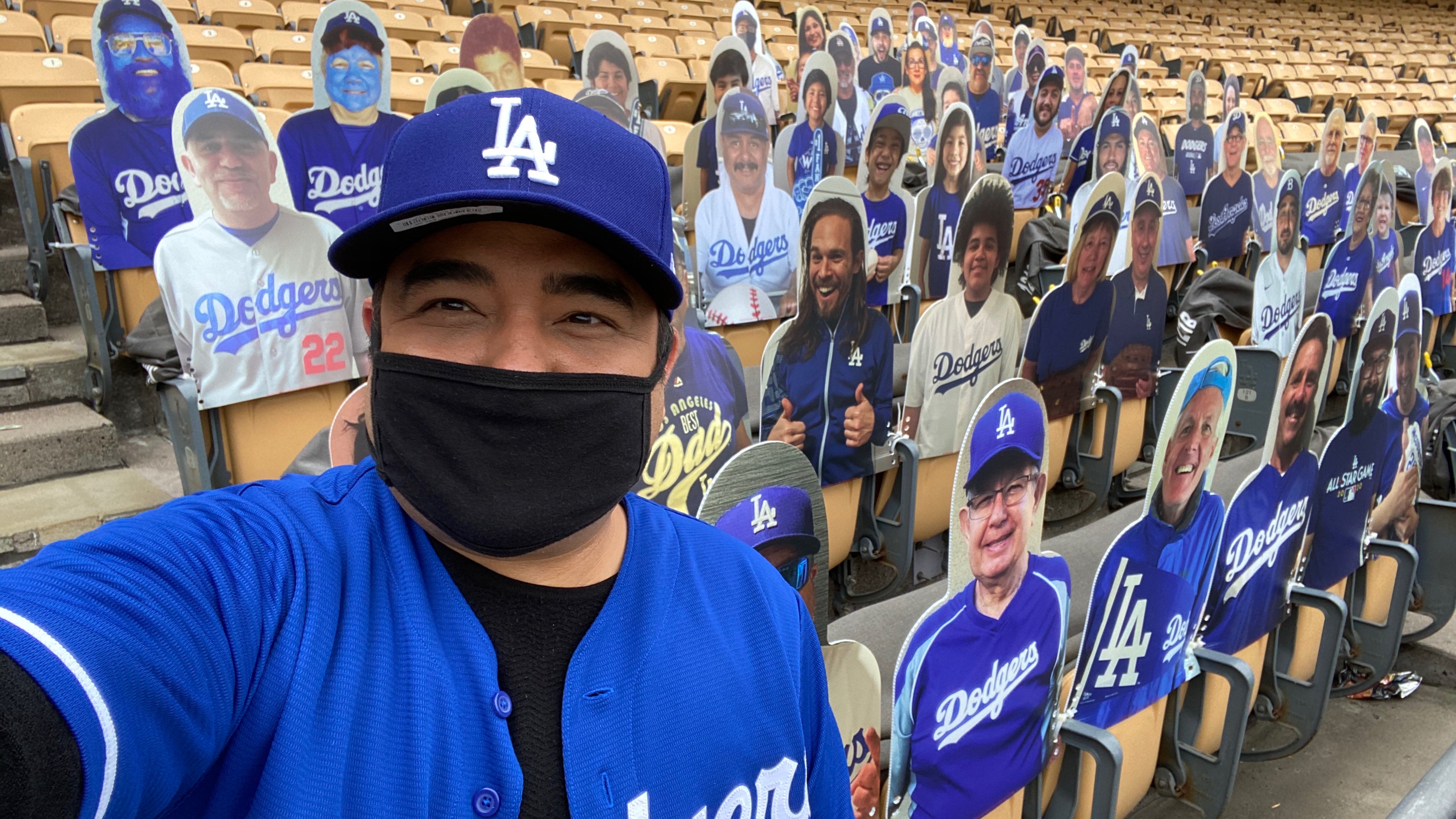 Lights! Camera! Baseball!
Will this experiment work? I have to admit, watching Brett Gardner flashing a bunt and then pulling the bat back made it feel as if summer is officially here. And yet, if the Yankees at Nationals incited this little buzz within, then what will the Rockies at Padres feel like?
At least the Dodgers understand how to make something look more real—it is Hollywood, after all. The cardboard fan cut-outs and the piped in noise were as fake as the decolletage on one of the Landers sisters, but it did add to the atmosphere.
Fauci Flattens The Curve
Buster Olney referred to it as "a socially distant first pitch." The first pitch of what will likely be the weirdest season in Major League history was thrown by a 79 year-old epidemiologist who may be the leader in the clubhouse for Time's Man of the Year. Dr. Anthony Fauci's first pitch was outside but then again, you try tossing with a mask.
Cognitive Dissonance
One of my oldest and closest friends, who is now a psychologist at Johns Hopkins, sent me a copy of the test our president took. The one he keeps bragging about. Here's what we can safely say: The president is not suffering from late-stage dementia, assuming that he is telling the truth about his test results, and why would we even assume that?
But if he is, well, congratulations, "Person Woman Man Camera TV." You at least know what a camel is, how to read a zip code and repeat it back backwards. If this is what constitutes a "very stable genius" nowadays, lord help us.
By the way, and shame on me, too, but have you noticed how Trump managed to push the "Who Took Your SAT?" story off the headlines by bragging about his cognitive dissonance test? You have to hand it to Kellyanne Conway: she really knows how to change the conversation.
Cary Nation

For no particular reason, other than we watched His Girl Friday two nights ago (of course, TCM), we want to remind you that when you look up Movie Star, there should be a picture of Cary Grant.
I don't know if there's ever been anyone more handsome in Hollywood (Errol Flynn? Brad Pitt? Clark Gable?) but there are men in his class. There have probably been what you'd call better actors (Al Pacino, Philip Seymour-Hoffman, Spencer Tracy, Humphrey Bogart, Jimmy Stewart).
But I can't name any actor who combines panache, charm, good looks and style the way Grant did. One of my favorite traits of Grant's is that, sure, he knew how handsome he was, but he never wanted to play the straight leading man. He wanted to have fun. He had a wonderfully mischievous sense of humor and it showed in his best pictures.
Holiday. Bringing Up Baby. The Philadelphia Story. His Girl Friday. Arsenic and Old Lace. An Affair To Remember. In none is he that serious, brooding leading man. He's playing for laughs. Even in his Hitchcock thrillers, such as To Catch A Thief and North By Northwest, Grant's sense of humor permeates the script.
You can be a gifted actor and play most roles, but my contention is that you can't play comedy if you're not naturally funny ("Tragedy is easy, comedy is hard"). Grant must have been quite the character off-camera as well.
Look at the above scene from His Girl Friday (1940). Grant is playing this as if he were Groucho Marx in the opening scene from A Night At The Opera. It's slapstick stuff and you almost forget that he's the world's best-looking man in a suit as he insults his ex-wife's fiance (played by Ralph Bellamy) by pretending to mistake the old fella for him.
There's a scene later in the film where Grant's character is asked to give a physical description of the man whom Hildy (Rosalind Russell) is appointed to marry. "You know that actor Ralph Bellamy?" Grant's Walter Burns says. "He looks like him."
Don't know if that was an ad-lib, but it was funny.
Rule No. 1
Gravity wins yet again. This time it was at the Dragon's Tail in Glacier National Park (we should institute Rule No. 68, "Do not hike anywhere that has the word 'Dragon' in its name.").
Josh Yarrow, 20, was attempting to retrieve a backpack when he slipped and fell shortly before 8 p.m. on Tuesday evening. At least he wasn't taking a selfie (one wonders, will this at last inspire Susie B. to comment or have we lost her forever?).